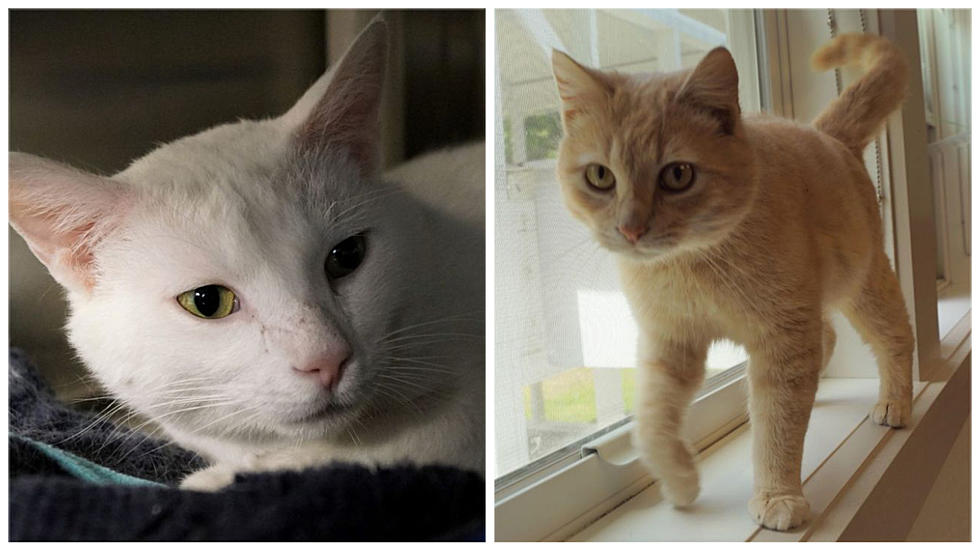 Two Adorable New Milford Cats Are Looking For Their Forever Home
AWS Image
This week we're featuring two really nice looking cat's that are now available at the Animal Welfare Society in New Milford.
Falcon is a domestic short hair and is about 4 years old. He came to the Animal Welfare Society from a high kill shelter in West Virginia. Falcon has the most handsome green eyes, and loves to play, plus he's good around other cats, and he really enjoy's snuggling on your lap. He's up to date on all his vaccines, and he's also been neutered.
John Carter is a domestic short hair/tabby mix, and is about a year old. He does have one small challenge and that he is FIV positive, which means he is immune compromised, however he can still live with other cats, he's not going to share it with any of them, and he doesn't need any special medicine, you just have to be careful, kind of like social distancing. He's a sweetheart and is just waiting for someone to stop by and take him home. He's also had all his vaccines, and has been neutered.
Now because of the COVID-19 restrictions, if you're interested in adopting one of the featured pets, or any dog or cat at the shelter, first fill out an application on their site at aws-shelter.org. Then, once your application is approved, you can call them at 860-354-1350 and schedule your one-on-one meeting.
The shelter is still looking for some items that they need to help keep the animals safe and clean. Right now they are looking for bleach, paper towels and dry cat food.
If you can contribute, you can drop off the items at the shelter at 8 Dodd Road in New Milford. Just let them know you're going to drop something off, then you can do it with no contact by just leaving it in front of their building.
Enter your number to get our free mobile app
LOL: Greater Danbury Pets Pose as if They Were On a Dating Site