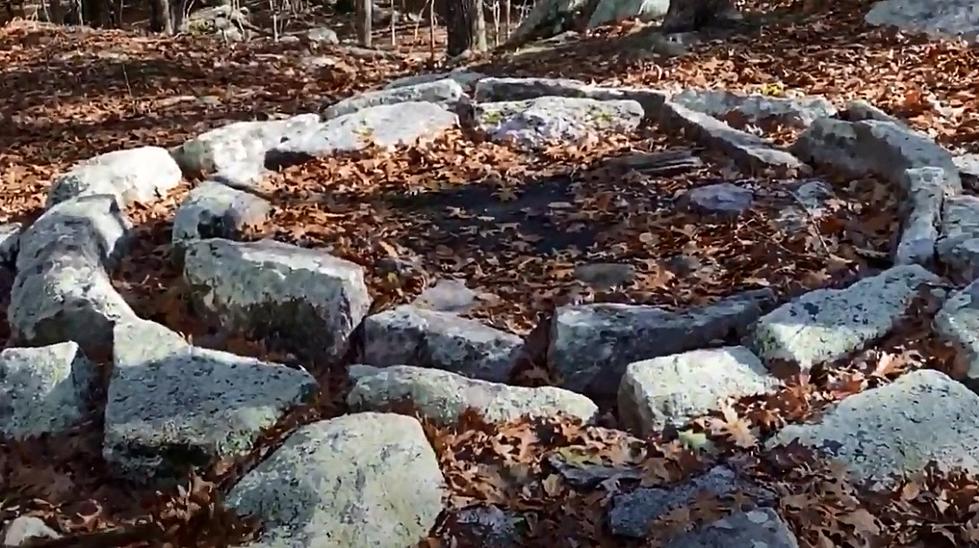 The Mystery Origin of Gungywamp Makes It Connecticut's Top Offbeat Travel Spot
Youtube/Zeekman Eats
Americans spent $93 billion on travel in February 2023—5% above 2019 (before COVID-19) and 9% above 2022, according to the U.S. Travel Association.
With that kind of dough being thrown around, it's clear the nation is looking for adventure, but not all vacations are created equally.
Sipping a cocktail poolside in the Caribbean is wonderful, but some people crave a more unique experience. If you're the kind that likes a hike and a mystery, Gungwamp may be right up your alley. In fact, Gungywamp was just named Connecticut's #1 Offbeat Hidden Wonder by The FW.
Where is Gungywamp?
Address: Gungywamp Groton, Connecticut, 06340. Groton is a town of about 39,000 people in New London County, about an hour from New Haven. Gungywamp sits on a 400 acre parcel of land in the woods of Groton.
What is Gungywamp? 
It's an archaeological site in Connecticut that is shrouded in mystery. Some believe it was built by Celtic Monks in the 6th century. Other people think there is a more supernatural explanation and you'll even hear Gungywamp being talked about as a significant site for Ancient Alien theorists due to it's celestial alignments. Whatever the case, it is an impressive archaic installation. Some people date the artifacts at Gungywamp to 2000-770 BC. Gungywamp has stone circles, stone chambers, concentric circles of massive quarried stones and age-old storage structures.
Where did the name Gungywamp come from? 
It depends who you ask but Hartford Courant researchers say the name could be Gaelic, Mohegan, Pequot or Algonquin. Which means Gungywamp could mean "church of the people", "place of ledges", "swampy place", "all powerful" or "white."
What do I need to know before I go there?
Altas Obsura has a great breakdown for any potential visitors that reads:
The site is half located on Ct state property and half on private land. Signs on the site for both the private sections and public lands say no trespassing, that cameras are in use and they will prosecute.

Access to Gungywamp is still available. Both the state and private owners have allowed the Denison Pequotsepos Nature Center to conduct tours of Gungywamp as they are the "caretakers" of the site.

There is no parking at the entrance to Gungywamp and no signs posted that it is there, however, you can park at an abandoned church parking lot. (Shepherd of the Sea Chapel in Groton, Ct) It is about a 10/15 minute walk from the parking lot to the entrance to the the hiking trail.

If you want to take a tour of Gungywamp go to this site.Tours are small group tours and you should pay on their site to ensure a spot in the tour, especially if you go for an equinox! Never fear if you want to go on one of those special times to see the solar alignments.

They conduct special tours on equinoxes so you can see the alignments! The tours are $15 per adult and the money goes to support the Denison Pequotsepos Nature Center. Be warned Gungywamp is surrounded on 2 sides by swamps. There are a lot of mosquitoes.

Wear bug spray! Wear sturdy shoes. The trails are uneven, rocky, mucky, and often muddy in the swampy parts.
Is there are anything particularly weird about Gungywamp? 
According to Damned Connecticut, some people feel weird near the "Cliff of Tears" where there reportedly a very strong electromagnetic field.
These are the kinds of sites I love to visit, I'm into any place that people cannot agree on. Mysteries are kind of my thing so I need to get personal with this one.
Check out the Ethan, Lou & Large Dave Podcast on Apple and Spotify
For Sale: Tiny Sherman Home is Big on Land, Nature and Privacy
This house may be tiny but it's big on outdoor space. Sure the home is 650 square feet but it sits on 42 acres in Sherman, CT. The house is featured on
Land Search
and listed with William Pitt Sotheby's for $600,000.
Ancient Egypt and Boy King Come to Life in Brilliant CT Experience
"Beyond King Tut: The Immersive Experience" is a window into the distant past. This is a chance to see Ancient Egypt and King Tut without ever leaving Connecticut or 2023.