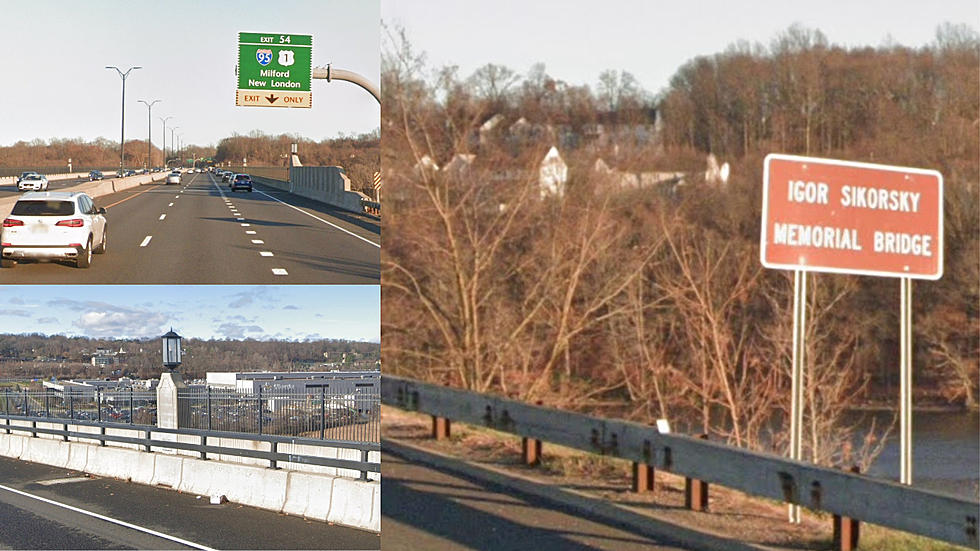 Remember How Scary It Used To Be Driving Over the Sikorsky Bridge?
Google
For those of us old enough to have driven in the 1900s -- it's weird to say that -- do you remember the first time you ever drove across the old Sikorsky Bridge? I was thinking about it the other day, and I was terrified.
The original Sikorsky Bridge was completed in 1940, named after aviation pioneer Igor Sikorsky to honor him and his factory, which still thrives just north of the bridge in Stratford. The Sikorsky Bridge carries RT. 15, better known as the Merritt and Wilbur-Cross Parkways, across the Housatonic River between Stratford and Milford.
If you drive across it now, in 2021, you don't give it another thought -- why? Because it's not the same bridge.
The original Sikorsky Bridge was demolished in the early 2000s and replaced with what is now known as the Igor I. Sikorsky Memorial Bridge. But if you drove across it in the 1900s, it was an old, steel deck bridge, and your tires sang as you drove across it, giving the Sikorsky the nickname of "The Singing Bridge." Even in dry weather, your tires slipped a little bit across the grooves, and if you looked down as you were driving across, you could see right through the steel to the 85-foot drop and the Housatonic River below.
I was a traffic reporter back in 1991, and the route that I had to drive was I-95 and Rt. 15 between New Haven and Greenwich. Every time that I had to drive across that span on I-95, the tragic events of the Mianus River Bridge collapse in Greenwich in June, 1983, during which three motorists unfortunately lost their lives, echoed through my mind  and also when I drove across the old Sikorsky Bridge. Every time.
Now, in 2021, I don't even notice that I'm driving across it. The only thing on Rt. 15 that makes me any kind of nervous today? Driving through Heroes Tunnel, the formerly-named West Rock Tunnel.
The Most Wish-Listed Airbnb in CT Takes You Away From It All
Top 5 Most Expensive Homes on the Market in Connecticut
Connecticut Restaurants That Offer Outdoor Seating Even When It Snows