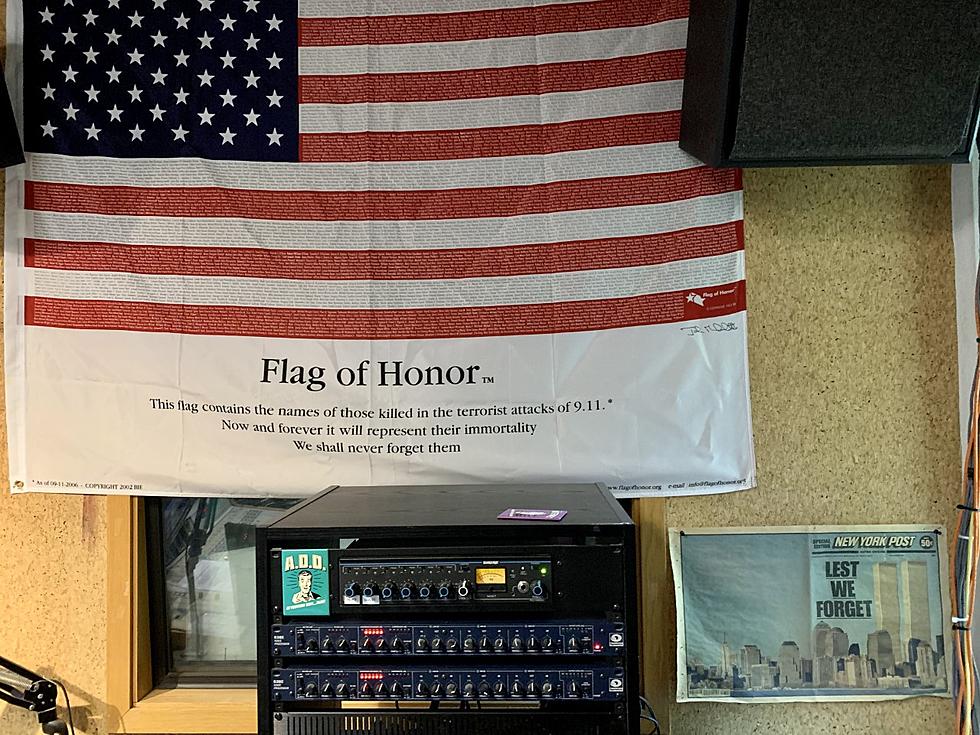 20 Years Later: Reflecting Back on What it Was Like as a Broadcaster On 9/11
Photo by Large Dave
This year is the 20 year anniversary of 9/11/01. "Never Forget" has been a part of my vocabulary since. I haven't. Every day that I come to work, I see two constant reminders of that awful day as I set myself up behind the microphone.
In our broadcast studio, the New York Post cover from Wednesday, September 13, 2001 has been on our wall since and proudly flying high right between our speakers, we have the Flag of Honor naming all those who were killed that day.
I can't tell you how many times that I've read those names during a long song, or stared at the beautiful New York City skyline and the World Trade Center buildings that I remember from my early life, the way it used to be.
20 years is a long time, and I've heard and watched countless accounts from people who were directly affected by the terrorist acts of 9/11 over the years. Each of us has a story about what they were doing that day, and I have one that I'd like to share after all of these years.
Monday, September 11, 2001 was a beautiful day here in Connecticut. There wasn't a cloud in the sky, and I woke up around 8 AM. I was watching the Today show on NBC and they eventually interrupted the show to broadcast the first images of the scene that would haunt some of us for the rest of our lives. We all know the course of events that followed, and the shock and fear that swept through our minds as it happened before our eyes.
I got a phone call around 11 AM from my boss Ed, he was the Program Director of the radio station that I at worked back then in Norwalk. I was the afternoon drive guy, and Eddie asked if I felt confident enough to come to work that day. I was scared, I remember wondering if whoever had done that might have had a nuclear weapon and the closer that I got to Manhattan... but I started driving into work.
By this point, it was close to noon and all air traffic had been halted across the country. It was so silent outside. The few people that were driving along the highways with me were all going about 10 miles below the speed limit, riveted to their car radios, listening to the initial reports and information that was given out.
I made it into work and spent the rest of the afternoon gathering information and passing it along as it came in. One of my coworkers MaryLee went down to the Norwalk train station and interviewed NYC commuters who had luckily made it out. I'll never forget her telling me, "Dave, there were people in business suits, covered in the white debris dust coming off those trains, they were all crying."
By the time I left the studio at 7 PM, I was exhausted and drove home in silence just taking the day in.
The next day, September 12, 2001, our radio station partnered up with Americares, a global non-profit based out of Stamford, who had already set up a supply chain to help the heroes who were conducting the search and rescue operations at Ground Zero. We set up shop on I-95 Southbound at the Stamford rest area by Exit 9 and started collecting donations on behalf of Americares to assist them in their efforts.
Hundreds and hundreds of commuters pulled up to our tent over the next few days, handing over cash, change, bottled water, etc., but there was one donation that I will never forget. A vehicle pulled close to where I was standing, and the passenger window rolled down, the woman that was driving the vehicle looked at me and said, "I want this to go directly to the people that are looking for my husband." She handed me a check and drove off.
I glanced down and it was a check for $5,000 from a business that was located on the 76th floor of the World Trade Center. That's why I look through those names on our Flag of Honor. I wish I had burned her name into my memory, but I just went back into the tent, stunned, and put it into the pile that we were collecting.
If you lost beloved family members, I'm so sorry. I lost my brother, mom and dad since 2001, and my world changed completely each time. Nothing infuriates me more than to read ludicrous conspiracy theories, or even worse, deniers.
20 years and I will never forget.
See 20 Ways America Has Changed Since 9/11
For those of us who lived through 9/11, the day's events will forever be emblazoned on our consciousnesses, a terrible tragedy we can't, and won't, forget. Now, two decades on,
Stacker
reflects back on the events of 9/11 and many of the ways the world has changed since then. Using information from news reports, government sources, and research centers, this is a list of 20 aspects of American life that were forever altered by the events of that day. From language to air travel to our handling of immigration and foreign policy, read on to see just how much life in the United States was affected by 9/11.