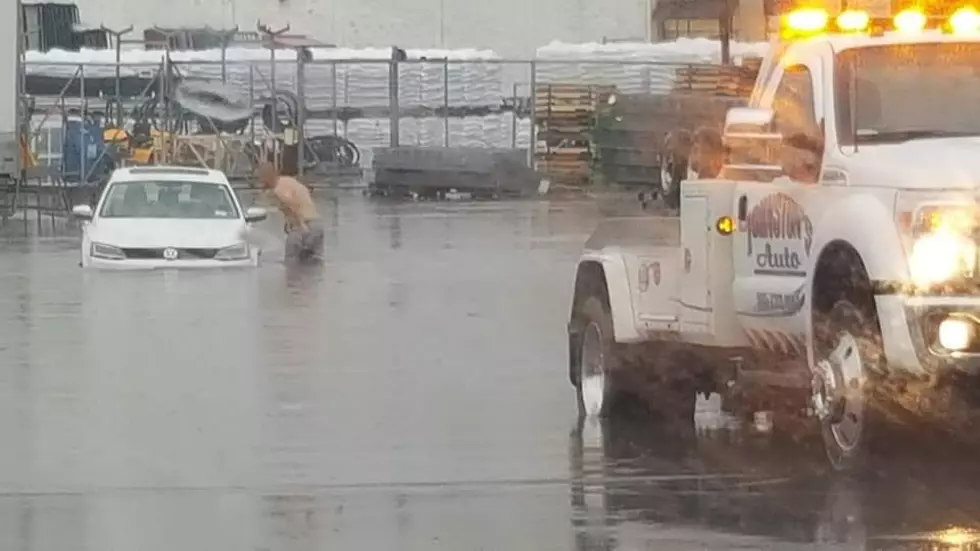 New York Man in Underwear Saves 3 Cars From Flood, Loses Job
Michael Venettozzi/FB
A New York man who's been called a hero says he was fired after he pulled three cars from a flood.
Michael Venettozzi responded to a car stuck in major flooding after torrential storms flooded roads in Utica on August 17. Photos show Venetozzi in his underwear pulling a car to safety.
"I had to be almost completely submerged on my knees to hook up the car, so I decided to strip down to my boxers," said in an interview with Tad & Polly in The Morning. You can listen to the whole interview by CLICKING HERE.
As he was hooking the car, he noticed another car get stuck in the flood. And then another. Venettozzi was able to safely remove all the cars from the completely flooded road and bring the drivers to safety.
However, he says the next day he was fired.
"My boss said my poor decisions put his truck and equipment in extreme risk of being damaged. And he's right. But I don't regret helping people. I'll always value human life over a piece of equipment," said on Big Frog 104.
On Facebook, Venettozzi said AAA sent him to retrieve the cars. Adding, despite getting fired he doesn't regret his decision.
"A human life will always trump a piece of equipment to me," he said on Facebook.
However, Venettozzi's boss said he wasn't fired.
"I have no problem with Venetozzi and he was never fired," Craig George told Big Frog 104. "Our lawyer has advised us against saying anything more."
Venettozzi maintains his heroic acts cost him his job.
"I honestly didn't even consider my own safety or the risk to his equipment which he did explain when he let me go," Venettozzi said to WKTV. "I don't think that he's wrong, I don't think people should be bashing him for his choice, I don't think they should be flooding his Facebook, calling his office."
As Venettozzi searches for a new job, a friend started a GoFundMe for "Captain underpants hero tow driver." As of this writing, $2,675 has been raised.