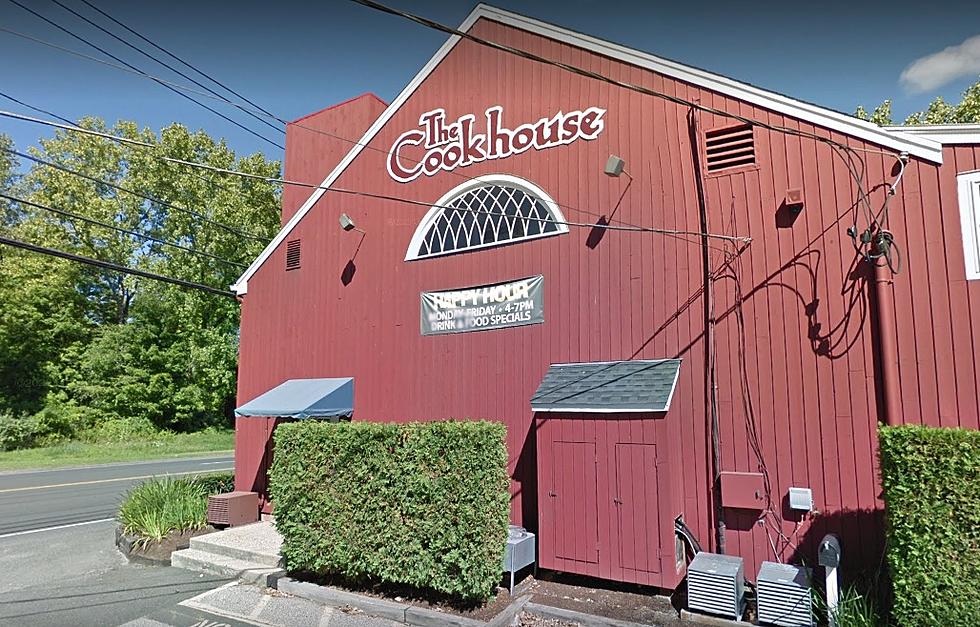 New Milford, What's Up With The Cookhouse? Mayor: There's Interest
Google Street
The Cookhouse in New Milford closed it's doors in January of 2023 after a quarter century in business.
Since then, residents have wondered what the next for this iconic location? It's starting to sound like we could have an answer soon. New Milford Mayor Pete Bass was our guest on the Wednesday (8/30/23) edition of the I-95 Morning Show and we asked him about the future of The Cookhouse building.
Dave: What is happening with the Cookhouse building? 
Mayor Bass: "The Cookhouse building, currently there are a few people that are kind of kicking the tires with that building so hopefully we can have some good news shortly on that one."
Lou: When you do, you need to come on this show and break the news. 
Mayor Bass: "Absolutely!"
We discussed the Mayor's Cookhouse comments on the show and wondered what would work best there, listen below.
Check out the Ethan, Lou & Large Dave Podcast on Apple and Spotify
Afrer that segment aired we had some listeners share their opinion via text through the I-95 Rock Mobile App.
Mike from New Milford said: "We need a good Chinese place where Cookhouse is."
Ryan from Sandy Hook wrote: "A Good BBQ place would be good or a Tilted Kilt." 
Me So Tired from New Milford commented: "I moved to New Milford when I was five and I am now 60 . .. I missed part of the restaurant segment but what we need is not another Italian /pizza restaurant... Not another Chinese. Once Joey's closed it made it super limited on where you could get a good steak....a girl loves her steak and potatoes!!"
I have to disagree with Ryan, I would not want to put a BBQ place where a beloved one used to be, plus the Cue is coming to town already and that reputation would be tough to compete with. "Me So Tired" is correct, New Milford does not need another Italian restaurant, there are so many, Ethan mentioned it in the segment above, he counted 14 Italian restaurants on Danbury Road alone.
What do you think?
That list could go on and on but eventually I needed to stop adding options.
New Milford Photographer Captures Awe Inspiring Photos in All Seasons
Recently, I was cruising through my Facebook feed in the New Milford group when I came across a picture so beautiful I felt compelled to contact the photographer and ask some questions. His name is Tom Allen and he was happy to share more information and photos with me.
Exclusive Photos, Videos, and Interviews on the Set of New Milford Horror Movie
"Candlewood" is a horror film that just finished filming in New Milford, CT. This is how the filmmakers described the project on their Indiegogo:
"Candlewood is the first movie of three in the psychological/horror feature film franchise. A blended family moves from the city to a small town in Connecticut, where a local urban legend adds chaos and terror to an already fragile family dynamic. The staunch patriarch, who desperately wants his family to not see him as a failure but as the father that did everything, he could to keep his family together through difficult times. Candlewood follows a family leaving New York City for a simpler life in the country town of New Milford, CT. The haunting and mysterious true stories of missing hikers near a popular state park, Lover's Leap, coupled with the town of Jerusalem sitting at the bottom of Candlewood Lake gives credibility to our narrative. We bring to life the struggle of good vs evil and what happens when lifelong, outdated traditions are challenged."
A while back I got in touch with the folks behind the movie, invited them on the I-95 Morning Show with Ethan, Lou and Dave and talked about the film, and shooting in New Milford. We spoke with Director Myke Furhman and Writer/Executive Producer Victoria Flores-Argue. During that discussion, I demanded to be in the movie, telling the duo that I have some experience acting on TV shows that never actually made it onto TV. Against all odds, they did invite me to participate and I visited the set on October 20th to shoot a scene that is important. I was extremely nervous and I had zero idea of what I was in for. Below are some insider moments from my day on-set and from others.