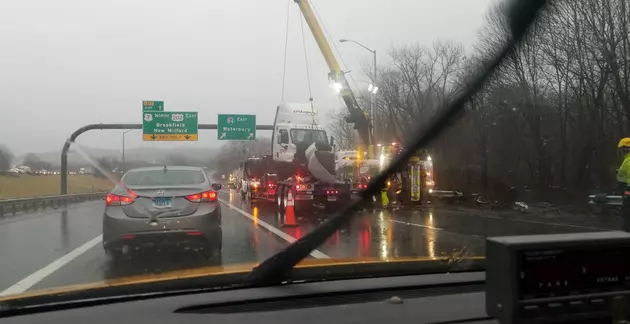 Danbury Section of I-84 Soaking Wet Disaster to Kick Off Holiday Weekend
Matthew Wilcox w/permission
I-84 in Danbury heading East just before the Exit 8/Super 7 split was where the accident took place. It was a tractor trailer v. car spin out. I know all of this because I was there first thing this morning. I was driving through a debris field just as police were arriving to the accident.
I encountered an entire bumper blocking my lane (left lane). There was debris in the middle and right lane as well. I ended up having to drive off the road to avoid it. It was a scary situation, I made it OK and I hope everyone else did.
The accident has caused huge, rolling delays all morning.The accident in the East bound lane ended up turning into a nightmare commute in the West bound lane as well. I've been getting photos and videos from Ethan and Lou listeners all morning in dead stopped traffic. It continues as I write this at 9:16 am. This was already one of the biggest travel days of the year and now this. Stay safe out there kids.
One more thing, if someone says "we need the rain" at any point today they should be locked in a box in the living room like Chandler Bing.