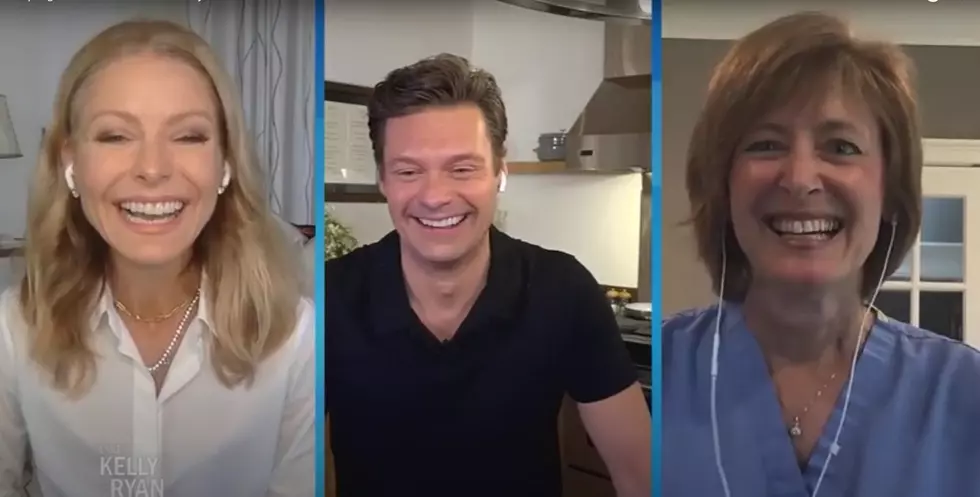 Danbury Hospital Nurse Honored on 'Live with Kelly and Ryan'
Live with Ryan and Kelly via YouTube
Enter your number to get our free mobile app
Nurse Amy Llerena is caring for COVID-19 patients in Danbury, CT, and has been in the field for nearly 30 years.
Amy Llerena describes her current experience in the field as long, 12-hour days in the ICU, with very sick patients. Yet, she still she manages to see this as a "humbling and honoring experience to be back there at the bedside."
A new role Amy has taken on during this time is becoming a clinical liaison. This means she is tasked with communicating the doctor's orders to families of patients. In addition to that, she connects the sick to their families digitally, since visitation is not allowed during this time.
Discussed in the segment, is the great leadership at Danbury Hospital, which has led to many success stories during this pandemic. This leadership, education team and tripling the ICU capacity presents itself as motivation to keep helping patients back at the bedside.
Kelly and Ryan wrapped up the segment with a gift of $5,000 to Amy.
If anyone was born to be a nurse, it's Amy Llerena. Thank you Amy and all essential workers.
Watch the full video below:
Salute To Hero Parade through Danbury