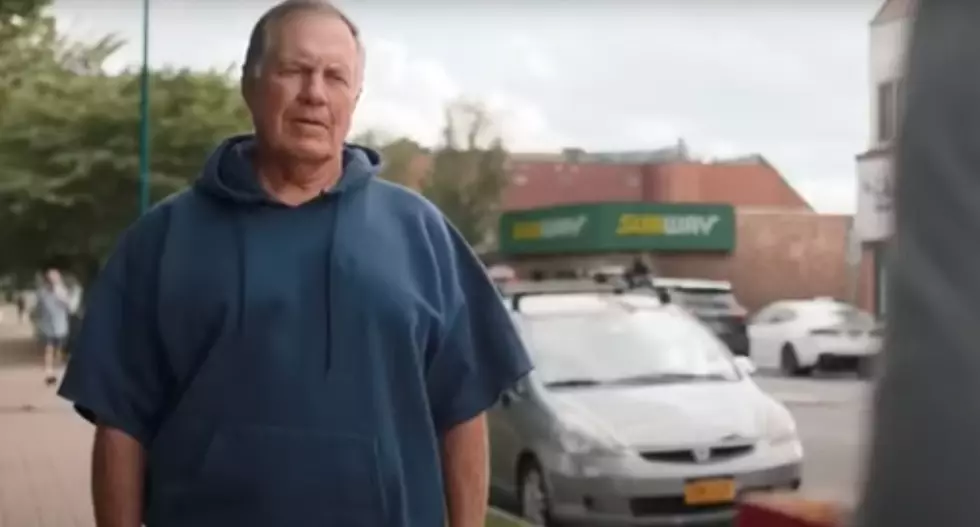 Watch Bill Belichick's Subway Ad Shot In Connecticut
YouTube
There's a funny new commercial making the rounds from Connecticut-based Subway Sandwich Shops, starring Bill Belichick, the head coach of the New England Patriots.  This particular one was filmed in Madison on the Connecticut shoreline over the Summer. Belichick, one of the greatest coaches in the history of the NFL, is famous for his no BS demeanor, and also for his hooded sweatshirts with the sleeves cut off. This commercial makes light of the way Belichick wears his sleeves, and his great use of intimidating silence, check it out:
Very funny. According to a post from the New Haven Register, Coach Belichick was spotted in Madison shooting the commercial back in July, on Main Street in downtown. Subway converted a couple of businesses that were closed at the time, Denali Outdoor Goods, and Ralph Ciarleglio Jewelers, to resemble a Subway restaurant, which, sad enough, the real Subway in Madison is on the post Road at 613, which is nowhere near as nice as the scene that they created for the Subway ad. Here's a photo of the actual Madison Subway, you can see, I think the location scouts made the right choice -
Well, this should be an interesting season for Belichick, and the Patriots, as they enter the 2020 season without the incredible Tom Brady as Quarterback. The Patriots are going to open up their season on Sunday, September 13 at an empty Gilette Stadium in Foxborough, Massachusetts.
9 of the Weirdest Names in Pro Sports History