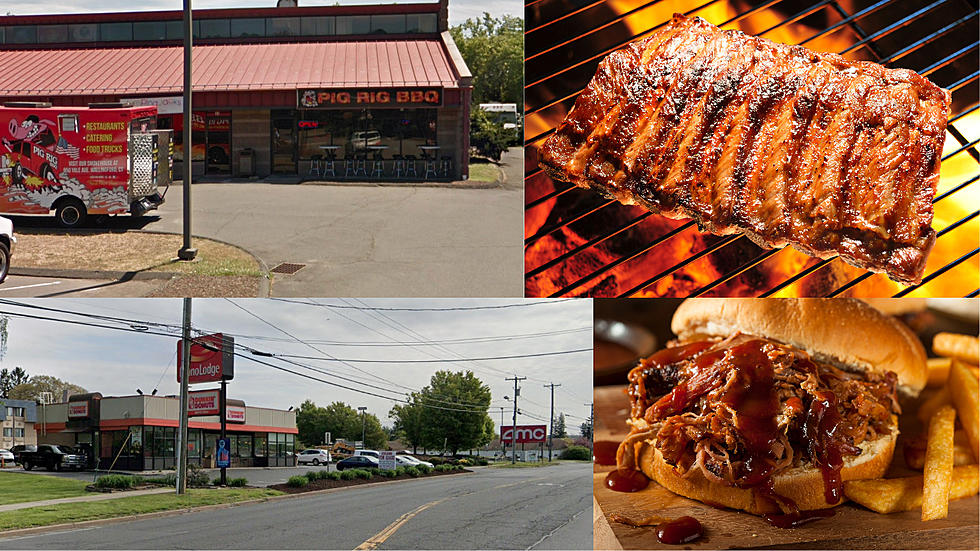 Wallingford's Pig Rig BBQ Smokes Out 2nd Connecticut Location
Getty Images/Google
Damn, the Meriden-Waterbury Turnpike (Rt. 322) has really turned into a great destination. So many great retail and dining options are located along the stretch of road between Castle Craig and Southington Mountain. The corridor is loaded with Sunday destinations including the AMC Theater, Home Depot, and the Fishing Factory,
If you're hungry and want Pizza, there's Domenick's and Vinnie's Spartan II, Fontana, and Tony's Pizzeria. Seafood? Get your shrimp at Sam the Clam's and the excellent Close Harbour Seafood. Kettle Bagels, Crazy Greek, Salsa's Southwest Grill, Avventura, Burger King, Wendy's, Popeye's, Taco Bell, McDonald's, even Subway. What's missing? BBQ. But, that's going to change soon.
Wallingford's excellent Pig Rig BBQ, which is located at 950 Yale Ave, is expanding with a second location in the near future. According to myrecordjournal.com, Pig Rig will open a new restaurant in the former Dunkin' Donuts building at 1843 Meriden-Waterbury Turnpike in Spring 2022. It's a great location, right in the Econo Lodge parking lot, sandwiched between the TA Travel Center, and the new Dunkin'.
What can you expect on the menu when Pig Rig BBQ opens in Southington? Pulled pork, and pulled pork sandwiches, beef brisket, BBQ chicken, BBQ baby back ribs, Hummel hot dogs, BBQ platters and combos, and oh yes, the sides - Hickory smoked mac & cheese, beans, cole slaw, potato salad, and of course, corn bread.
If we can get the Aqua Turf to open up a Prime Rib-to-go roadside stand along 322, I'm moving to Plantsville.
Your Local Guide to The Feast of The Seven Fishes in Connecticut
Feeling ambitious? Here's where you can get what you need to make, or where you can purchase what you'll need for your own Feast of The Seven Fishes
Famous People Laid to Rest in Connecticut
Least Expensive Towns in CT