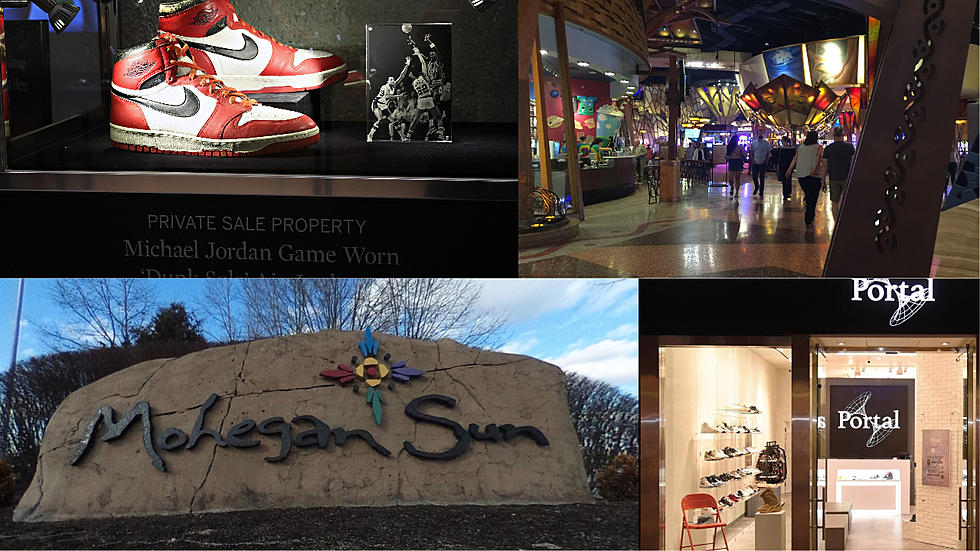 Upscale Sneaker and Streetwear Shop Debuts at Connecticut Casino
Google/Getty Images/Portal via Instagram
I bought a pair of Nike Air Jordan 2 sneakers when they came out in the glorious 80's. I paid $120 for them, which was outrageous in 1986, but they were the coolest sneakers that I had ever seen. I wore them for years, and eventually, I threw them out sometime in the 90's.
It's funny what you regret throwing away later on in life. We've all had someone unknowingly toss out an old comic book or toy that gained tremendous value, right? I never considered saving my old, rotten shoes, but a whole lot of you did, and now, there's retail venues out there specializing in classic/retro/upscale sneakers. If you've ever wanted to get your feet into $650 Yeezy's, beat them over Portal in the Shops at Mohegan Sun.
Portal is a new retail shop, described as "Established on reverence for sneaker & streetwear culture", that just opened up their doors for business in the Mohegan Sun Casino in Uncasville, CT. According to Jeff Hamilton, President & General Manager of Mohegan Sun, Portal features classic iconic sneaker brands like Nike, Air Jordan, Yeezy, Puma, to top brands from today, like Just Don, Bape, and Honor the Gift.
If you're looking for something specific, like a pair of Nike Air Jordan 2's from 1986, Portal offers a Priority Access program which will connect shoppers with hard-to-find items. If you're a Mohegan Sun regular, like me, you could also pay for your purchase at Portal with Momentum Rewards. Get lucky, and you just might be walking away with a new set of kicks on them.
Portal is located in the Shops at Mohegan Sun, and it's open Monday to Saturday 11 AM to 10 PM, and Sunday 10 AM - 8 PM.
Top 5 Most Expensive Homes on the Market in Connecticut
Famous People Laid to Rest in Connecticut
Some of the Best Walk and Drive-Thru Christmas Displays in Connecticut