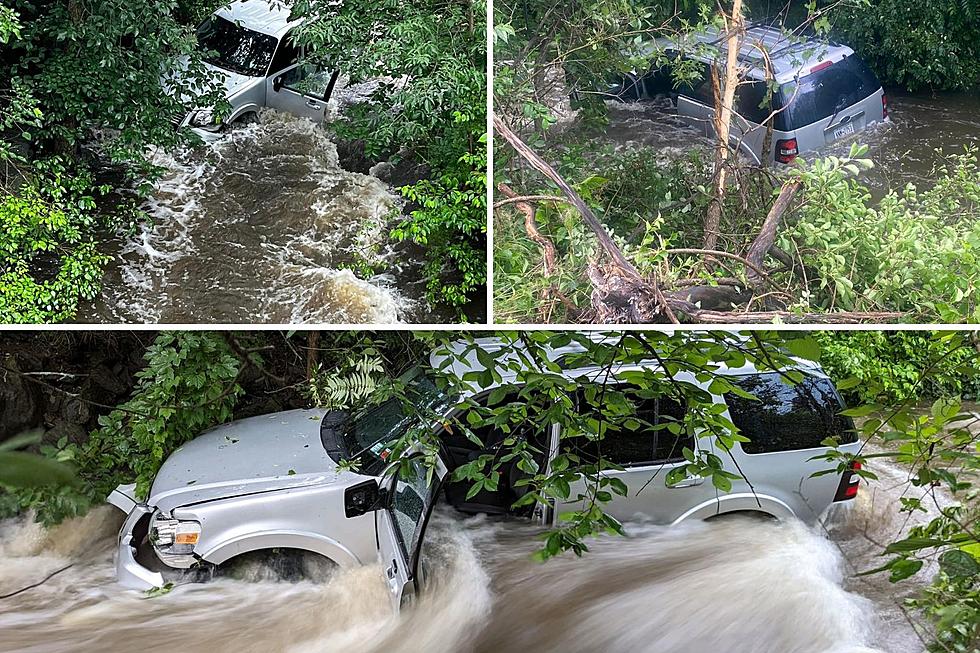 New York Man Trapped on Roof of Car in Hudson Valley Stream (PICS)
Tivoli Fire Department/Facebook
Flood waters engulfed a car on Monday leaving one man trapped on the roof.
The 4th of July holiday weekend celebration for volunteers in the Dutchess County village of Tivoli was interrupted on Monday when a call came in that a person was trapped on the roof of their car in a flooded stream.
What Happened
It was late Monday afternoon when the Tivoli Fire Department was dispatched to a call that reported a vehicle was stuck in a flooded stream according to the department's Facebook page. As firefighters made their way to the scene they learned that not only was a vehicle stuck in the stream but a man was trapped on the roof of the car and unable to get to shore due to the heavy water current.
Flooding Engulfs Car in Tivoli, New York
A normally slow-flowing stream was running much faster in Tivoli after major rain hit the area Monday. The fast water caused an SUV with one occupant to get caught up in the current and as first responders arrived on the scene, they were able to "make a quick recuse" and safely remove the man who was trapped on top of his SUV and get him to the shore. (We have pictures of the rescue below.) The patient was assessed by Tivoli EMTs as well as Northern Dutchess paramedics and transported to Mid Hudson Regional Medical Center to receive treatment.
How to Remove an SUV From a Fast-Moving Stream
After a safe human rescue, the next obstacle for 1st responders was how to rescue the SUV out of the water. As you can see in the picture above the fire department contacted the folks at Hillsdale Repair and requested a heavy wrecker to assist in the removal of the SUV. Once the wrecker arrived NYS Forest Ranger Aubrey Russo and members of TFD had to battle through the swift-moving water to attach heavy-duty straps to the SUV and once that was done they were able to remove the vehicle from the stream. TFD wanted to thank the New York State of Environmental Conservation, NDP EMS, Red Hook Police Department, and Hillsdale Repair for their assistance on the scene.
New York Man Trapped on Top of Car in Hudson Valley Stream
SUV stuck in a flooded stream in Dutchess County.
100 Year Old Saugerties Cabin on the Esopus Creek
Barely listed for a month it appears that this creekside gem in Saugerties, New York may be already snatched up. At only 638 square feet you would expect it to go so fast but it looks like
126 Glenerie Road
has a sale pending. No wonder why, it is adorable and a perfect Hudson Valley waterfront getaway.