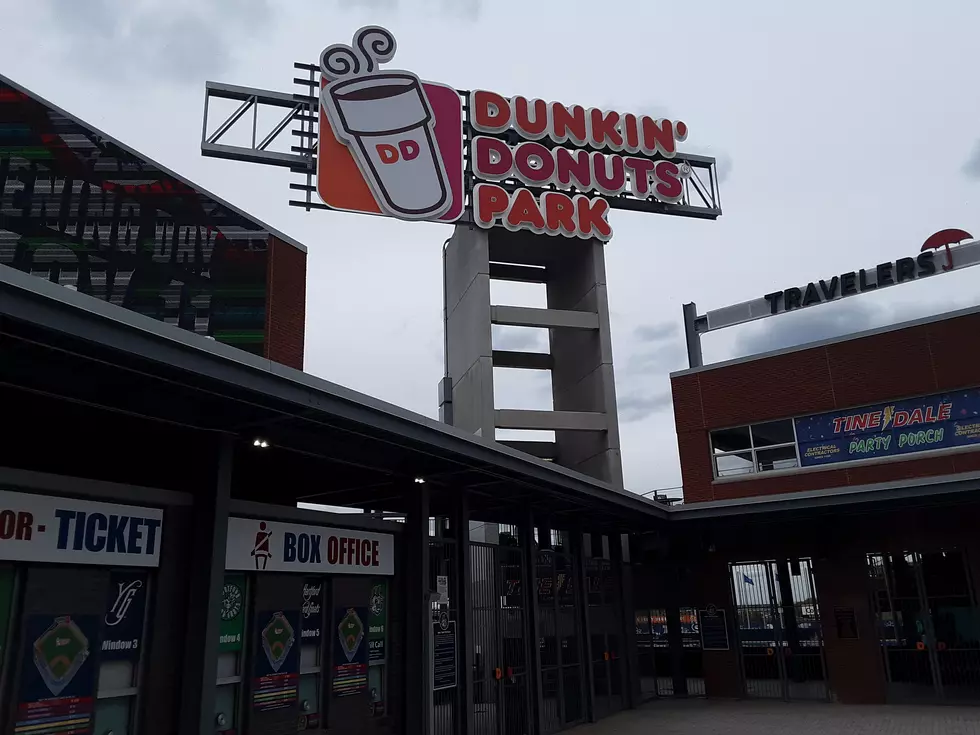 Hartford Yard Goats Make Official Return to Stadium After 2 Years
Sean Humphrey
As baseball season begins in Connecticut, the state's Double-A minor league team will return to its stadium for the first time since 2019, alongside two professional teams with home openers slated in late May.  
The Hartford Yard Goats, a minor league affiliate of the Colorado Rockies, will make their first appearance in Dunkin Donuts Park today, May 11, followed by the New Britain Bees returning to New Britain Stadium on May 26, and the Norwich Sea Unicorns at Dodd Stadium on May 31. Tickets have been made available for the Yard Goats and the Bees on their respective websites with "details on 2021 ticket options" for the Sea Unicorns to be released "in the coming days." 
In an effort to re-open safely, all three teams have said that they will continue to follow CDC guidelines, and work with the State of Connecticut and local health officials. While the Yard Goats will open the stadium in "limited seating pods," according to the Connecticut Post, Gov. Ned Lamont announced that Dunkin Donuts Park will open in 100% capacity after May 19. Despite the seating pods being removed, however, the Post said that autographs, player giveaways and use of water fountains will be suspended. 
According to the Yard Goats' website, COVID-19 vaccines will be offered at select games starting opening night on May 11. Fans who are vaccinated will "receive four tickets to a future game and a hot card courtesy of Dunkin'." While appointments are not necessary, the press release said that reservations are available through the Hartford HealthCare website.  
"Our wonderful and passionate fans, the best in baseball, will once again have the opportunity to experience America's National Pastime in one of the greatest minor league ballparks in the country," said Yard Goats President Tim Restall in a press release published on April 19. 
According to the press release, the return of the Yard Goats marks 621 days since their last game before the Major League Baseball organization announced that it would "not be providing its affiliated Minor League teams with players for the 2020 season." At the time of the announcement, International League President Randy Mobley cited "COVID-19 related challenges that would accompany staffing team rosters for a two-month season."  
The Sea Unicorns' game at Dodd Stadium will be their first playing in the Futures Collegiate Baseball League, joining the Bees. The Sea Unicorns were a minor league affiliate of the Detroit Tigers until after the cancelled 2020 season, following Major League Baseball's decision to reorganize the minor league teams.  
Despite minor league baseball being cancelled in 2020, the Bees had a delayed opening and were able to re-open last July, following CDC guidelines by keeping the stadium under 25% capacity. While guests were required to wear masks, they were allowed to remove them once seated and socially distanced. The FCBL expects to maintain a "safe and successful" regular season from May 26 to August 13.  
The Yard Goats played their first away game of the season on May 4 against the Richmond Flying Squirrels, a minor league affiliate of the San Francisco Giants. The last home game at Dunkin Donuts Park is expected to be on Sept. 19. 
According to a press release from Minor League Baseball, the 2021 schedule for each team will feature "greatly improved travel due to the better geographic alignment of clubs" and "technological advancements to foster fan engagement."  
"The 2021 Minor League Baseball season will preserve the unique local traditions and the affordable fun and excitement that fans have loved for generations, while introducing more ways to engage with their favorite team," said Major League Baseball's Executive Vice President Morgan Sword in the press release. 
LOOK: Here are the 25 best places to live in Connecticut
Stacker
compiled a list of the best places to live in Connecticut using data from
Niche
. Niche ranks places to live based on a variety of factors including cost of living, schools, health care, recreation, and weather. Cities, suburbs, and towns were included. Listings and images are from
realtor.com
.
On the list, there's a robust mix of offerings from great schools and nightlife to high walkability and public parks. Some areas have enjoyed rapid growth thanks to new businesses moving to the area, while others offer glimpses into area history with well-preserved architecture and museums. Keep reading to see if your hometown made the list.
Vacant Brookfield Properties Give Me the Creeps
Brookfield Connecticut is a beautiful New England town with picturesque landscapes and architecture. It does have one section of road that is about a mile long, that time has forgotten. When the highway got extended, the life started to drain from this portion of Federal Road and COVID-19 put the finishing touches on any business that was hanging on for dear life. There are supposed to be people in these places, that's why they were made. The absence of humanity in these spaces makes them tragic and chilling.
9 Famous People You Didn't Even Know Where From Connecticut