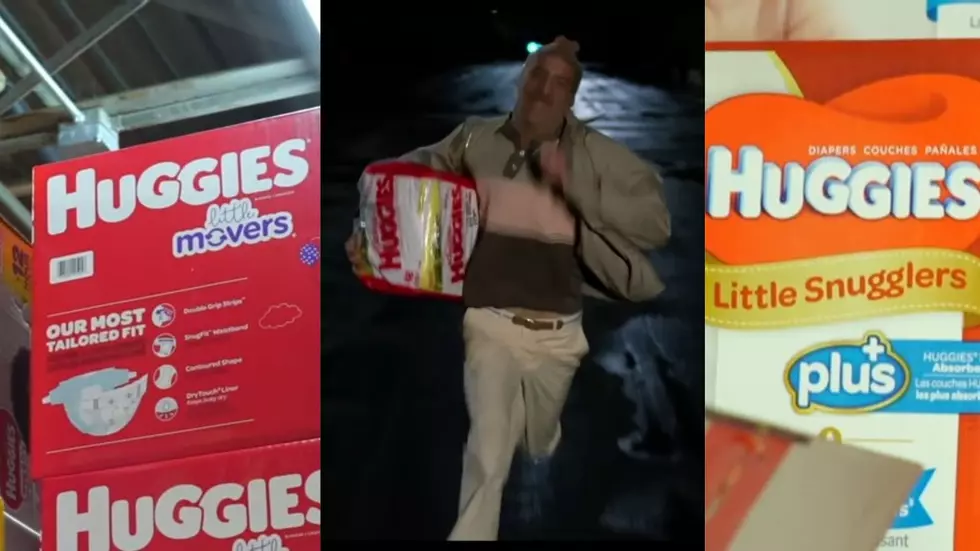 You Can Help Provide Basic Needs With The Diaper Bank Of Connecticut
Canva/YouTube/Janet Stolfi Alfano/YouTube/Movieclips
Every time I hear the word "diaper(s)" or "Huggies" the movie Raising Arizona comes to mind and the scene where Nicolas Cage attempts to rob a convenience store to get some. "I'll be taking these Huggies, and whatever cash ya got," he said as he casually walks to the register with a pistol in one hand, a bag of Huggies under the other arm, and a pair of women's sheer energy L'eggs over his head.
It's a funny scene, but the reality is that many Americans struggle to provide basic needs like diapers for their children. That is where The Diaper Bank of Connecticut comes in and this is their promise.
We work to raise awareness that too many in our community lack access to basic needs that are essential throughout individuals' lifespans. Our work helps ensure families have enough diapers for their infants and toddlers, individuals have access to period supplies, and youths and adults in need can access incontinence products. No one should have to worry about affording these basic needs.
I was disheartened to learn that one out of three families struggles to provide clean diapers for their baby and that is one of the main things that drives The Diaper Bank. Just like people have problems from time to time providing food for their family and food banks like Hillside Food Outreach and our Camping For Cans Fundraiser are there to help, The Diaper Bank of Connecticut is there to do the same thing, but with diapers.
If you would like to help and donate to The Diaper bank, you can go right here.
For more articles written by this guy, you can tap or click right here, including one about an abandoned house with an indoor pool near Kent, Connecticut. Thanks for hanging out with me and see you all again real soon.
Check Out The 21 Connecticut Restaurants Among The 'New England Top 100'
Recently Yelp published its list of the
top 100 restaurants in the New England
area and Connecticut should be proud of itself with 21 that made the list. From thin-crust pizza from Zeneli's in New Haven to the wonders of the Mediterranean with dinner at Yalla Organic Hummus & Grill in Fairfield. Let's take a look at the Connecticut restaurants that made the list compiled by our good friends at Yelp.
Nardelli's In Waterbury Picked Best Fast Food Restaurant In Connecticut
Live Next Door To A Haunted House? You Can In Preston, Connecticut