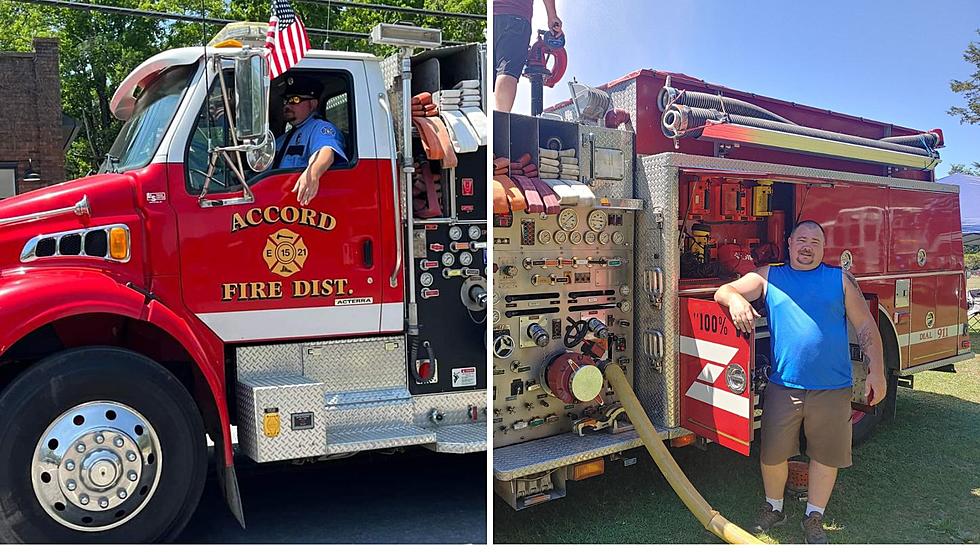 Wolf Den Of Heroes June Inductee: Tommy O'Brien
Tommy O'Brien
Congratulations are in order! Last week we announced our latest Wolf Den of Heroes, inductee.
If you didn't know, for the last few months we've been asking Hudson Valley and Greater Danbury area to tell us about the first responder in their life and give them the much-deserved spotlight. We call it the Wolf Den of Heroes.
Each month we'll pick a new Hero and gift them a $250 gift card thanks to our friends at MHA Dutchess County.
Wolf Den Of Heroes June Inductee: Tommy O'Brien
June's Wolf Den of Heroes inductee is Tommy O'Brien of the Accord Fire District. Tommy's wife Caitlin wrote in her nomination and said:
My husband Tommy has been involved in the Accord Fire district company #2 since he was 16 yrs old. Actively serving almost 20 yrs. This year he just got promoted to the Captain's position. He is strictly volunteer. Also shout out to all the ladies and gents from the Accord Fire District
Caitlin adds that she and Tommy actually met at the fire department back in 2010. We love a fire department love story!
Car Show and Chicken BBQ in Accord, NY
We spoke with Tommy who told us about how the Accord Fire District is such an important part of his life. He also shared with us about some fun events coming up.
Save the date for Saturday, August 19th for the Town of Rochester Co. #2 Chicken BBQ and Car Show. There will be cars, music, 50/50 raffles, and of course food at the 922 Samsonville Road location in Kerhonkson. Take a look at the flyer below:
How to Become the Next Wolf Den of Heroes Inductee
Are you a First Responder? Maybe you yourself are a first responder? If so and you haven't yet, you can nominate the first responder in your life or yourself today. Fill out the form on our website and put yourself in the running to be our next Wolf Den of Heroes, inductee and the winner of that $250 gift card from Mental Health America of Dutchess County.
We'll be picking a new hero every month for the rest of the year.  Good luck and thank you to all of our first responders!
Unbelievable Time Lapse of Wildfire Smoke Consuming New York City
Take a Look Inside the Abandoned Bowling Ally in the Staatsburg Firehouse
The Old Staastburg Firehouse (now Roosevelt Engine Co 5.) houses an abandoned bowling ally. Local Hudson Valley firefighters tell us that they believe the bowling ally was created back in the 50s and was used until the early 90s.
7 Things You're Banned From Burning In Your New York Bonfire