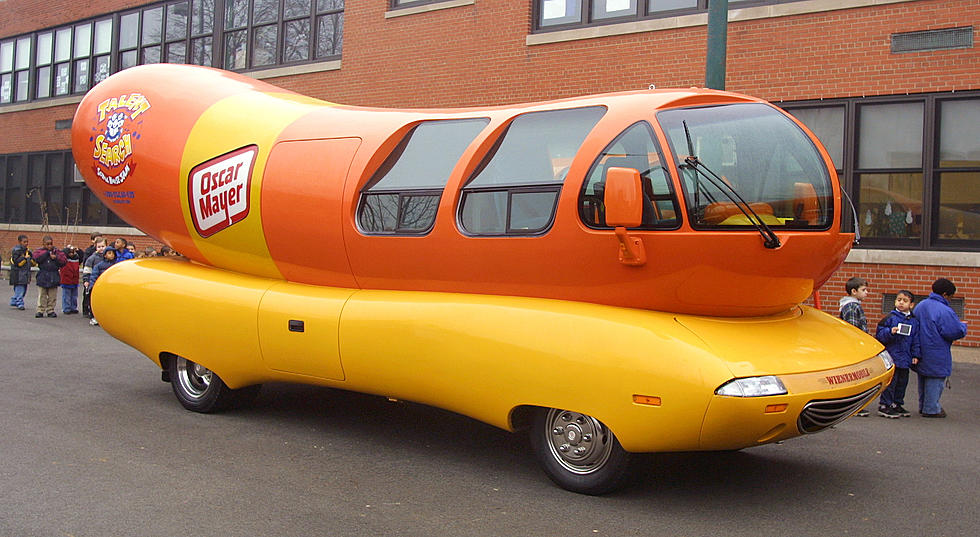 The Vehicle Formerly Known as 'The Wienermobile' is in Connecticut
Getty Images
Keep your eyes open along I-84, I-91, and Rt. 2 over the next few days, the newly re-branded Oscar Meyer Frankmobile is going to be steaming its way around Connecticut this week.
It's a rare occasion to have a giant hot dog and bun the size of a tractor trailer pull alongside you, but it's time to enjoy the giant wiener Manchester, Rocky Hill, Simsbury, Avon, and Farmington, Connecticut. News broke just a couple of months ago in May 2023 that Oscar Meyer was changing the name of its famous Wienermobile to 'The Frankmobile'. The original Wienermobile debuted in 1936 as a way to promote Oscar Meyer products, and it's evolved a few times over the decades since. Most recently in 2017, Oscar Meyer introduced us to the WienerCycle, the WienerRover, and of course, the WienerDrone.
None of those will be hovering or roving across Connecticut this week, but we are getting one of the newly redubbed Oscar Meyer Frankmobiles. According to the Frankmobile Tracker at oscarmeyer.com, there are six scheduled stops in the greater Hartford area this week. Today, Wednesday 23, 3023, the Frankmobile is setting up at Big Y in Manchester from 11AM - 2PM, and it will be at the Big Y in Rocky Hill this afternoon from 4-7PM.
Tomorrow (Thursday, August 24) The Wienermobile will be at more Big Y's, at the Simsbury store from 11AM - 2PM, and the Avon Big Y from 4-7PM. This weekend, the 27 foot Frank will make their final Connecticut appearances in Farmington, at Dreamride, on Saturday August 25 from 3-10PM, and Sunday the 26 from 10AM to 5PM.
Slather yourselves in mustard and dive in.
The Many Faces of 545 Main Street in Watertown, Connecticut
The first restaurant that I remember being in that beautiful old bank building was Heminway's, then it passed through quite a few hands. Remember some of these great, and not so great identities of 545 Main Street in Watertown over the past 30 years?
5 Wonderfully Weird CT Getaways Just a Car Ride Away
Social media is the driving force behind the success or failure of any hospitality business. You can create a massive swell of incoming business if your reputation is clean and you standout on platforms like Instagram and Tik-Tok. The weirder you are the better and Connecticut has plenty of it. Here are 5 Wonderfully Weird CT Getaways Just a Car Ride Away.
Let's See Your Connecticut Name Tag Collection
Did you save all your name tags from your old jobs? I did, and i found a bunch of them over the weekend. Before radio, I worked a few 'normal' jobs before the microphone found me, here are a few of the places that I have great memories of. Show me yours.