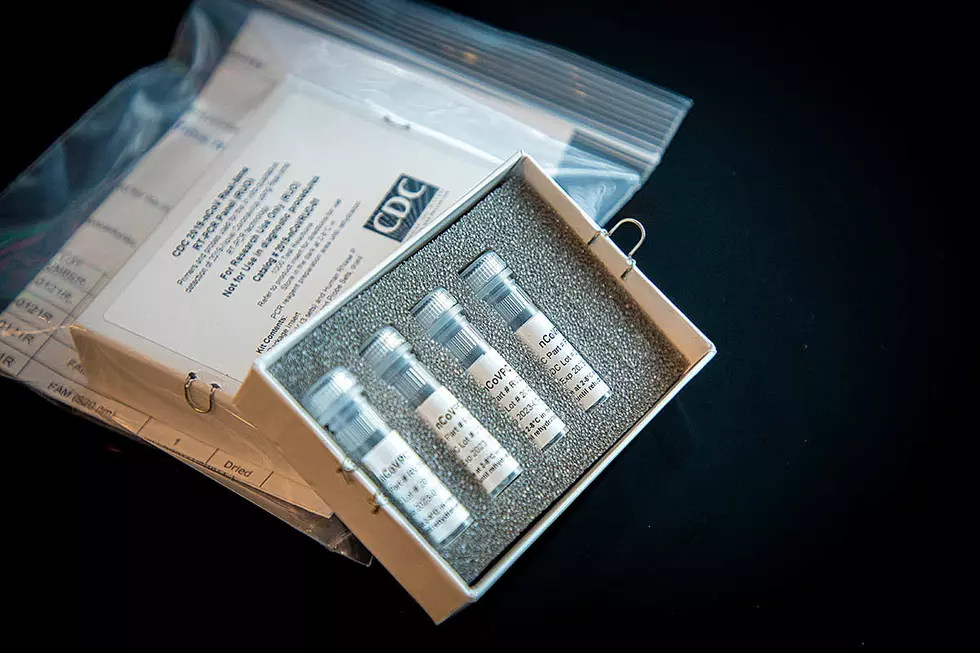 State of Connecticut Receives Additional Coronavirus Test Kit for Up to 600 People
CDC
In the State of Connecticut's latest efforts to stay ahead of the battle against Corvonavirus, officials say they have reportedly received a second test kit from the Centers for Disease Control and Prevention (CDC).
In a news conference at Bristol Hospital on Monday morning (March 9), Governor Ned Lamont announced that while Connecticut had initially only received one testing kit, being approved for the second will allow for the testing of up to 600 more people.
"We do have another test kit. That represents the ability to do another 600 tests," said Lamont. "So far we've done less than 50. All that means to say is that we are prepared. We've had our first Connecticut case of COVID-19 and it won't be the last."
The Governor was joined by Senator Richard Blumenthal and various other state health officials to provide the public with an update on all that the state is doing to fight the virus, including offering up some suggestions for CT residents.
"Nobody could be totally prepared for a virus like COVID-19, a virus that's changing every day," Lamont added. "And the infections are accelerating every day, but we're working together on a collaborative basis to do everything we can."
The Governor's Office also took to social media Monday morning to announce some of the actions being taken in hopes that they "will significantly and proactively escalate measures to prevent the spread of coronavirus."
These announcements come one day after it was confirmed that a Wilton man between the ages of 40 and 50 years old is being treated at Danbury Hospital in what is considered to be Connecticut's first active case of the virus.
According to the Department of Public Health, risk of becoming infected with COVID-19 is considered low for people who had contact with an individual who does not have COVID-19 and does not have symptoms. In other words, a contact of a contact is considered low risk.
Any resident that is not currently showing symptoms of the virus (two or three days of fever, cough, and shortness of breath) can dial 211 at any time with any basic questions.
Related stories: 
The Governor's Office has also provided residents with some important messages to keep in mind:
People without symptoms should not be tested for COVID-19. Testing individuals with no symptoms is not recommended by CDC.
If you were with someone who does not have symptoms, the risk of transmission is very low.
There are many respiratory illnesses circulating in Connecticut, such as the flu and the common cold. Having respiratory symptoms does not mean that you have COVID-19.
People are at higher risk for COVID-19 if they have symptoms of the virus (cough, fever, shortness of breath) AND if they were a contact of a positive case of COVID-19 (or have traveled to country with community transmission, such as China, Italy, South Korea, Iran, and Japan).
Someone is considered a contact if they have had direct, face-to-face contact with a person with COVID-19.
People who think they have COVID-19 should call their healthcare provider. These people should not go directly to a healthcare facility without first calling a healthcare provider (unless they are experiencing a medical emergency).
People with general questions about COVID-19 can visit ct.gov/coronavirus or call 2-1-1.
Everyone can help stop the spread of viruses in Connecticut.
Get your flu shot, and make sure the people around you do the same.
Wash your hands often throughout the day. Use warm water and soap. If soap and water are not available, use alcohol-based hand gel.
Cough or sneeze into your elbow. Viruses can spread by coughing or sneezing on other people or into your hands.
Stay home from work or school if you are sick.
Avoid touching your eyes, nose, or mouth. Germs spread this way.
Get plenty of sleep, be physically active, manage your stress, drink plenty of fluids, and eat nutritious foods.
Keep surfaces (especially bedside tables, surfaces in the bathroom, and toys for children) clean by wiping them down with a household disinfectant.
Enter your number to get our free mobile app