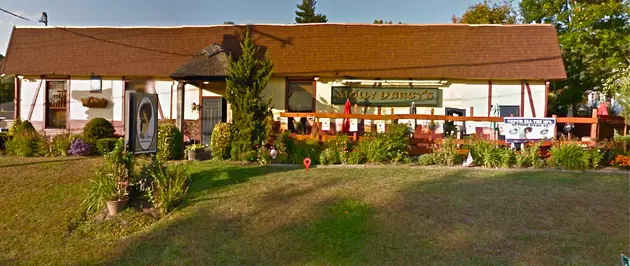 Remembering the Great Bars & Nightclubs of Danbury's Past
Molly Darcy's on Mill Plain Road Where Thursday's, Corona's, and Yesterday's Night Clubs Were Located Before Molly's - Credit - Google Instant
On my Facebook page, I asked you guys to name some of your favorite Danbury area bars from the 70s and 80s and I got a huge response!
Because I was never a "going out to a bar" kinda guy, I thought I'd ask where you all hung out back in the 80s.
FORE N' AFT - This club was located on Route 6 in Brewster and it kicked ass! I remember hangin' out for I-95 Rock Nights with Twisted Sister. I would have to get up on stage between Twisted's sets and give away schwag, but to do that "successfully" I had to down 4 or 5 beers to get all fired up because TW worked everyone up into a frenzy!
POLO'S NIGHTCLUB - After the Fore N' Aft closed, it became Polo's, which was geared more towards the disco crowd. On June 25, 2004, the building, which had been abandoned since 2000, burned to the ground.
THE DIALTONE - Back in the mid to late 70's, the Dialtone was a popular disco on Mill Plain Road where there were phones installed along the bar with numbers above them so you could dial up another person at a specific table and ask them to dance or whatever. WOW, the early workings of social media perhaps?
CORONA'S, THURSDAY'S, AND YESTERDAY'S - All 3 of these clubs were located where Molly Darcy's stands today at 39A Mill Plain Road in Danbury. Check out the first photo.
TUXEDO JUNCTION - This legendary club recently closed its doors after a long run of live music that included everything from rock n' roll, to latin, to alternative music. The City Council has given Danbury permission to purchase the building with plans of possibly turning it into a community theatre. The last rock concert I remember at Tuxedo's was Blue OysterCult in January 1992.
Here are some other bar/nightclubs from Danbury's past that were also mentioned.
City Limits, Stage Three(Brookfield), Zebra Lounge(before it became Stage Three), Billy Baloney's, Good Times, Bogart's, The Night Owl Cafe, Burgandy's Lounge,
Do you remember some of the most popular live bands that originated and played in Connecticut, like Sapphire, Steeplechase, Fast Fingers, Simms Brother's Band, Back to Earth Band, Physical Graffiti, B.Willie Smith Band, and Eight to the Bar. I'm sure there are many more. Feel free to list the ones you remember right here.