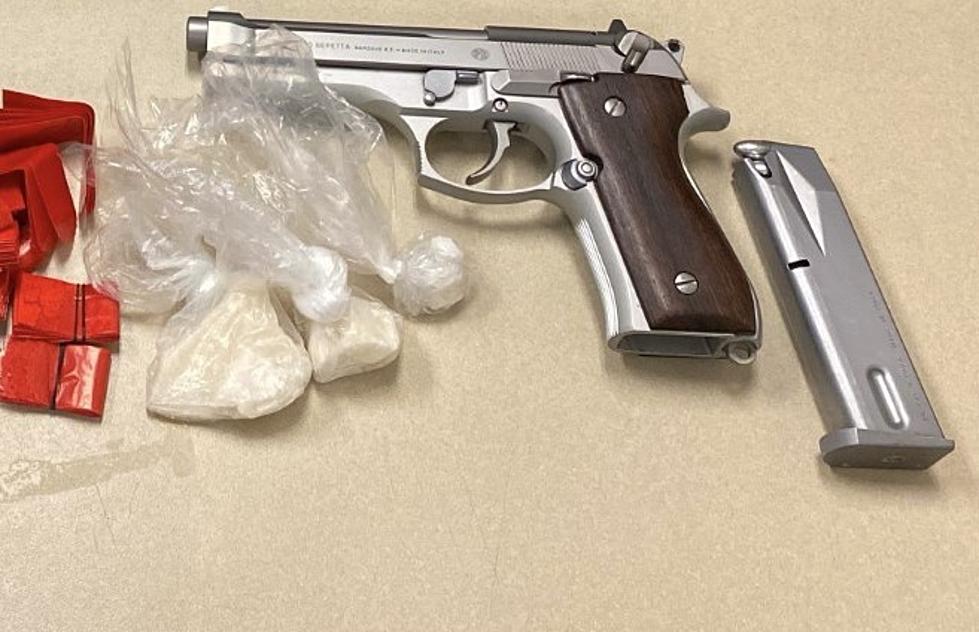 Police: Danbury Man Arrested, Accused of Hiding Cocaine + Fentanyl in His Underwear
Danbury PD
The Danbury Police Department has been engaged in a coordinated effort to rid the Hat City of problem drugs and guns.
The collaborative effort between the Danbury Patrol Division, the Special Investigations Division, and the DEA produced another bust on Monday (3/28/22) when authorities took Eric "Eddie" Jose Espinal into custody.
Police say they were surveilling Espinal Monday at 43 Osborne Street, primed with search and seizure warrants. Officers say Espinal got into a 1998 Honda Accord operated by Clarence Cherry at which point investigators say they noticed Espinal and Cherry making "hand-to-hand" transactions that were described as drug transactions.
Police officers apprehended Espinal and Cherry in a parking lot on Mill Plain Road, they searched the men, and authorities allege Espinal was in possession of several Fentanyl bags. Danbury PD reps say a later search at the Police Department turned up hundreds of more bags of Fentanyl, and more than an ounce of cocaine in Espinal's underwear.
Arresting officers say their initial search of Clarence Cherry yielded an illegal handgun. Both men were taken into custody, and are facing a variety of charges. Cherry was already wanted by Bethel Police on an outstanding warrant.
All of this information comes courtesy of a press release from the Danbury Police Department and get used to it. There have been a rash of press releases lately where the Danbury PD has made drug busts in cooperation with related law-enforcement agencies. It seems the Danbury Police are cracking down hard on suspected drug dealers.
P.S. How did the dude manage to keep the underwear drugs hidden until they made it back to the police station? I mean, I already know the answer, I just find the behavior hard to relate to. Let that be a lesson to you kids out there, crime doesn't pay, unless you like the idea of storing things in your ass. I don't like ass storage, it's not my kind of thing, it's a pants party I want no part of.
Also, who wants to consume drugs that have been stored in someone's cheeks? It's pretty safe to assume that all drugs have spent at least some time in someone's ass.
We talked about this on the Wednesday edition of the Ethan & Lou Show and you can listen below.
Paranormal Experts Say Derby's Sterling Opera House is one of the Most Haunted Places in CT
According to
Only in Your State
, Derby's Sterling Opera House is one of the most haunted locations in all of Connecticut. These are some images from inside the historic and eerie Sterling Opera House.
6 of CT's Most Wanted Bank Robbery Suspects
Not every bank robbery is an open and shut case like I used to believe. I figure, it's the digital era, if they are on camera, they are getting caught but that is not how it always shakes out. According to CT Financial Crimes Most Wanted, the following 6 cases are open investigations, either by the police department, or the banks themselves.
CT Man Overcomes Emotional Trauma With Wildlife Photography
Tim Kaiser is a former I-95 radio personality that I lost touch with some years ago. Tim reappeared in my Instagram direct messages with photos and a story I had to share with you. His story, is one of overcoming life's obstacles and finding beauty in a world with so much pain.
I asked for Tim's permission to share a letter he wrote me and he said yes. The words below are his, they reflect his emotional suffering and his brave journey to combat life's challenges with the beauty of nature. This is the story of how a CT man has overcome emotional trauma with photography and nature. The pictures below were all taken in Washington and Woodbury, CT.