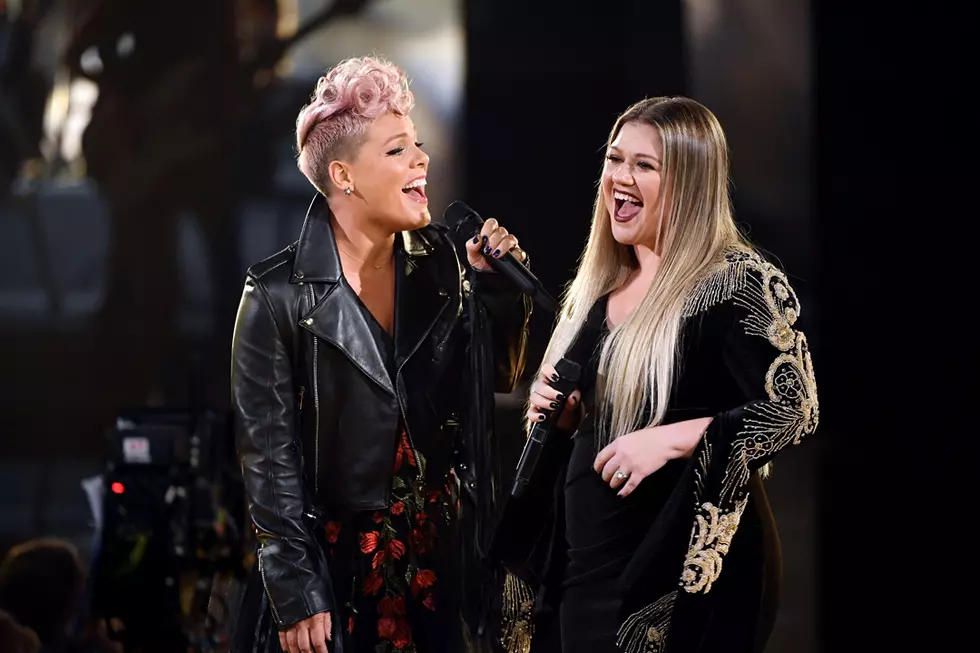 Kelly Clarkson, Pink Rise Above Difficult 2017 in Soaring AMAs Duet
Kevin Winter, Getty Images
Kelly Clarkson and Pink gave an emotionally stunning performance to open the 2017 American Music Awards on Sunday night (Nov. 19), joining to sing R.E.M.'s "Everybody Hurts."
The once-in-a-lifetime duet came just minutes into the broadcast, after Jamie Foxx brought his daughter onstage to open the awards ceremony by honoring first responders who were among those who were on the front lines in 2017 as America faced one tragedy and catastrophe after another. Those included wild fires, floods, hurricanes, mass shootings and more.
Clarkson and Pink hit the stage at the Microsoft Theater in downtown Los Angeles for the performance, bringing their powerful voices together for a stellar, uplifting rendition of R.E.M.'s classic from 1992's Automatic for the People album. The song stands as an appropriate elegy to what has been a very difficult year for so many Americans, but they imbued it with an almost gospel fervor that promised hope for a brighter future.
See Kelly Clarkson and Her Daughters on the AMAs Red Carpet
Country music was deeply impacted by many of the harder-hitting events of 2017, including the hurricanes that hit in Texas and Louisiana in August and September. On Oct. 1, a shooter opened fire on the audience at the Route 91 Harvest Festival in Las Vegas, killing at least 58 people and wounding more than 500 others.
We Were Shocked When These People Started Making Country Music
5 Biggest Moments of This Year's CMA Awards