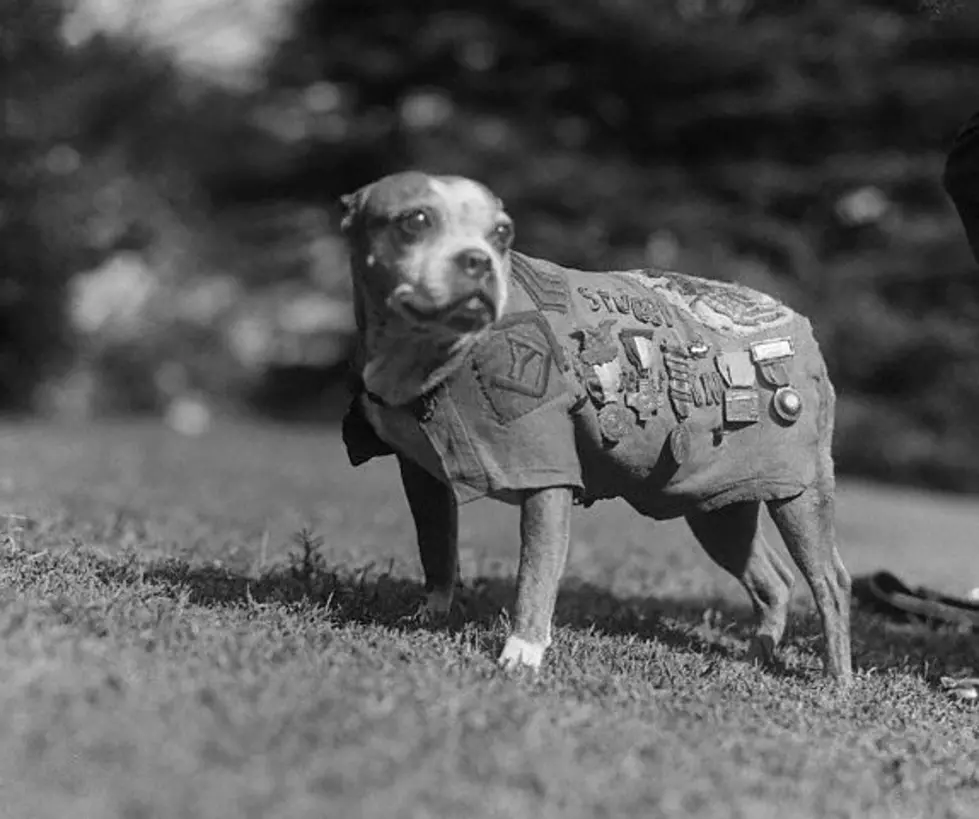 From Stray to Star: Heroic Historic Canine Has Connecticut Roots
© Bettmann/CORBIS
Heroes can come in all shapes and sizes and genders and whatever else, including species. A hero can be someone or something that isn't human at all, like maybe, a dog. A stray dog, as a matter of fact.
Sergeant Stubby was one such stray dog and the unofficial mascot of the 102nd Infantry Regiment. By all accounts, Stubby was most likely a Boston Terrier or Pit Bull mix, and he served a whopping 18 months and saw action in 17 battles on the Western Front during World War I. Legend has it that Stubby saved his regiment from surprise mustard gas attacks, found and help comfort the wounded, and lore says that he once caught a German Soldier by the pants and held him till Americans arrived.
According to Google, in 2021, at any one time, there are as many as 70 million homeless dogs and cats in the United States. A stray Stubby was found wandering the campus of Yale University in New Haven, Connecticut in the Summer of 1917. Members of the 102nd Infantry Division were training there as they prepared to be deployed when they discovered him. The soldiers made Stubby one of their own, teaching him to salute the commanding officer, and even helping smuggle him all the way to France.
Here Stubby receives a medal from General Pershing and the Humane Education Society at a White House ceremony, in 1921. The American Red Cross, the YMCA, and the American Legion all made him an honorary member for life.
Stubby was wounded in battle several times, recovered each time, and came back to the United States a celebrated hero. Stubby is the most decorated war dog and the only dog to be promoted to sergeant through combat. He lead parades, met three Presidents, and served as the Georgetown Hoya's team mascot. If you were asked to name whose remains were kept at the Smithsonian Institution, I bet you would be hard-pressed to name just one. When I say remains, I mean his remains were given to a taxidermist to preserve and are now on display. Here he is with all of his medals on display.
Newspapers all across the country wrote about his exploits adding more and more to his legacy and legendary status. Who could resist stories about dogs doing brave things for their humans, especially dogs that were once strays? There have been countless dog-based movies, Beethoven, Rin Tin Tin, Benji, just to name a few off the top of my head, and Stubby has one too.
One of the fun things about my job is I get to explore all that our area has to offer and since I am new to Connecticut it has been a real learning experience. Discovering the history of Stubby reminded me of my affinity for Underdog cartoons and indeed, heroes come in all shapes, sizes, and species.
For more articles written by this guy, you can tap or click right here, including a recent one about an entire abandoned neighborhood. Thanks for hanging out with me and see you again real soon.
5 Lost Connecticut Treasures of the Legendary Captain Kidd
The Abandoned Ruins of Bridgeport's Pleasure Beach
The Pros and Cons of Moving to Danbury from People Who've Lived Here
Recently, I saw a new Reddit post, in the Danbury group, where someone said they were moving to the area, and wanted the pros and cons. The post read: "Moving to Danbury: Just got a job offer in Danbury. What's the good and bad of living in or around Danbury? Any good day cares?" That post came from u/bazookadog and these were some of the responses from area residents: