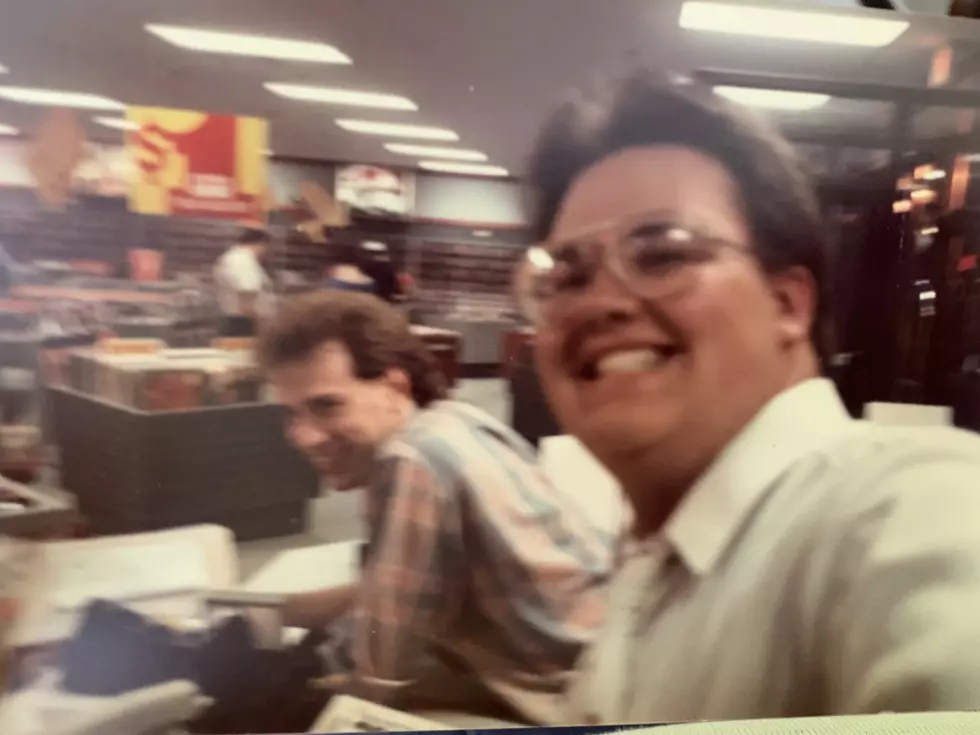 Do You Remember Record Town in Waterbury?
Photo by, and of, Large "HCHS 1987" Dave
1986. What a year. I was a Junior at Holy Cross High School in Waterbury, and I got my first job ever at a brand new store - Record Town.
Record Town was regional record store chain that had stores in the Danbury Mall, Meriden Mall, Trumbull Mall, and I think there was one in the Crystal Mall in Waterford too? Anyway, they sold records, cd's, cassettes, and assorted music-related merchandise, and were opening up a store in Waterbury.
My friend and I applied for jobs, and got hired. Record Town was a bright new construction at 939 Wolcott Street. It was in the Edwards/Toys R Us/American Steakhouse plaza, right next to Roy Rogers restaurant, and across the street from the Naugatuck Valley Mall. My first ever general manager, Ted K. was a great guy, and we unloaded around 200 boxes of cd's, 45's, cassettes, cassingles, Zero-stat record-zappers, and Rovio CD cleaners.
The store had one of the first sticker-sensor alarm systems that I can remember, and we put these metallic stickers with very adhesive glue on everything. God, I can still hear that alarm beep, it was so loud when it went off. The worst though, was the cassette shucks, these heavy plastic contraptions that were ridiculously easy to break. We used to have to use a special orange key to slip them open. It was funny when the in-store music suddenly went off, and you could hear the 4 kids in the Rock cassette aisle breaking them open. We caught so many shoplifters.
I worked at Record Town for 3 years, from 1986-1989. The biggest sellers that I remember from my first year were Peter Gabriel's So, Genesis' Invisible Touch, Madonna's True Blue, and License to Ill from the Beastie Boys. I never sold more copies of anything to my Holy Cross classmates than License to Ill, and Bon Jovi's Slippery When Wet. We couldn't keep those in stock. White rappers? Frat boy rock? C'mon, it was 1986. Preppy Handbook was hot.
The only other album that I can remember a line forming for was Michael Jackson's Bad, which came out right after I graduated HCHS in 1987. We must have sold 3,000 cassettes, singles, & cd's in one weekend. I also remember that people were stealing the promotional photos of Michael right out of our store's fixtures. What a difference a decade made after that, huh?
There was always a rumor that we were going to get a Ticketmaster outlet, but we never did. It used to be in the G. Fox in the Naugatuck Valley Mall, that was a cold parking lot at 5AM. Another thing that I'll never forget, watching hundreds of shopping carts from Edwards and Toys R Us rolling down the lot into either our curb, or more fun, someone's vehicle. You paid a price for parking in front of Record Town, that's why we always pulled nearer Wolcott St.
Eventually, Record Town went away, and it became another store that spoke directly to me, Casual Male Big & Tall. Game Stop next door has been there for a very long time. It was a strange feeling walking into Casual Male, and then Denny's. It's a Crunch Fitness now. Here's a Google street view of the building from 2019. 
Now? Everything that I sold in that store is on my phone. It was fun while it lasted.
Remember Renting Movies From These Waterbury Video Stores?
Remember Applause, Funstuff, Video World, Video Venture, Tommy K's, and Blockbuster? I spent years roaming those aisles, it was fun, right? I think about that when I drive by those buildings. The anticipation of finding a new release and grabbing a sugary snack. Here's what some of those former Waterbury video store locations look like now.
The 6 Restaurants in Middlebury That Never Disappoint
There aren't many choices when it comes to dining out in Middlebury, Connecticut. Choose wisely