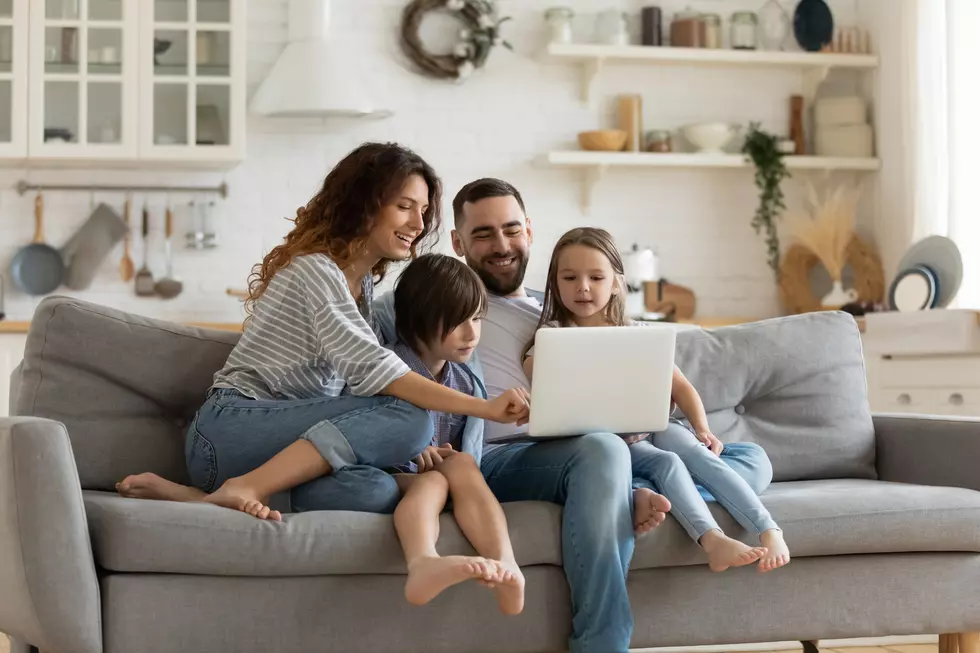 Danbury Area Parents' Hilarious Responses to Their Kid's Questions
fizkes
It takes a lot of grit to be Connecticut resident, it's even harder to live in the Greater-Danbury area.
You need to be tough, intelligent, hard-working, have SOME money, and need to be able to spot a lie. Those traits are also helpful if you're a parent. BUT, if you are a parent AND you live here, you need more, you need a sense of humor. To survive this combination, it's vital that you can laugh at yourself and the absurdity life can throw at you.
I know the people here are funny, so I asked folks from around the area to tell me something about their family. I posted the following on social media: "Give me a weird/annoying question(s) one of your children asked you. Then, tell me how you answered. GO!!!!!"
This is what I got in return:
Marissa: (at 5 am)
Kid: "What's for dinner?"
Me: "S-- on a shingle."
Samantha:
Kid: "What are you and dad doing with the door closed?"
Sammy:
"I don't have kids but I nannied/babysat for years and one of the girls use to ask me why she couldn't put her barbies in the oven like 8 times a day lmao. I should prolly check 
ct.gov
 for her active cases."
Jay: 
Kid: "How come she can go and I can't?"
Me: "Because we love her MORE than we love you."
Charles: While driving 65 mph on highway out of state on vacation.
Kid: "Are we there yet?"
Me: "Yeah, get out!"
Rich: No kids, just a vasectomy...
Her: "Why TF would you get snipped?"
Me: "Let's go do something right now, no questions asked. Fiji? Ok, two tickets please..."
Ron: (while on highway):
Kid:  "Are we there yet?"
Me: "Yup. Just looking for a place to park."
Jacqueline: Sent the photo below
Jay: My son was about 3 at the time, he was with his mother when she hit a deer.
Me: "what did mom do or say"?
Kid: "oh sh--!"
Me: "What?"
Kid: "nothing."
Me: "why not?"
Kid: "I didn't hit a deer!"
I have four kids. Three older boys, 14, 13 and 13. Then, we have a 5-year old girl. That is quite the experience, all she does is argue with me, and what is really scary is that she usually wins.
Inner Sanctum - Behind the Curtain on Danbury's Mysterious Free Masons
John Arizzi is the sitting Worshipful Master for Danbury's Union Lodge #40 of the Ancient Free and accepted Masons. Arizzi described his role to me in layman's terms, saying that in any other organization, he'd be called the President. This position is voted on every year by the group, and Arrizi has held the position multiple times. Arrizi was my tour guide into a world many people never see, the inner sanctum of Danbury's Free Masons.
The Danbury Free Masons meet in a building at 337 Main Street. The building was originally the Meeker mansion. The Meekers were the prominent Danbury family who ran Meeker's Hardware. It's worth noting, that a separate Masonic Lodge is headquartered in the same building, Lodge 39. Lodge 39 is originally from Georgetown, CT but when their member numbers dwindled, they sold their building and moved to Danbury.
7 Couples Commandments for TV Binges
While I consider myself a professional content consumer, I'm also a human being so I make mistakes. When you make a mistake, it's best to identify it, and learn from it. I've made a f--- ton of errors while binge watching TV with my wife Erica. I've taken those mistakes, and turned them into a list of "Commandments" for couples viewing. These are 7 Couples Commandments for TV Binges.