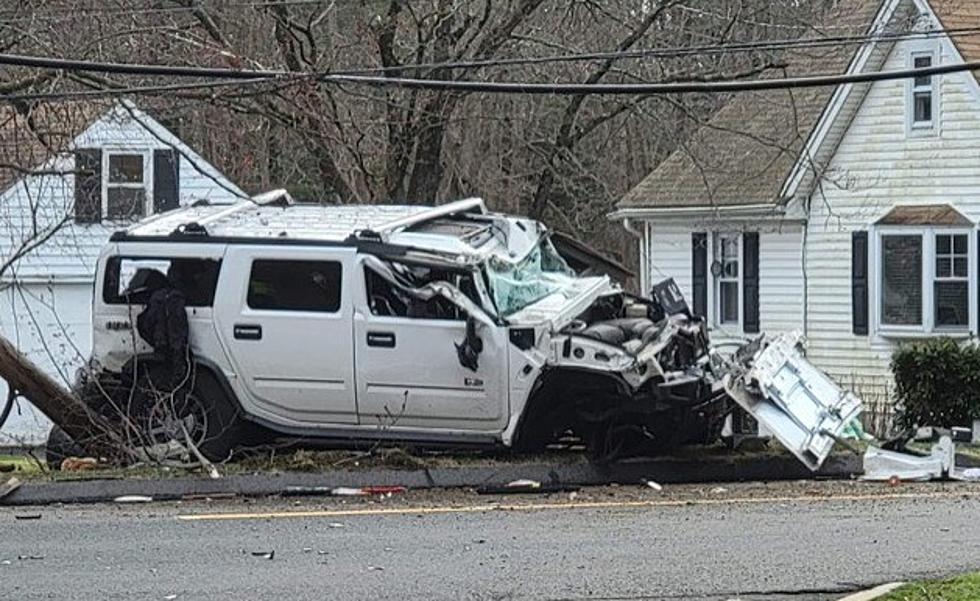 Brookfield Woman Crashes Vehicle After Police Chase, More Photos Emerge
Leanne McElvoy
According to the Patch, 25-year-old Hannah Casperson wrecked a white Hummer on Sunday, capping a lengthy police chase.
The report states the Casperson was wanted in connection with vehicle burglaries in Wolcott, and her white Hummer was spotted by law enforcement on Sunday in parking lot in Wolcott. Authorities say Casperson took off, and police were forced to give chase.  Cops say the chase spanned 25 miles and ended after Casperson crashed into a utility pole on Wheeler Road and Route 111 in Monroe.
The incident lit up social media on Sunday, with many people claiming to have seen at least a portion of the chase, or the wreck. I was able to track down a few photos taken at the scene of the accident with the help of Kelley Hangos-Carrano. Kelley connected me with Leanne McElvoy and Ariel Boucher. Boucher took the photo below.
And Leanne McElvoy took the following photos.
According to NBC Connecticut, Hannah Casperson is from Brookfield, CT. She was taken into custody after the car wreck and faces multiple charges in connection to the Sunday incident, on top the warrants that prompted the chase.
Casperson reportedly struck 7 police vehicles during the chase and officers did sustain non life-threatening injuries. Casperson's boyfriend Thomas Crawford was arrested and taken into custody prior to the chase. Police say he's wanted as an accomplice to Casperson in the alleged car break-ins. Multiple police officers were injured and treated at a nearby hospital, as was Casperson.
Sunday is for chilling! Please everyone chill! You're supposed to be in your sweatpants, not running from cops or having your phone blow up because everyone is texting you about the incident hoping you'll write an article.
I-95 Listeners Show Us Their Stars and Stripes
On Monday I wrote an article that pained me. I had to share the news that the
State of CT ranked very poorly in a new patriotism study.
The study took a number of factors into account and graded the Constitution State #48 nationally. While I know patriotism is more than flag waving, I needed to rally the Ethan and Lou Show listeners to do just that. We needed an immediate and symbolic answer to this national criticism. I asked the radio show listeners to use the I-95 Rock Mobile App and text us photos of their flag, wherever it may be. They all came through in a big way and these are some of our favorites.
Some of Danbury + Brookfield's Best Churro Spots
A churro is a fried dough dessert found in Spanish and Portuguese cuisine. When covered in cinnamon and dipped in Dulce De Leche, it's one of my favorites. The question with anything worth having is, how far do I have to go to get it? If you live in Danbury or Brookfield, you are not going far at all. And, I'd put our churros in Danbury + Brookfield's up against any churro you can get anywhere. These are some of Danbury + Brookfield's Best Churro Spots.
Easily Overlooked but Vital Pieces of Candlewood Lake's Operation and History
At a glance, these photos and diagrams may mean very little to you. But, as Mike Allen's research points out these are vital pieces of Candlewood Lake's History and Operation.