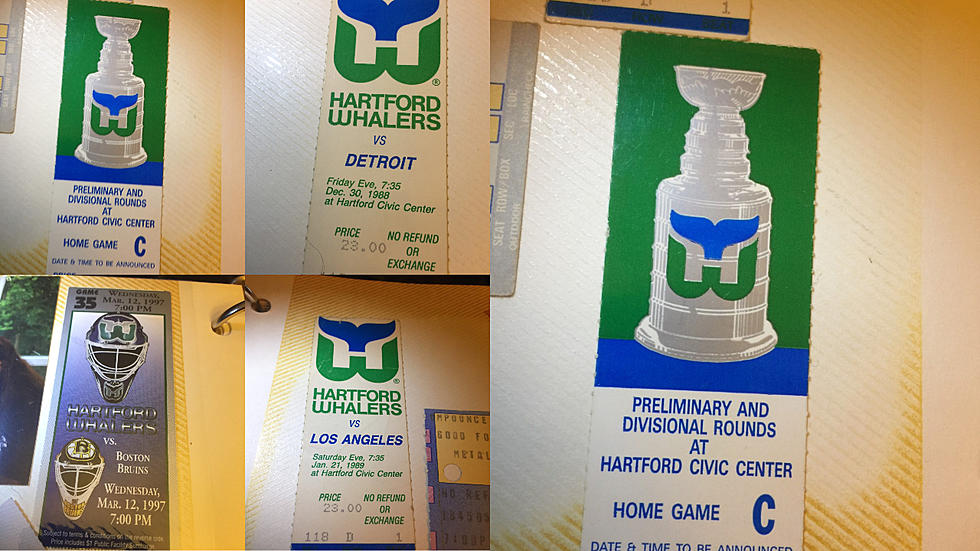 Why Can't Anyone Get The NHL to Come Back to Connecticut?
Photos by Large "Dineen" Dave
I was flipping through the channels after digging from the snow this past Saturday night (January 29,2022), and I came across a familiar sight - The Carolina Hurricanes were wearing Hartford Whaler jerseys against the New Jersey Devils and it made me mad.
Not only were they wearing the throwback jerseys, the Hurricanes arena was rocking to the sounds of Brass Bonanza, and they even brought back Pucky the Whale to entertain the crowd. I admit, most of my love for the Hartford Whalers disappeared after the team moved to Raleigh, North Carolina 25 years ago in 1997.
I always held out hope over the first 10 years that someone would try to bring a NHL team back to play at the Hartford Civic Center, but as time wore on, the rumors faded, and we were left dry in the "No professional sports teams" desert.
We've got some excellent minor league hockey teams around the state, and Quinnipiac was ranked #1 in D1 men's college hockey up until their recent loss to Cornell. Connecticut obviously has the money and fan base to support a pro team, but we don't have an up to date arena.
I was lucky enough to see the Whalers play in person quite a few times in the 80's and 90's, thanks to my dear friend Tim Boucher. His dad had season tickets right on the ice, and it was thrilling to be so close to Kevin Dineen, Ron Francis, Ulf Samuelsson, and one time, the Great One himself -Wayne Gretzky.
I would love for one of Connecticut's multi-millionaires to throw caution to the wind, and fund the renovation of the XL Center, or build a new arena in Naugatuck, what do I care? As long as we get a professional team to root for, a quarter century is far too long of a period of inactivity.
The 10 Most Stolen Cars In Connecticut
Mysterious Yet Fascinating Destinations in Connecticut Sitting in Plain Sight
The 23 Connecticut Municipalities That Will/Won't Allow Legal Weed Sales (So Far)
This is a list of the 23 Connecticut cities and municipalities that have chosen to prohibit or approve zoning changes for recreational marijuana to be sold or cultivated within their borders.
5 Sports Movie Speeches That Can Get Anyone Hyped
Whether it's based on a true story or pure fiction, great sports movie moments can get anyone pumped up. Sports movies tell the stories of figures and teams that were undervalued, overlooked or stood very little chance of becoming a champion. These moments can be a source of inspiration or just valued entertainment.
They can make the hairs on the back of your neck stand up, send a tingle down your spine and make you want to run through a brick wall. These are the sports movie speeches that can get anyone hyped.