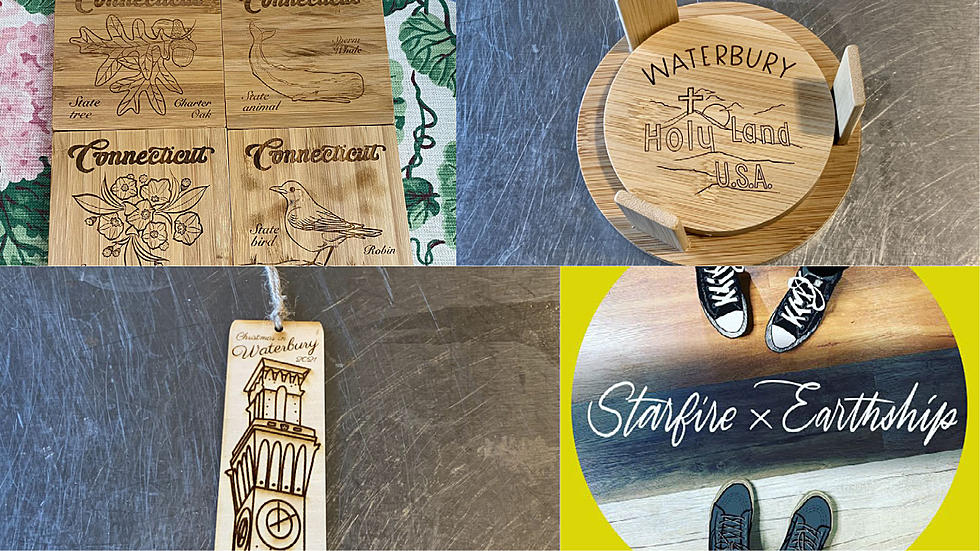 Waterbury Artists Create Brass City-Centric Local Business
Large Dave/Starfire X Earthship
I was scrolling through Instagram earlier this week, when I saw some of the coolest coasters that I've seen in a long time. They were a set of 4, and they each were beautifully engraved with an images of an iconic landmark from my hometown of Waterbury.
There was a Holy Land USA coaster, one featuring the Union Station Clock Tower, another featuring the Waterbury Palace Theater Marquee, and lastly, one of Carrie Welton's horse Knight, from the Carrie Welton Fountain in downtown.
I loved them, so I bought a set from the seller, Starfirexearthship.com. I received them yesterday and they're beautiful. I sent a message over social media to Starfire x Earthship complimenting them on their products, and I heard back from the owners Dora and Marissa. They were so nice, and I had a chance to ask them about their wonderful products, their art, inspiration, and their new business venture Starfire x Earthship.
When the pandemic hit, and after working closely together for years, they purchased a laser engraver, combined Riss's skills as a calligrapher, and Dora's illustrator skills, and as Dora told me "Now we create all sorts of neat stuff".
Waterbury Artists Create Brass City Centric local Business
I'm so happy that I found Starfire x Earthship on social media, they're on Instagram and Facebook, and also at starfirexearthship.com. I can't wait to show off my new Waterbury Landmark coaster set and tree ornament during the holiday season.
Do You Really Want To Have Fun in Waterbury? Try These 5 Places
It's easy to point someone to the places that everyone knows about, but here's my choices for a truly fun day in my hometown.
The 10 Worst Intersections in Waterbury
Waterbury has steep hills, winding roads, and tons of intersections where it's tough to pull out of, here's my choices for the worst intersections in Waterbury