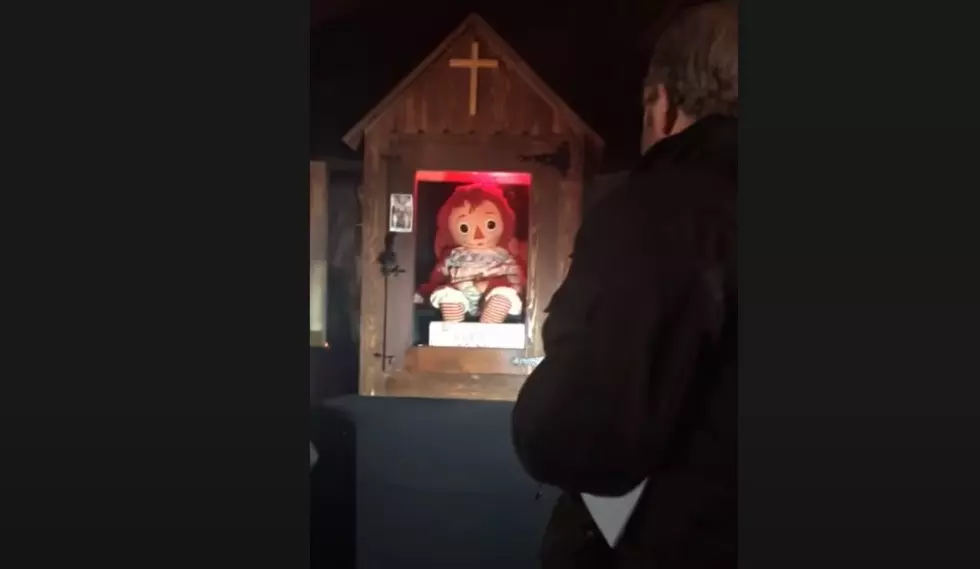 Transporting Connecticut's Demon Doll 'Annabelle' is Serious Business
Youtube
If you believe in demons, and you know the story of "Annabelle", you know that moving Annabelle can't be easy.
Last week, we learned that Annabelle will be on the move this fall, as a guest at Mohegan Sun for "Paracon 2022."
For most of it's life, Annabelle was under the care of paranormal experts Ed and Lorraine Warren, but since Lorraine's passing in 2019, her son in-law Tony Spera has taken on the role of caretaker for the doll.
How do you move a doll that is believed to be vengeful, and possesses demons? The answer is very carefully. We got to see this process on April 19 of this year, when Spera conducted a Youtube live video on the Official Ed and Lorraine Warren Channel. Spera and his team went through the entire procedure while a live audience of thousands looked on from their computers and mobile devices.
Holy water, prayer, gloves, hand sanitizer and a checklist, they have it all. None of that is enough for me to get in the same building with Annabelle, it's just not going to happen.
I said as much last week and the mailbox was filled with people agreeing with me, but a few others were calling me a chicken. Like Marty McFly, this often activates me, and I set out to prove people wrong but nothing will get me in a room with this doll, not even my pride.
By the way, the Official Ed and Lorraine Warren Youtube page has 300,000 + subscribers.
Below is the trailer of the first Annabelle Hollywood movie.
Lizzie Borden's Maplecroft Is Back on the Market in Fall River, Massachusetts
Ethan & Lou's 8 Most Famous Guests
9 Famous People You Didn't Even Know Where From Connecticut