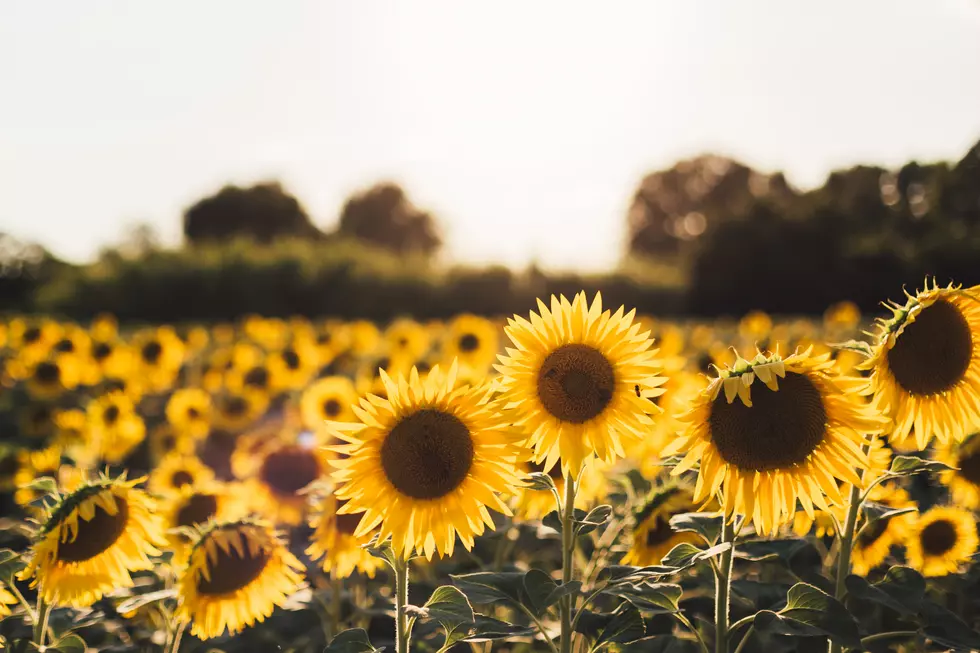 The Sunflower Festival In Woodbury Would Make My Mom Smile
Jordan Cormack on UnSplash
As many of you know, I am not from 'round here, I hail from the state that is smack dab in the middle of the country, Kansas. The Sunflower is the state flower of Kansas, so as I was scrolling on my phone this weekend I ran across a pic of an amazing sunflower with an article about a "Sunflower Festival", and no it was NOT in Kansas, I was pleasantly surprised it was right here in Connecticut.
According to The Darien Times, The Sunflower Festival is open now through August 21st at The Farm in Woodbury. If you go, your purchased ticket includes a free sunflower you pick yourself, you can buy some too and there are a host of activities to take part in. Here are a couple of pics from their Facebook page, they have 18 varieties of sunflowers at The Farm.
Also, to my surprise, the article points out a couple of other Sunflower-type things to do in Connecticut. There is a Sunflower Maze at Lyman Orchards in Middlebury through August 28th, and the Sunflower Festival at Brown's Harvest in Windsor on August 13, 14, 20, and 21st.
My mom loves sunflowers and I wish she was here to see this and take her to all the festivals I could. Her kitchen is immersed in sunflowers, from sunflowers on the salt and pepper shakers, to sunflowers on the wallpaper, she loves things with sunflowers as much as I love Batman and Star Wars action figures.
My father took pride in his personal garden and would grow a few sunflowers every year. One of them reached a height of about 9 feet and the leaves were as wide as my dad's forearm. There exists, somewhere, a picture of my dad standing on a step ladder with one of the huge leaves draped over his forearm to show how large it really was. I wish I could tell you what kind of sunflower it was or all the exact details along with show you the picture, but alas I cannot. When I find the pic, you guys will be the first to know. I think I may head to Woodbury to check out the Sunflowers and send some pics to my mom back in Kansas.
The Barker Character, Comic and Cartoon Museum in Cheshire, CT
It's the Barker Character, Comic & Cartoon Museum, and just as the name says, it has all those things and more. It was like strolling down memory lane when I saw the pictures of some of the items that are a part of this massive personal collection.
Don't Miss Out on a Cornucopia of Delicious, Natural Wonders at the Danbury Farmer's Market
The Danbury Farmer's Market
takes place on the Danbury Green every Saturday, and runs through October. You can shop with cash, credit, debit and even use SNAP, FMNP, WIC and Senior benefits at the Market. You can purchase produce and more from some of the area's best vendors including:
Brewster Pastry
Brown Dog Farm
Mothership Bakery
Clatter Valley Farm
Jose Flores Flowers
Killiam & Bassette Farmstead
Mitchell Farm
Smith Acres Farm
Sullivan Farm
Yup Yup Dog Treats
Cafe Avion
I went recently, and wanted to share my experience and recommend the market.
Ukrainian Artist Holds First U.S. Exhibit At The Carriage Arts Center In New Canaan