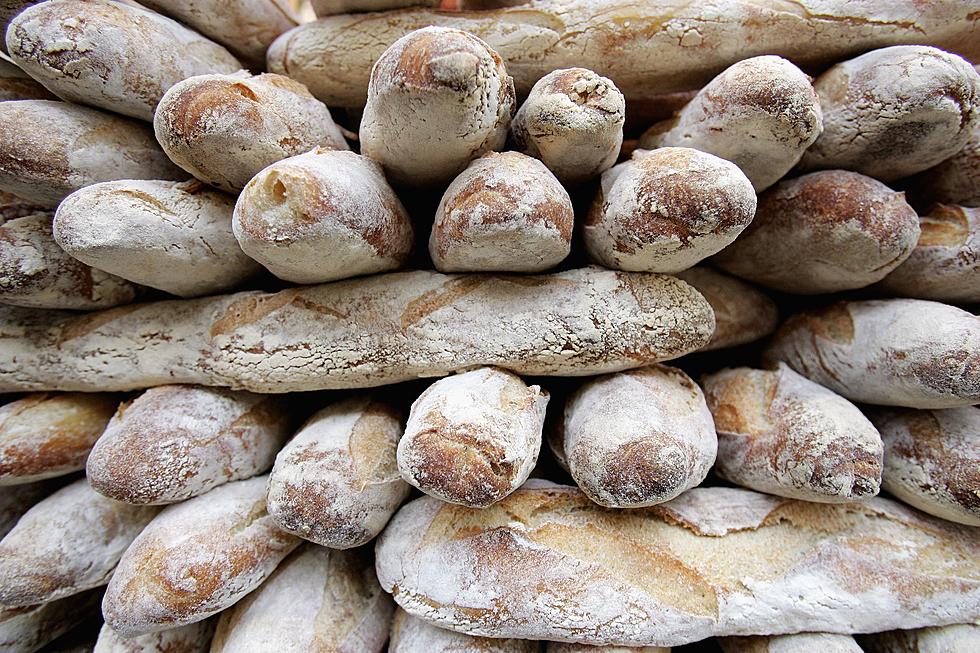 The Aroma of Fresh Baked Bread Rises in Sandy Hook
Getty Images
I've been cooking my whole life, and there's one skill that I don't have, baking bread. It's a science and I'm a hack. It takes time, skill and patience to be a bread maker or a pastry chef, and after many failed attempts, I've given up. I purchase from the professionals now. If you love fresh bread as much as I do, you'll recognize these names here in Connecticut- Militie's, Arturo's, D'addona Brothers, and Ovens of France. Those are my current go-tos,
Well, there's a new fresh bread sheriff in town and it's in Sandy Hook. Uncle Matt's Bakery and Café officially opened their doors at 105 Church Hill Road at the end of June. They're in the Figs Wood Fired Bistro building. I noticed quite a few cars in front on Church Hill Road as I was driving into work this morning, and I thought it was a little early for people to be piling into Figs. They weren't, they were lining up for Uncle Matt's.
According to UncleMatt'sbakeryandcafe.com, owner Matthew Kirshner honed his skills at The Russian Tea Room and the Bantam Bread Company, among others, before opening his own business. Uncle Matt's has a set schedule for fresh breads. You can get fresh Sourdough, Olive Sourdough, Baguette, Ciabatta, Rye, Bagels and Focaccia Rolls every day of the week. Uncle Matt's also makes fresh specialty bready daily:
Monday : Honey Spelt, and Sunflower Flax
Tuesday: Multigrain
Wednesday: Honey Spelt, and Cinnamon Raisin
Thursday: Multigrain, and Sunflower Flax
Friday: Honey Spelt, Challah, and Muesli Rolls
Saturday: Multigrain, Cinnamon Raisin, and Cranberry Walnut Rye
Sunday: Multigrain, and Cranberry Walnut Rye
Uncle Matt's also offers fresh breakfast and lunch selections made to order, salads, a wide variety of baked goods and coffee, espresso and other beverages. I've seen nothing but rave reviews on Uncle Matt's social media page. I can't wait to get in line and try his bread, it looks incredible. Hopefully I won't have to steal the last Marble Rye.
KEEP READING: Here are 6 foods from your cookout that could harm your dog