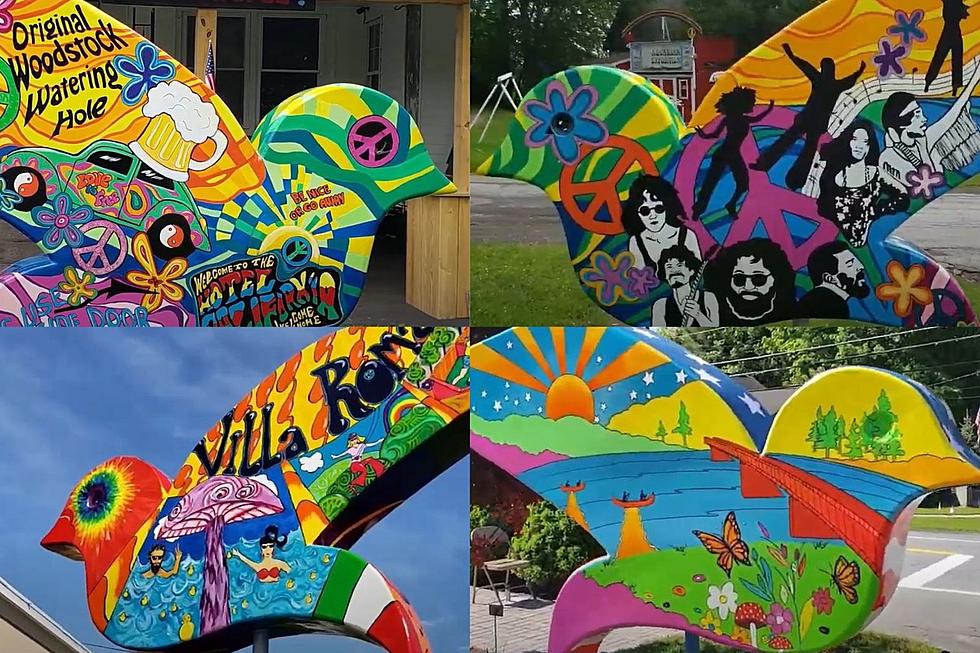 Take a Colorful Dove Tour in the Catskills, New York
Canva / New Jersey Buzz Local via YouTube
The warmer weather is starting to settle in and many of us have kicked off our vacations for 2022. April seems to be the month when people are ready to start planning trips. This week, many people have taken advantage of the Holiday weekend and the kids being on break from school to venture out. That also means that people will be traveling to the Hudson Valley.
If your vacation is on a budget, we have some really cool things you can do in the Hudson Valley that don't necessarily require you to spend money. The Sullivan Catskills Dove Trail is a perfect example of that type of trip. The Dove trail travels all throughout the popular areas. Just about every place you want to visit in Sullivan County and the Catskills has one. The cool thing is, to see many of the Doves you really don't have to stop the car, but you should if you want to see them up close.
Sullivan Catskills Dove Trail Stretches Throughout Sullivan County, NY
The Sullivan Catskills Dove Trail was put together to commemorate the 50th anniversary of the 1969 Woodstock Festival. It is a total of 50 doves hand-painted by local artists. Each one is an original. The Trail opened in 2019 many people due to the pandemic haven't had the opportunity to visit the entire trail. This could be the year you mark off the map to say you have seen them all and also enjoy so much of what Sullivan COunty and that Part of the Catskills has to offer.
Other Hudson Valley Towns do similar installations. Saugerties, NY has done lighthouses, butterflies, ponies, and this year it looks like they will be doing owls. Port Ewen has done tug boats and The town of Catskill does Cats.
Top Hudson Valley Speciality Food Shops
Hudson Valley Specialty Food Shops
The Hudson Valley has a number of specialty food shops. Some are styled like a grocery store others offer prepared foods you can eat in or take out. All of them are worth a visit. Here is a shortlist of a few that include shops in Beacon, Rhinebeck, New Paltz, and Hudson.
Hudson Valley Candle Shops
Hudson Valley Candle Shops
The Hudson Valley has some wonder candle shops. One of them has been making and burning candles since 1969. Candles never go out of style.
Weekly Antiques Flea Market Close to the Hudson Valley
What is For Sale at Elephants Trunk Flea Market
These are the types of things are for sale at the Elephant's Trunk Flea Market in New Milford, Connecticut New England's largest weekly flea market.