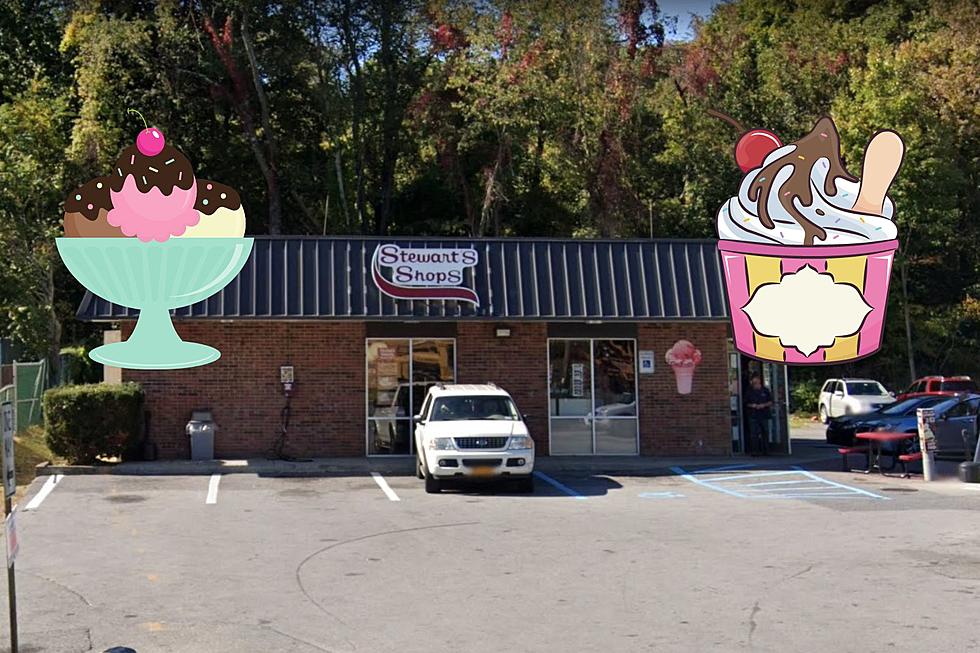 Stewart's Shop Celebrates 75th Ice Cream Anniversary With Great Deal
Google Maps/Canva
We can't think of a better way for one of our favorite places in the Hudson Valley to celebrate a HUGE anniversary!
It was 1948 when the folks at Stewart's Shops started something that changed the way we enjoy ice cream sundaes in stores. It's still currently a staple at all of their 350+ convenience stores across the Northeast.
Make Your Own Sundaes at Stewart's Shops
I bet you didn't know that Stewart's Shops was the first place that offered customers the chance to make their own sundaes. Back in 1948, Stewart's owner Charlie Dake's wife Phyllis "Philly" Dake, suggested that they allow customers to make their own sundaes from a choice of toppings according to Wikipedia. 75 years later and Make Your Own Sundaes are still available at all Stewart's Shops.
What is a Make Your Own Sundae?
A Make Your Own Sundae starts with picking out your ice cream flavor of choice from the cone counter and then choosing as many or as few toppings as you prefer. Customers can choose from toppings like chocolate sauce, strawberry sauce, caramel sauce, marshmallow topping, and pineapple topping.
Stewarts Offering $1.75 Sundaes
To celebrate the 75th anniversary of Make Your Own Sundaes participating Stewart's Shops will offer ice cream fans the chance to make sundaes for only $1.75 all day on Sunday, June 11th, 2023. No matter what part of the Hudson Valley you live in there's a Stewarts's Shop nearby with locations in Poughkeepsie, Hopewell Junction, Kingston, New Paltz, and Middletown to name a few. Find the closest location to you online here and if you go on June 11th be sure to wish them a happy anniversary!
6 Things to Try the Next Time You Visit a Stewart's Shop
Six of our favorite things found at Stewart's Shops
Upstate NY Creator Builds a LEGO Replica of Stewart's Shops
Stewart's Shops Release New Hoodies, T-Shirts and More in Online Store
You're not a Stewart's Shop fan unless you're rockin' their merch!