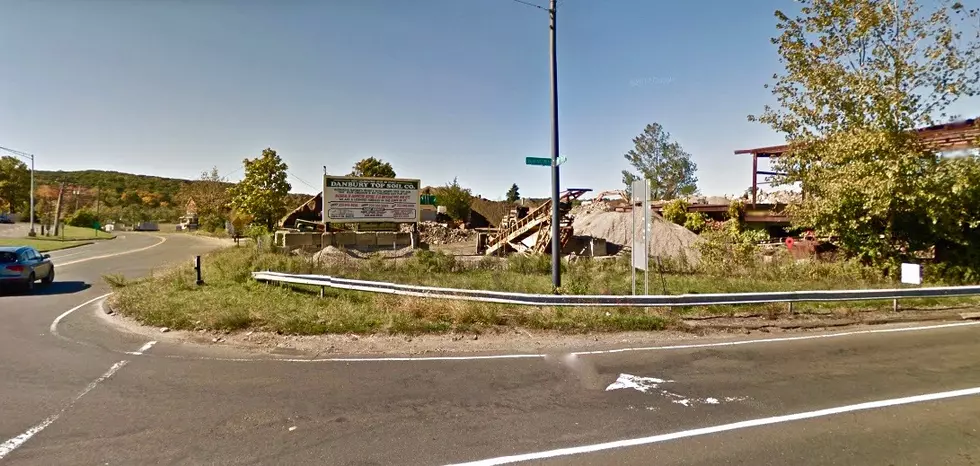 Say Goodbye to One of Danbury's Biggest Eyesores
Corner of Miry Brook Rd. and Sugar Hollow Rd. - Credit - Google Instant Streetview
Dirt Mountain is finally coming down!
If you live in Danbury, you've seen it more than once over the last 40 years. At the corner of Miry Brook Rd. and Sugar Hollow Rd., close by the Danbury Airport, there are piles and piles of dirt which used to be Danbury Top Soil.
Here's some good news according to an article in the News Times. Westconn Aviation recently purchased the lot and several other parcels surrounding it at a recent bankruptcy auction, and Mayor Mark Boughton couldn't be happier. He told the News Times: 
I've been dealing with this since the start of my career, so I'm glad it's finally being taken care of.
I remember, whenever I drove by traveling I-84 to Rt. 35, I would always look to my right and there was that lone unsightly house just sitting in disrepair like it didn't belong. It looked like the house that fell on the Wicked Witch of the East in the Wizard of Oz.
Work crews are already on site beginning the rigorous task of removing the many piles of dirt from the property. The new owners are looking for someone who is interested in developing the property.
Jordan Davis Talks 'Singles You Up' and His Amazing Beard:
Jessie Is Alone and Needs a Forever Home: