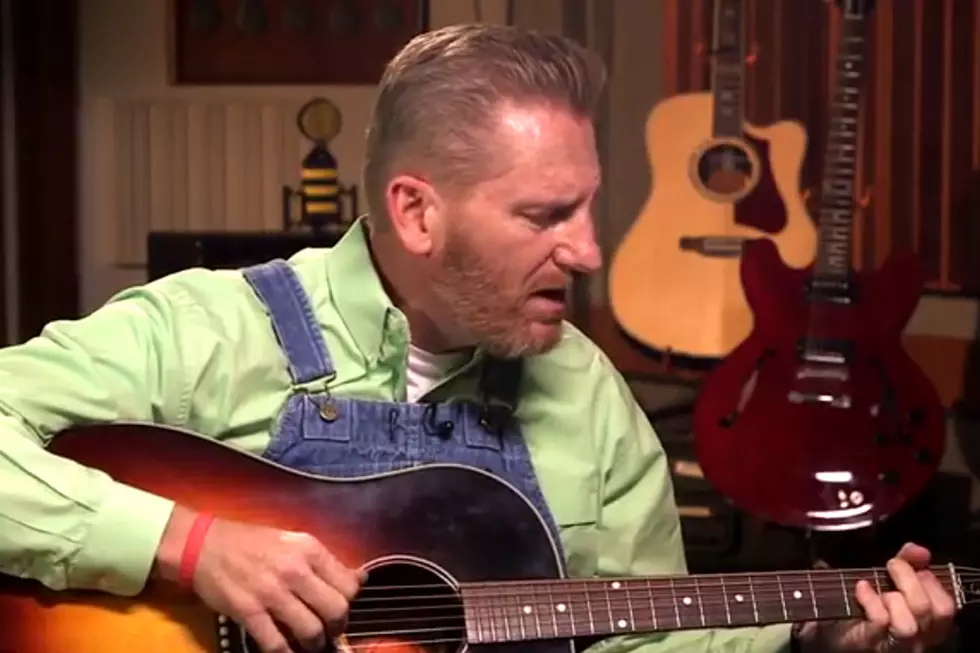 Rory Feek Gives Emotional First Public Performance Since Joey's Death [Watch]
CBS This Morning via YouTube
More than a year after Joey + Rory singer Joey Feek's death, her husband Rory performed music in public for the first time without her, nearly choking up as he sang an unreleased song titled "I Like the Sound of That."
"You say you see it all so clear / We're gonna laugh and cry some tears..." Feek sings, stopping mid-line to visibly pull himself together before continuing, "And line the walls with 50 years of photographs / I like the sound of that."
Check out Feek's moving performance of the beautiful song in the clip above.
The performance came as a surprise at the end of an interview Feek gave to CBS This Morning: Saturday that aired Saturday (May 20), after revealing that he has recently started playing privately again for the first time since Joey died of cervical cancer in March of 2016 at the age of 40.
Country Stars Who Died Before Their Time
Feek has said that he did not intend to perform publicly again after his wife's death, and he admits that he hasn't even been interested in music privately for most of the last year.
"I've had someone hand me a guitar from time to time, but I begrudgingly just pass it on to the next person," Feek tells co-host Anthony Mason.
He picked up a guitar again after being inspired by hearing a church group play a Joey + Rory song.
"And so later that night when the baby was in bed, I got my wife's guitar down off the wall. Pretty soon an hour had gone by and I'd probably sang about a dozen songs that I hadn't sang in a year or so. And it felt pretty good. Then I just hung it back up," Feek says.
He recently bought a piano for his and Joey's 3-year-old daughter Indiana, who has Down Syndrome, and has been happy to have music back in his house. Feek had a successful career as a songwriter before he and Feek married, and he says he's been looking at the future a little differently.
"I don't know yet what's down the road, but I'm thinking about it. I'm really thinking about it for the first time. And I'm staying pretty open to the possibilities," he states. "I haven't been very open to the possibilities."
In the meantime, Feek has been keeping his wife's legacy alive with a series of projects including a book and a documentary. Most recently he released Joey's long lost solo album, If Not for You, which has languished in the vaults for more than a decade.
Watch: 5 Unforgettable Joey + Rory Songs
Beautiful Photos of Joey + Rory