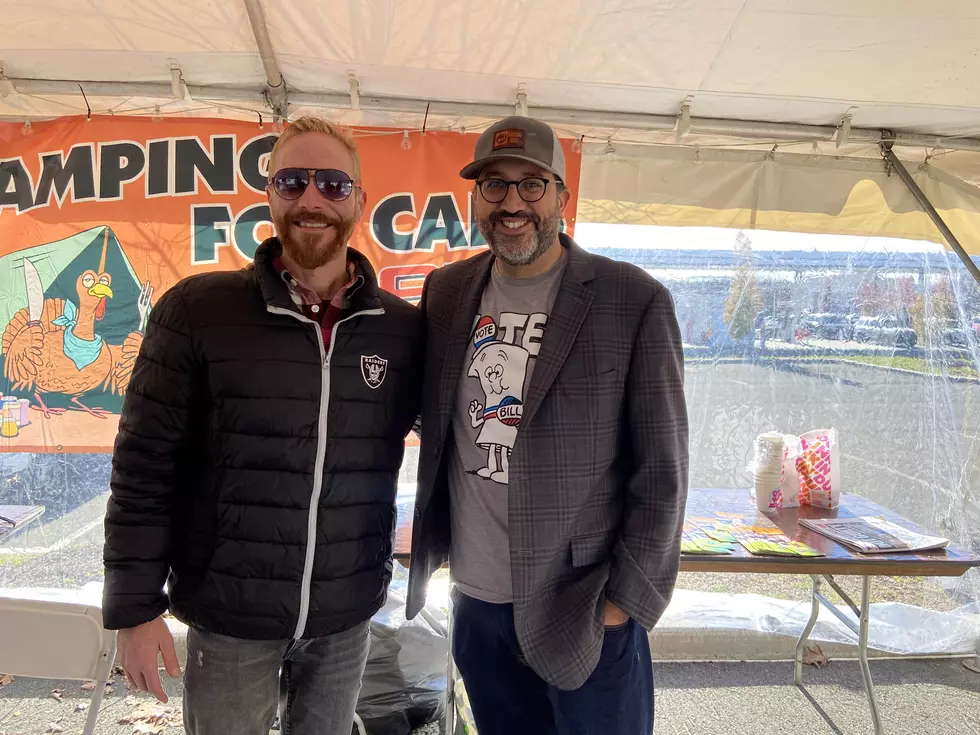 Roberto Alves Says He'll Run for Mayor of Danbury Because Leadership 'Isn't Great'
Photo: Lou Milano
Danbury Democrat Roberto Alves is running for Mayor, again.
This is the second time Alves has run for Mayor, losing to Dean Esposito in 2021. The victory for Esposito came by one of the slimmest margins in Danbury history. Alves, a former City Councilman made the announcement in a Tuesday (1/17/23) press release that read:
"We gave this administration a year to change and make progress, but instead we got a series of mishaps, unfulfilled promises, and no transparency, as a community, we deserve better. We deserve leadership that is accountable, transparent, and truly committed to making a positive impact on our lives.I still see what I've always seen in our city: possibilities and potential. It's time Danbury becomes a shining example of what a community that has been left behind for so long can do when we focus on creating opportunities for every resident and young person in our city." 
Tuesday was busy for Alves, not only did he state his intention to run but he also stepped down from his position as the Chair of the Danbury Democratic Town Committee to focus on the campaign. We spoke to Alves on the I-95 Morning Show, Wednesday (1/18/23) and asked him why he decided to run again? This is what Roberto had to say:
"I love this community. I see the possibilities everyday when I step out of the house, when I go for a walk, our people are great, our businesses are great, I just think that leadership isn't. We can progress and we can do so much more here with a different helm and just amplify all those wonderful things that I see all the time."
He continued: "I just want to show everybody how great Danbury is and how we're going to make it even better."
We love giving these local politicians some shine and hopefully educating voters along the way. But in the end, we are still the Ethan, Lou & Large Dave Show. Our biggest responsibility as a program is to make people laugh so sometimes I take it too far. I may have done that when we asked Roberto about him stepping down as the Chair of the Democratic Town Committee. Listen to how I responded to Roberto's answer below.
You can listen to our entire interview with Roberto Alves below.
We talked about this article on the Thursday (1/19/23) edition of the I-95 Morning Show. The guys explain how they handle all of this, having personal relationships with Roberto and Dean Esposito.
Want more Danbury news? If so, check out the Ethan, Lou & Large Dave Podcast. The show is available wherever you get your podcasts, including Apple and Spotify. The program is the same one we do on the radio but with limited commercials and no music. You can also listen live by streaming the show on the I-95 Rock Mobile app, or tune into I-95 (95.1FM).
Esposito VS. Alves: A Complete Breakdown of Danbury's 2021 Mayoral Race
Voting in a local election is one the best ways to express your beliefs and immediately impact the world around you but how can you really know a candidate from a few quotes in the local newspaper? You can't.
The paper cannot give you a sense for the candidates personality nor can they show you how the person performs under pressure. A radio interview is a much more intimate thing and you can learn who your local candidates are on a deeper level.
In the weeks leading up to the 2021 Danbury Mayoral Election, we believe we have provided Hat City voters with an unbiased view of their options. Each Friday we brought Roberto Alves and Dean Esposito on the Ethan and Lou Show and asked them both the same questions.
Because the person who goes last, has the ability/advantage of answering to the first candidate, we would alternate the order every few weeks. We did not endorse either candidate, we simply gave an even portrait of the two men, their politics and their vision for Danbury.
This is a look back at the I-95 Election coverage for you to review the day before Election. Below you will be given an excerpt from each article we did with the candidates and a link that can redirect you to the full article. Most of the articles include full interviews we conducted with your candidates, Vote tomorrow, it matters.
Danbury Leadership Holds Secret Meeting on Main Street
The Mayor, the former Mayor, the Chief of Staff, the P.R. whiz, the head of the Chamber of Commerce and the co-hosts of the greatest show in radio history? What are they all doing in one place, at one time? What does this mean for Danbury? What does it mean for me?