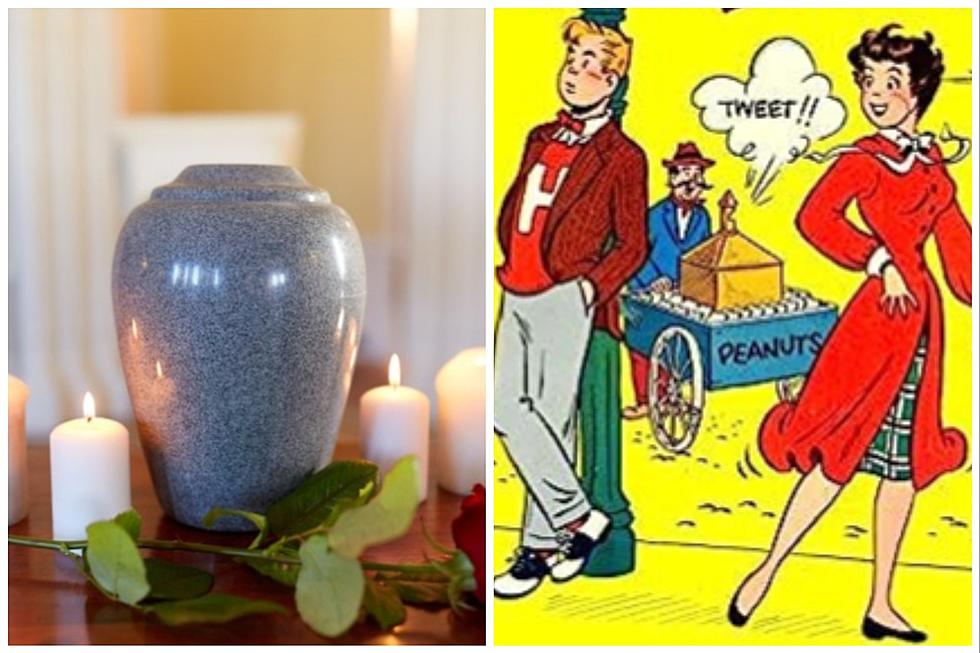 Remains of Historic Comic Creator Found Hidden In Upstate New York
Canva/Amazon
A shocking discovery was recently found in Upstate New York. The Hudson Valley is involved.
The Wiltwyck Rural Cemetery announced a memorial service and burial, for all to attend, for illustrator Linda Walter, the Creative Force behind "Susie Q. Smith" comic strip.
Linda and her wife Harold "Jerry" Walter were the creators of the popular Susie Q. Smith comic strip.
"Susie Q. Smith was a female Archie-type," Toonopedia states about the comic strip. "She attended high school, where her teachers often seemed unreasonable to her, interacted with the opposite gender in a typically adolescent way, and her parents didn't completely understand her. And she was cute and perky as only a teenage girl can be."
Susie Q. Smith ran in newspapers from 1945 through 1959.
Linda Walter passed away in 2009.
"(She) played an instrumental role in shaping the cultural landscape through her vibrant illustrations. Known for the timeless charm of the "Susie Q.Smith" comic strip, Linda's artistry brought joy and laughter to countless readers during the1950s and continues to resonate with fans across generations," Wiltwyck Rural Cemetery states about Walter.
Cremated Remains Found In Upstate New York
For many years, Linda's cremated remains went unclaimed at a funeral home in Upstate New York. The remains were then delivered to the Mausoleum at Wiltwyck Cemetery in Kingston, New York.
For all the news that the Hudson Valley is sharing make sure to follow Hudson Valley Post on Facebook, download the Hudson Valley Post Mobile App and sign up for the Hudson Valley Post Newsletter.
"In a touching discovery, the dedicated volunteer staff at Wiltwyck Cemetery uncovered information that a plot of land in the Woodstock Artists Cemetery had been reserved years ago as Linda's final resting place. In light of this revelation, it is only fitting that Linda's memorial service and burial be held at the place she was intended to rest eternally, surrounded by the artistic community she was an integral part of," Wiltwyck Rural Cemetery adds.
Memorial Planned In Ulster County, New York
A memorial service is set for Thursday, July 6, 2023, at 1:00 p.m. at the Woodstock Artists Cemetery.
"Despite the absence of known descendants, it is our sincere hope that the artistic community will come together to celebrate Linda's remarkable life and pay tribute to her exceptional artwork," the cemetery adds. "We invite all those who were touched by Linda Walter's artwork, both within the Woodstock community and beyond, to join us on Thursday, July 6, 2023 at 1:00pm at the Woodstock Artists Cemetery. Together, let us commemorate Linda's life, pay tribute to her artistic achievements, and ensure that her spirit lives on in the hearts and minds of future generations."
20 Worst Places to Live in New York State
A list highlights the worst places a New York resident can call home. A number of places in the Hudson Valley made the list, including one that was ranked the worst place to live.
These Counties Have The Most Food Stamp Recipients Per Capita In New York
SNAP usage has increased across the state since the start of the pandemic
Chick-Fil-A Opens Surprise Free Pop-Up In Mid-Hudson Valley
Massive World-Class Dinosaur Theme Park Planned For Hudson Valley
Another Hudson Valley hometown is in the running to be the site of a massive world-class dinosaur theme park.