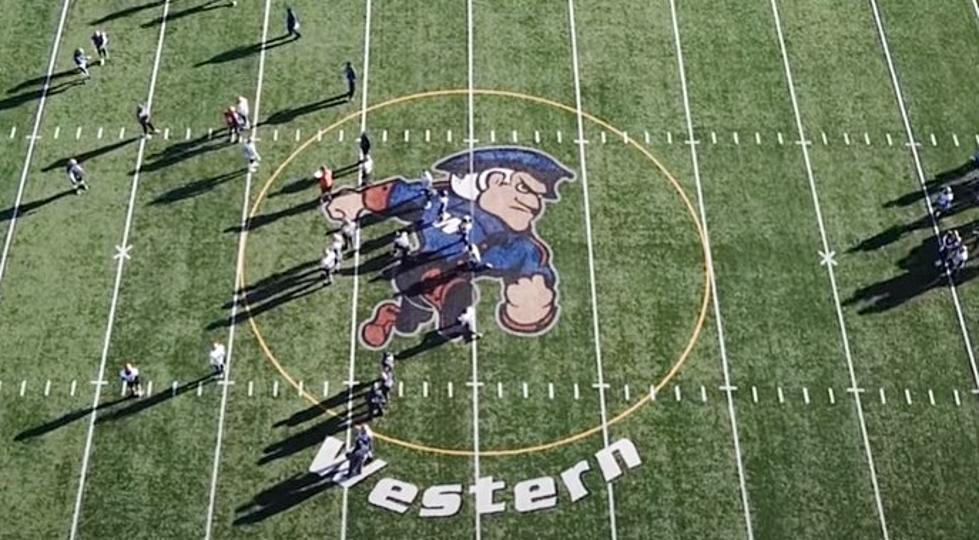 PETITION: Change the WestConn Mascot Name Back to 'Colonial Chuck'
Youtube
According to the Patch, WestConn announced Tuesday (4/19/22) that they have changed their mascot to The Wolves, moving away from Colonial Chuck.
CT Insider says the change was made because Colonial Chuck is too violent. Chuck is fashioned after a Minuteman soldier from the Revolutionary War. It took a "Mascot Advisory Committee" co-chaired by students and administration 2 years to come up with "the Wolves."
I've started a Change.org Petition to change it back to Chuck, here is the link to sign the petition. 
Below is what I wrote in the petition description:
"Western CT State University announced that it has changed it's mascot from "Colonial Chuck" to the Wolves. Chuck was representative of the Minutemen from the Revolutionary War. They believe that Chuck symbolizes an America era that is "too violent."
The Minutemen, like all of our early American Patriots are heroes that should be celebrated, not erased or looked past. This is sickening to me how PC we've become and I'm not allowing this to happen.
Please help me force West Conn's hand, to change the Mascot back to Colonial Chuck.
West Conn is located in Danbury, CT, a city that was vital to the Revolution that birthed this great nation. Chuck should be the mascot for the same reason we have any mascot, to start a conversation. Our American story should be told again and again. It should not be ignored or have shame attached to it.
It's cliche but please help me stop the madness."
Before Chuck was the Mascot, WestConn used the Indian. I want to be crystal clear on something, I support the move away from Native-American themed mascots. I am not offended by them but I'm not Native-American, so it's not for me to say if it is, or is not offensive.
However, I am American who lives in a wonderful country that was born as a result of the American Revolution. Yes, the American Revolution was violent, and for those who lived through it, it was probably "too violent." But, it's disrespectful to the memory of the Americans who lived through that to have their story overlooked or ignored.
A lot of people will say, "It's a mascot, who cares?" OK, then don't have mascots. If the only point of having them is to start a conversation than there are few mascots that are more valuable and valid than Colonial Chuck. The story of America loses ground everyday to what Kim Kardashian is doing. We should lean into every opportunity to discuss the events and people, that formed this nation.
I don't have a college degree, so I know, there are people who will look down at my opinion, it may not be valid to them but there are plenty of people who do agree with I hope they stand with me and sign this petition.
This is a joke and an embarrassment to Danbury. I emailed the President of the School to say as much and invite him on the Ethan & Lou Show. Hopefully he accepts the invitation, I'd love to hear how they will defend this decision.
P.S. This should be interesting, I have vowed to make this the last "thing" I care about, that has NOTHING to do with me. After today, my slogan will simply be, "Don't care, nothing to do with me." The behavior of humans has forced me to look out for me and my family only. Since I can't count on anyone to behave in a normal manner, it's time to retreat and leave you all to sort this garbage out for yourselves.
Vacant Putnam Lake Properties
Putnam Lake is a Hamlet of the Town of Patterson In Putnam County, NY. Originally, the community was a vacation getaway for city folks who wanted Lake property in the country. Today, it's not any kind of weekend or destination getaway but a great place to live, I would know, I grew up there. Like any small town, Putnam Lake, NY has its setbacks. It's difficult to open any business and even harder to keep the doors open. These are some of the long vacant commercial properties of "The Lake."
The 4 Best Places to Get Punched in the Face in Danbury
9 of the Weirdest Names in Pro Sports History
Greater Danbury Bobcat Sightings, Too Close for Comfort
This morning (4/28/21) on the Ethan and Lou Show we were discussing a viral video from North Carolina. In it, a couple was brutally attacked by a rabid bobcat but according to
USA Today
, they are going to be OK.
This sent me off on a tirade about bobcats because this happens to be one of my pet peeves. In the Greater-Danbury area, wildlife sightings are frequent and when one animal gets photographed, everyone piles on and says, yeah me too You saw a bear? I saw a bear!
I made the case that too many people are claiming to have seen bobcats recently, and with no proof. I said, look I know they are prevalent but they can't be around in the numbers that people will have you believe. Every Frank and Fran in the area says they saw one yesterday.
I said, if you saw a bobcat, prove it. It looks like I may have been underestimating the bobcats and the Ethan and Lou listeners because they did prove it and in a hurry. These are the Greater-Danbury Bobcat Sightings That are Too Close for Comfort.