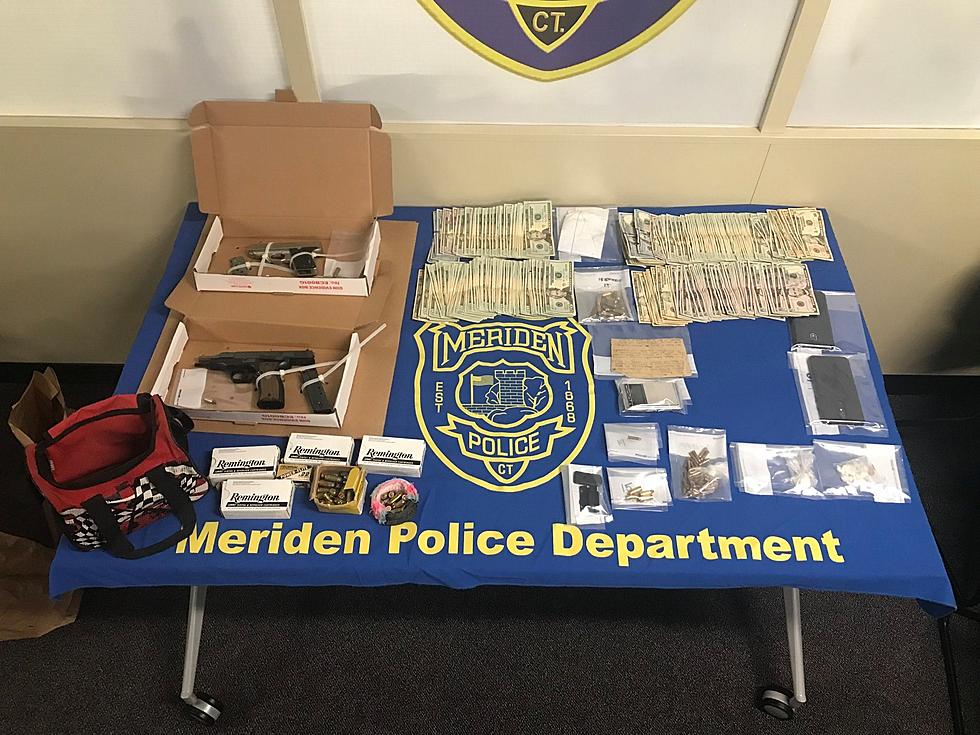 Overnight Drug Raid in Connecticut Results in Seven Arrests
Meriden Police Dept.
Five suspects are in custody following an overnight drug raid in Connecticut.
According to the Meriden Police Department, the raid was conducted around 5:00 am at a home on South First Street. The involved units included the Meriden Crime Suppression Unit, the Detective Division, the Meriden SWAT Team and the Cheshire/Wallingford Regional SWAT Team.
Police say that they retrieved two handguns, a significant amount of ammunition, $4,937 in cash and what they describe as a considerable amount of drugs and paraphernalia, which resulted in a number of felony charges.
27-year-old Angel Rojas, 18-year-old Pierre Langlois and 20-year-old Denzell Woolard were each charged with possession of narcotics with intent to sell within 1,500 feet of a school, interfering with a search warrant and other drug-related crimes.
35-year-old Betsy Gonzalez and 20-year-old Luis Pellot have been been charged with risk of injury to a minor. Also, police say that an unidentified juvenile was arrested as well.
Record Journal reports that apparently, police responded to the same address back on April 19 after a report of gunshots and found one man injured at the scene.
If you are an alleged drug dealer and you have a shooting incident at your lair/stash house, do you think it's super wise to continue to conduct business there? That's a situation where you have to know the "spot is hot." Maybe it's time to head down to the Home Depot, pick up some moving boxes, tape and a dolly. Maybe shift your operation to a new headquarters? I mean, I'm just sayin'.
In a statement, Lt. John Mennone of the Meriden PD had this to say about the
These officers formulated and executed a plan to remove illegal weapons and narcotics from the streets of Meriden and successfully completed this mission without any injury to themselves or the public. . We are extremely proud of their efforts and commend them for their dedicated work to the safety of the citizens of Meriden.