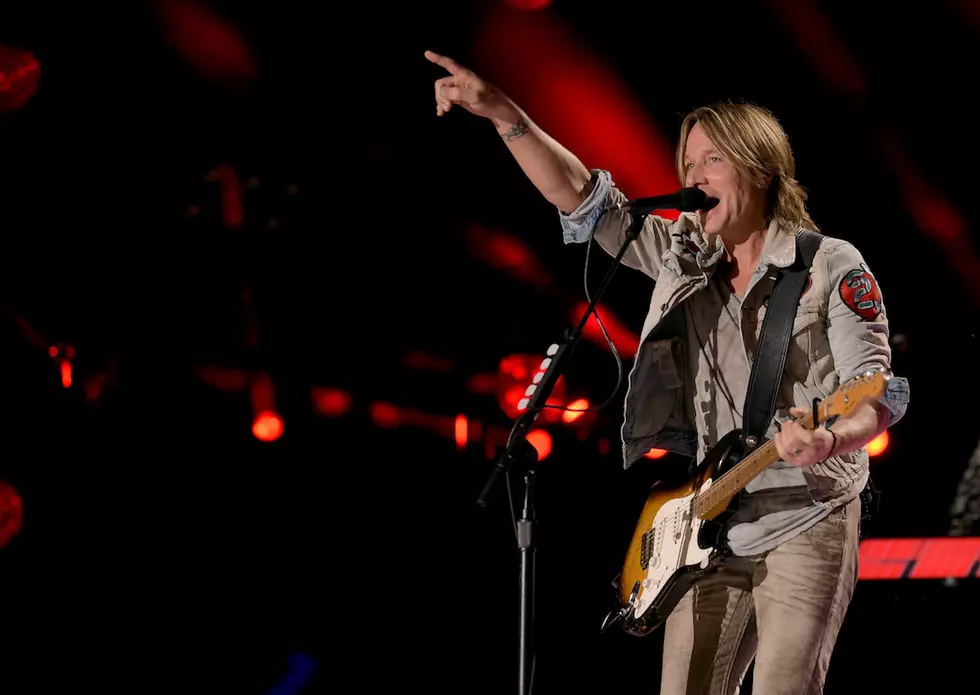 Hear New Singles From Keith Urban, The Last Bandoleros and More Country Artists
Jason Kempin, Getty Images
From poignant ballads to a catchy, up-tempo number, country stars released a wide variety of new singles this week! Read on to discover your new favorite jam.
Keith Urban, "Never Comin' Down":
Keith Urban's "Never Comin' Down" is like a breath of fresh air, a feel-good party and a boot-stomping anthem all rolled into one. Urban gleefully sings about the fun-loving feel of being at the center of a party: "When the sun goes down, stars come out It's a, can you feel it? / Wanna take you by the hand, dancing with my pals / Sit around, round, round It was so high, we can paint the sky / Tear the top right off the ceiling / And I swear we're never, ever, ever coming down / Never coming down." "Never Comin' Down" was penned by Urban along with Josh Kerr, James Abrahart and Shy Carter.
The Last Bandoleros, "What Would You Be Doing?":
The Last Bandoleros have shared a touching song, "What Would You Be Doing?," in honor of their late Tejano-star father, Emilio Navaira III. Diego and Emilio Navaira IV wrote the song and released it with their band a day after what would have been their dad's 56th birthday. In the emotional song, the brothers sing about how hard it has been to live in a world without their dad and imagine what he would be doing if he hadn't passed away. Picturing their dad heading to his favorite spots in town, telling stories about his glory days and laughing with family helps the brothers get through even their hardest days.
Smithfield, "Our World":
Smithfield's latest release is a jam of a love song! "Our World" is an uptempo song about what it feels like to be so wrapped up in love that it seems like you and your partner are living in your own private world. The duo, made up of Trey Smith and Jennifer Fielder, sing about that all-encompassing feeling: "Just like the tires on that '95 Bronco / Nobody could slow us down / Baby we were fallin' too fast and they were callin' us crazy / Lord knows those were the good days / When I was the guy / And I was the girl / And everyone else was just living in our world." "Our World" also stands out because, according to a press release about the single, this is the first song that Smithfield has released that they did not write; the song was penned by Jaden Micheals, Jordan Minton and Ben Johnson.
Kyle Jennings, "Chose to Be a Man":
Country traditionalist Kyle Jennings' "Chose to Be a Man" is a poignant song about making the choices to try and do better in life and step up to the plate. Jennings sings about joining the armed forces, treating a lady right and living in accordance with "the Man upstairs." Although Jennings has been in Nashville since 2002, his Midwestern, blue-collar roots are still strong and play a central theme in this country-rock tune. "Chose to Be a Man" appears on Jennings' 2016 album, American Vinyl, on which the singer-songwriter weaves 13 vivid tales that draw from both the country storytelling of the 1980s and '90s and the classically American tales of rockers such as Bruce Springsteen.
Larry Stewart, "What's That Cowgirl See in Me?"
Restless Heart's Larry Stewart is stepping out on his own, and has shared the lead single off of an upcoming solo album called Shifting Gears. "What's That Cowgirl See in Me" is a sweet song about wondering just what a gorgeous cowgirl would want with the singer; throughout the mid-tempo ballad, Stewart reflects on what she could possibly find attractive about him, given that he admits that he doesn't "know a thing about a farming town." No matter what it is that's caused the attraction, though, Stewart is happy that the woman has opened his eyes to her way of living. According to a press release, Shifting Gears will be released on Sept. 7.