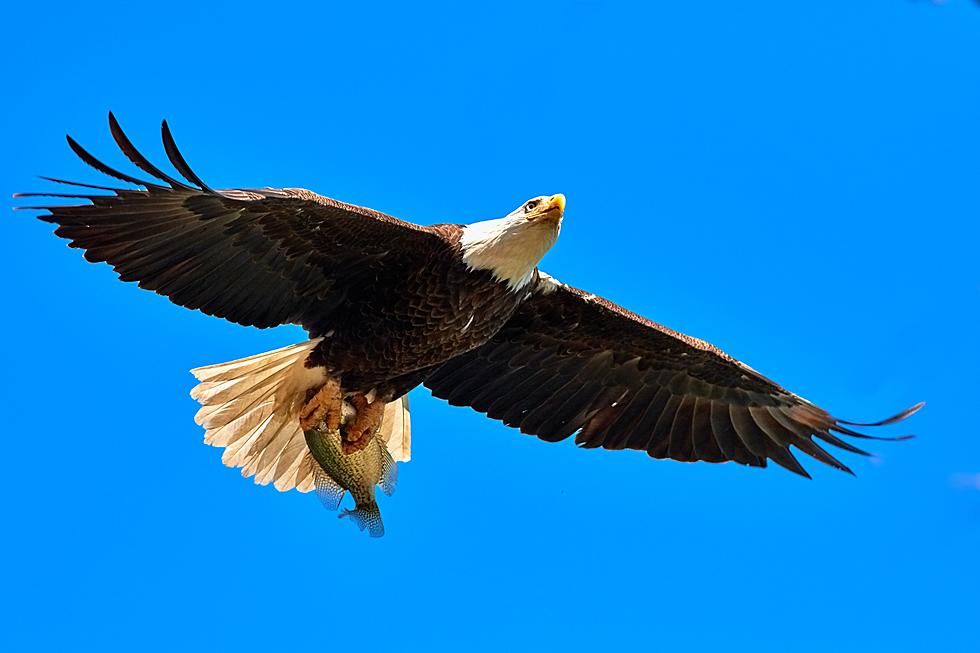 Eagle Watching Season Lands in the Hudson Valley
jongsun lee, Unsplash
While the temperature is dropping across the Hudson Valley and New York State, mother nature is welcoming a majestic sight to our skies.
Wintering Bald Eagel season has landed in the Hudson Valley. The Department of Environmental Conservation explains that bald eagle sightings peak around the Hudson Valley during January and February. They write:
Since the bald eagle restoration program ended in 1989, New York's eagle population has continued to grow. Wintering eagles arrive this month with concentrations peaking in January and February.

 
Across New York State and the Hudson Valley there is a handful of designated bald eagle viewing sights including  Mills Norrie State Park in Staatsburgh and  Mongaup Valley Wildlife Management Area in Sullivan County.
How to Spot a Bald Eagle
If you're looking to snap a photo of the majestic bird as it soars across the valley, the DEC suggests these tips and tricks to get the best view of a bald eagle in the Hudson Valley this time of year:
Use a designated bald eagle viewing site.
Scan the tree line for eagles that are perched in the treetops.
Look overhead for eagles soaring high in the sky.
Check ice floes or river islands for eagles sunning themselves or enjoying a meal.
Arrive early (7 am - 9 am) or stay late (4 pm - 5 pm), when eagles are most active.
Be patient and dress warmly!
Eagles can appear 30 inches tall with a wingspan of six to seven feet according to the DEC.
Where is your favorite spot to go bird-watching in the Hudson Valley? Have you spotted a bald eagle? Share your photos with us on Facebook or through the mobile app.
9 Perfect Eagle Watching Spots Across the Hudson Valley
Wintering Bald Eagles will make their way around the Hudson Valley during January and February. Here are the best spots to get a birds-eye view of the majestic bird in our neck of the woods.
Photos Capture Two Eagles Tangling in Mid-Air in the Hudson Valley
Stunning Hudson Valley photos of the female of a pair local nesting eagles protecting her territory from a single intruder eagle.
Hudson Valley Eagles or Lovebirds? Amazing Photos Tell the Story
Beautiful Pictures of Hudson Valley Eagles in Love
Oneida County Eagles Nest
Pair of Eagles protecting their nest from an Osprey attack in Oneida County, NY.