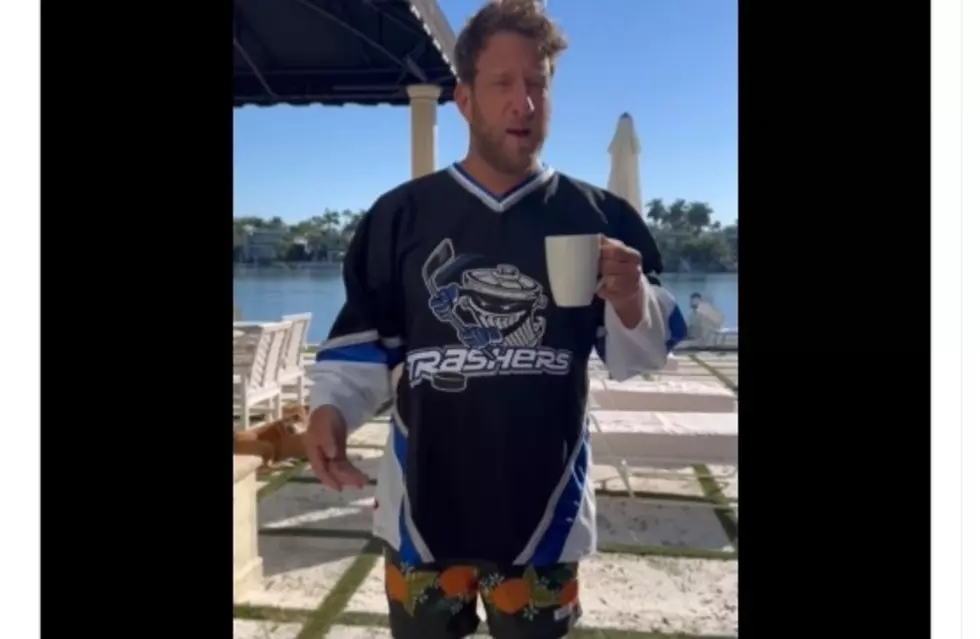 Dave Portnoy Shouts Out Danbury Trashers and AJ Galante on Twitter
Twitter/@DavePortnoy
He's a self-made media mogul that can move the dial from 0-100, just by wearing a team jersey.
That is precisely what happened yesterday when Dave Portnoy of Barstool Sports put on his new Danbury Trashers jersey and made a brief speech to the Twiiter-sphere. Portnoy said:
First reaction, my dude posted this at 10:19 am on a Wednesday? I guess if you reach the top, you can wake up when it's almost tomorrow. What time you get up this morning, the future? Cool. The second reaction was holy hell, this media wave never runs out of gas. I know AJ and Jimmy Galante, and every time I see them, they are astounded by the interest in their story.
Both men have remarked to me on several occasions that they can't believe the response. They say it's been non-stop since the release of their documentary "Untold: Crime & Penalties" debuted on Netflix in August of 2021.
But I don't want to speak for AJ, so I texted him, and asked him what he thought of Portnoy's Tweet. I told him I needed 5 minutes, I just had three questions, and he got back to me right away.
How did you hear he (Portnoy) wanted the jersey? 
"Last week I started getting tagged on social media on barstool pages where Dave was saying he highly recommended the Trashers Netflix doc. A lot of people were giving him a hard time saying he was a year late etc, but it just shows how the documentary just seems to have this staying power even a year plus later. It's a really humbling thing. Each week I get so many messages from people who just discover it. We made a deal with a huge memorabilia company in Canada called Frameworth Sports who are selling autographed jerseys from old Trasher players etc - and we decided to send one his way. It's always awesome to see someone's reaction to receiving one of our jerseys, celebrity or not." 
Are you a fan of Barstool sports?
"Absolutely - been following barstool for a while now. Just one of those things where you never expect to be part of one of their many outlet's conversations - especially at the top with Dave Portnoy." 
What is the next celebrity we can expect to be rocking your jersey?
"LOL - it's funny you just never know who ends up with one. Believe it or not a lot of celebrities reach out where to buy them - a lot of people are never expecting to get a free one. But I wouldn't be surprised if some more notable names from all parts of pop culture end up In a jersey! It's always humbling and a thrill to see someone where it, but I know My father and I still get the most pride at a seeing anyone wear a jersey especially a non-celebrity, that always means a lot more to us that the everyday person still feel so strongly about this team!"
I've been reading Barstool since it was just the Boston page, paying close attention Dave Portnoy because he tapped into something at just the right time, before it was a social necessity. He was extremely anti-P.C. before people were starving for it. It was an age where it was still OK but no one was doing it well, and they've bridged the gap for an an entirely new generation of people who refuse to accept that you cannot speak your mind. In a world where people can't say anything without serious risk to their future, he and his army of writers say it all, and we appreciate it.
Shoutout to AJ for always picking up the phone and making my job easy. Salute to Portnoy for raging-on, battling a relentless bunch of useless humans who have turned destroying careers into a sport.
Dave, I heard your employees are talking back a little too much, getting a little mouthy so call me.
If turning red and blowing a pulsating vein out the side of your neck is a prerequisite for working there, I can do that too.
Inside the Premier Party for the Danbury Trashers Netflix Documentary
My name is Lou Milano, I am the co-host of the Ethan and Lou Morning Show on I-95. Recently, I attended the local premier of the
Netflix film "Untold: Crime & Penalties"
about the Danbury Trashers. The Trashers were a United Hockey League team that were around for a short time in the 2000' s in Western, CT but the team and ownership left a lasting impact.
The premier was open to the public and would take place inside the building where the Trashers played hockey, the Danbury Ice Arena. I decided to watch the movie at my house before going to the event. I wanted to use the time at the arena to interview the people in the film, and give an inside look into the night. This was my night out, with the cast of the film and the Trashers.
14 Danbury Situations You Don't Want to Find Yourself In
Danbury, CT is a wonderful place to live, trust me I live here. There are plenty of activities, fantastic people and an abundance of diverse landscapes. You get it all, rolling hills, lakes, valleys and an urban center but there are situations that you may not want to find yourself in. These are 14 Danbury Situations You Don't Want to Find Yourself In.
Danbury Was the Scene of a Sit-Down Between the Galantes and Gandolfinis
What is going on here? What are Jimmy and AJ Galante, doing with Michael Gandolfini? What are they doing at Dolce in Danbury, CT? Whatever the answer it's nice to see Danbury in the forefront more and more.