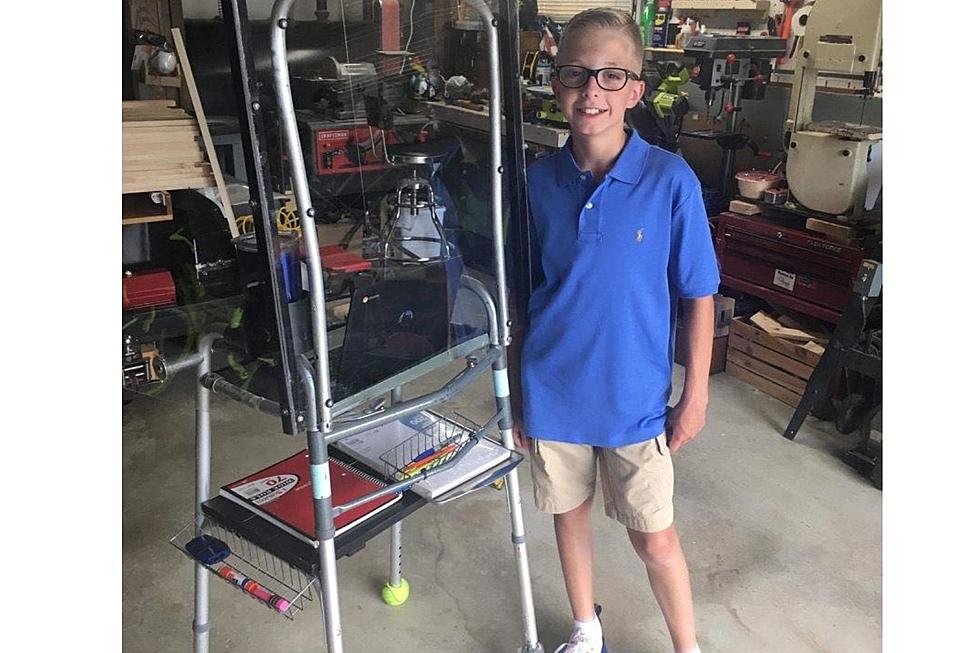 Danbury Youth Invents Device to Help Stop Spread of COVID-19
DeMunda Family
After having been out of the classroom for what seems like ages, 12-year-old Frankie DeMunda of Danbury has kept his curious mind in tip-top shape with his invention meant to target the spread of COVID-19.
Enter your number to get our free mobile app
The skilled woodworker has used the global pandemic as a time for innovation, and his new specialized walker has features that allow students, teachers and the elderly to go about their lives safely.
Throughout recent months, Frankie's woodworking background has motivated him to give back to his community through selling his wooden products and donating the proceeds to first responders.
"Kindness is important and everyone needs to be kind," DeMunda said. "It makes me happy."
His inspiration came in part from his former science teacher as the two discussed their thoughts about the upcoming school year. "We were talking about how to keep teachers safe, and we were trying to figure out what we need to help teachers go back to school," DeMunda said as he recounted the conversation.
The walker has three large sheets of plexiglass attached to the handles, as well as two storage shelves underneath where users can secure items such as laptops and notepads. Because of its protective capabilities, users will be able to walk leisurely while limiting direct exposure to those nearby.
"They don't have to wear a ton of protection, so they can move around," DeMunda said. 
When asked to name the most important feature of the walker, he wasted no time in acknowledging the cup holder that can securely hold an early morning dosage of caffeine. 
"He's hoping that this will branch out so it can help teachers, but it can also help in nursing homes so that the elderly can use it if they want," Frankie's mother, Carrie DeMunda, said. "Being that he's only twelve, he can't physically put all these together."
The 12-year-old's idea is currently patent-pending. Both Carrie and Frank DeMuda (father) have been fundamental in their son's creative journey and hope that the idea can begin mass production before the start of the 2020 school year. 
In addition to writing letters to local new stations and manufacturers, DeMunda has taken to Facebook to further promote his product. The page, Frankie's Woodworking, has received an overwhelming amount of responsiveness regarding interest in the walker. 
"Over a hundred people have reached out to us about purchasing them," Carrie DeMunda said. 
Bravo, Frankie. on a job well done. We can't wait to see your creativity blossom into the community.
Local Area Stores That Have Closed Since The Start Of The Pandemic