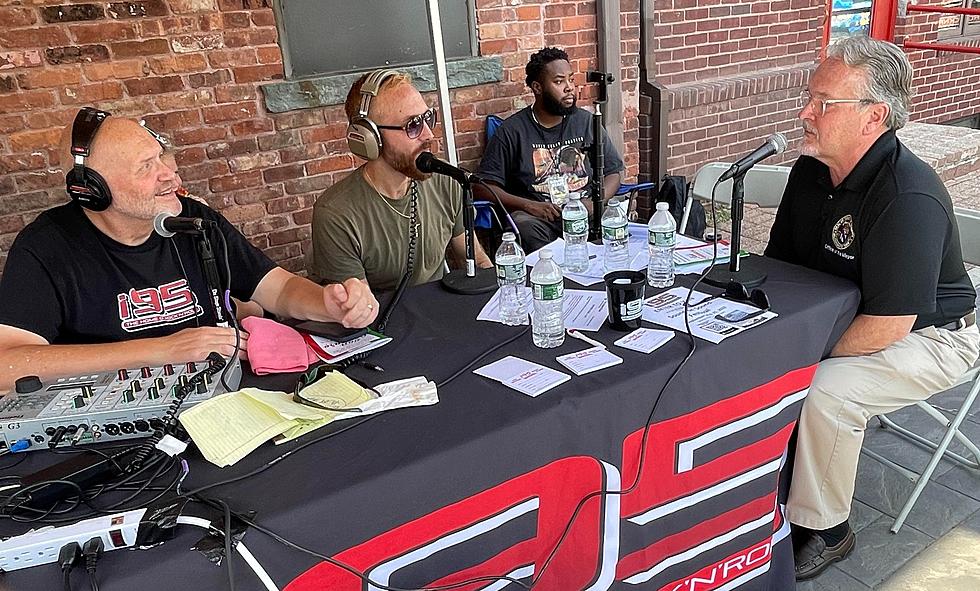 Danbury Mayor Calls Budget Proposal a Huge Win For City and Administration
Lou Milano
The city of Danbury is buzzing over tax dollars.
On Tuesday (4/4/23), Danbury Mayor Dean Esposito shared the broad strokes of his budget proposal in an official press release. The proposal featured a significant mill rate reduction and the following remarks.
"The City's FY 2023-2024 Proposed Budget boldly addresses the needs of our entire City, and prepares Danbury for generations to come with a focus on the education of our children and the vital services our City provides for our residents."
We asked the Mayor to share a bit more with us on the I-95 Morning Show. Esposito was our guest on Friday (4/7/23).
By the Numbers 
We asked the Mayor why folks are using the word "historic" to describe his budget proposal?
"Yeah, that is a word that we've used quite a bit in the last few days because of the rate that we dropped, the tax rate to, which is the mill rate. We went from a 28.89 to 23 and that reflects on the exact amounts that you have to pay on your property tax. We've lowered that but the thing we're facing is the reevaluation which was pricing your taxes off of the values. So, if the price, the value of your home went up, it's going to reflect a different price on your taxes. So, we tried to keep the rate as low as possible to kind of soften the blow on that State mandated reevaluation." 
Check out the Ethan, Lou & Large Dave Podcast on Apple and Spotify
Win-Win 
The media response appeared to be glowing over the Mayor's proposed budget but to make certain, we asked Esposito if he and his team consider this a win for the administration?
"Yes, definitely. Overall, it comes down to the quality of the service, if we can provide that service at a reasonable rate that's our main goal. Yeah, we're all bouncing off the walls here, I've gotten a lot of calls of congratulations and thank you from different people."
Schools
We asked the Mayor if the school budgets are taken care of under his proposal?
"Yeah, that was one of my biggest concerns. Ever since I announced I was going to run for Mayor, my concerns always are for the students and the education in the city. We've been able to work the budget where we can supply the Board of Ed and mostly the Superintendent with their full ask on what they need to run the school system for the next year. That came out to about $150 million which sounds like a lot of money and it is actually but the investment is key. We have to keep moving forward, we have to give the educational side what they need, to provide the quality services. We're going to give them the money but we're also going to work closely with them, my administration to ensure that those funds are allocated properly." 
Listen to the entire interview with Danbury Mayor Dean Esposito below. We also asked him if he was the wizard behind former Mayor Boughton's budgets and reflected on the busy year he's had.
Check out the Ethan, Lou & Large Dave Podcast on Apple and Spotify
A Curious Excursion in an Underground Brookfield Tunnel
Recently, I was having a discussion with a friend of mine, I told this person I'd accessed some caves and tunnels in my hometown of Brewster, NY which is just over the NY/CT State Line. He knows how much I love local history, and saw how excited I was about this journey. He told me there was an area of Brookfield, CT that I needed to see, one that most residents have never seen. He told me about a tunnel, one that was not far away from where we were sitting. I made note of the conversation and bookmarked the destination for a future trip.
Exclusive Photos, Videos, and Interviews on the Set of New Milford Horror Movie
"Candlewood" is a horror film that just finished filming in New Milford, CT. This is how the filmmakers described the project on their Indiegogo:
"Candlewood is the first movie of three in the psychological/horror feature film franchise. A blended family moves from the city to a small town in Connecticut, where a local urban legend adds chaos and terror to an already fragile family dynamic. The staunch patriarch, who desperately wants his family to not see him as a failure but as the father that did everything, he could to keep his family together through difficult times. Candlewood follows a family leaving New York City for a simpler life in the country town of New Milford, CT. The haunting and mysterious true stories of missing hikers near a popular state park, Lover's Leap, coupled with the town of Jerusalem sitting at the bottom of Candlewood Lake gives credibility to our narrative. We bring to life the struggle of good vs evil and what happens when lifelong, outdated traditions are challenged."
A while back I got in touch with the folks behind the movie, invited them on the I-95 Morning Show with Ethan, Lou and Dave and talked about the film, and shooting in New Milford. We spoke with Director Myke Furhman and Writer/Executive Producer Victoria Flores-Argue. During that discussion, I demanded to be in the movie, telling the duo that I have some experience acting on TV shows that never actually made it onto TV. Against all odds, they did invite me to participate and I visited the set on October 20th to shoot a scene that is important. I was extremely nervous and I had zero idea of what I was in for. Below are some insider moments from my day on-set and from others.