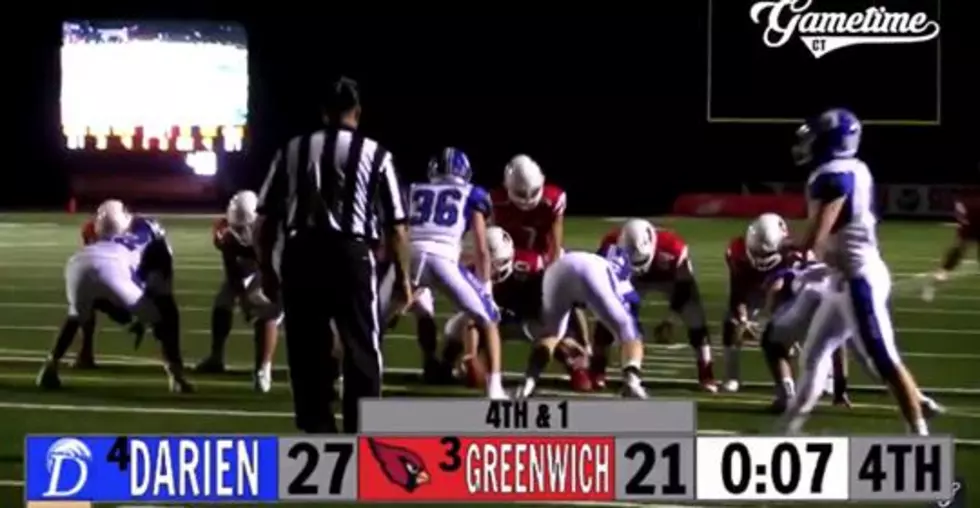 CT High School Rivalry Game Ends After QB Spikes the Ball on 4th Down
Twitter/Braden Schenck/Gametime CT
Whenever Darien and Greenwich meet on the football field it's an important game, they are rivals and the two are always highly ranked. This past Saturday was no exception, after falling into an early 21-0 hole, Greenwich managed to score 21 unanswered points to tie the game. Darien answered back with a touchdown and now it was Greenwich's turn once again.
Late in the 4th quarter, Greenwich QB James Rinello was moving his team down the field. If Greenwich scores a TD on that drive, they tie the game and an extra point would win it. Rinello made a brilliant third down pass, giving his team one more shot with just seconds to go. It would be 4th and 1, on Darien's 13 yard line, when Rinello stepped under center. There were 7 seconds left and Greenwich had one more shot a potential win.
Instead of taking a shot at the end zone, he spiked the ball on 4th down, the clock would stop but possession would change, Darien held on for a 27-21 win.
I'm sick for this poor kid, it's a terrible way to lose. He had to have been thinking he had no timeouts, he wants to stop the clock and get with the coaches on what to do for the final play but he lost track of what down it was.