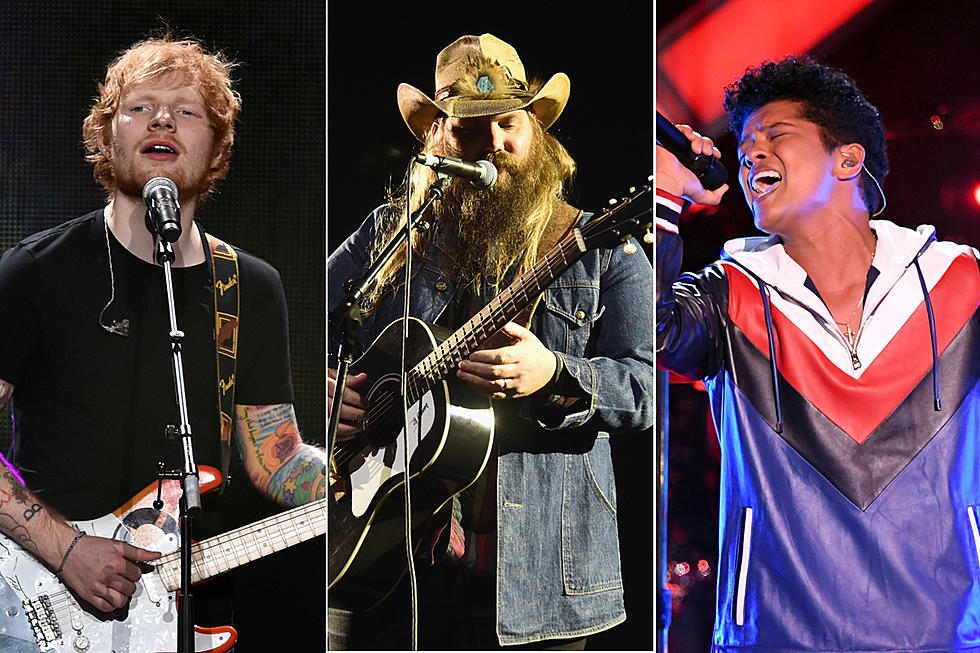 Chris Stapleton Collaborating With Ed Sheeran, Bruno Mars on New Song, 'Blow'
Kevin Winter / Alberto E. Rodriguez / Kevin Winter, Getty Images
Chris Stapleton is among the all-star artists who have been announced to collaborate with Ed Sheeran on his upcoming studio album. Stapleton will join Sheeran and Bruno Mars to close out the album with a track titled "Blow."
Sheeran revealed the details for his No. 6 Collaborations Project on Tuesday (June 18). The 15-song project features an impressive list of top musicians from across all genres who will join Sheeran for collaborations, including Travis Scott, Camila Cabello and Cardi B, Khalid, Skrillex, Eminem and 50 Cent and more.
No further details are yet available about "Blow," but Sheeran has given fans a couple of previews of the album. The singer-songwriter has released "I Don't Care," which features Justin Bieber, as well as "Cross Me," on which Chance the Rapper makes an appearance.
Sheeran revealed the details of the collaborations in a post to social media on Tuesday, writing, "Thanks to all the amazing artists I've worked with on this record for sharing your talent with me. No.6 Collaborations Project comes out on July 12, hope you like it as much as I do."
In another post to Instagram, Sheeran explains the process behind the project, writing, "Before I was signed in 2011, I made an EP called No.5 Collaborations Project. Since then, I've always wanted to do another, so I started No.6 on my laptop when I was on tour last year. I'm a huge fan of all the artists I've collaborated with and it's been a lot of fun to make."
Ed Sheeran's No. 6 Collaborations Project is set for release on July 12. It's currently available for pre-order.
See Chris Stapleton's Most Unforgettable Moments
See Country's Most Unexpected Crossover Artists