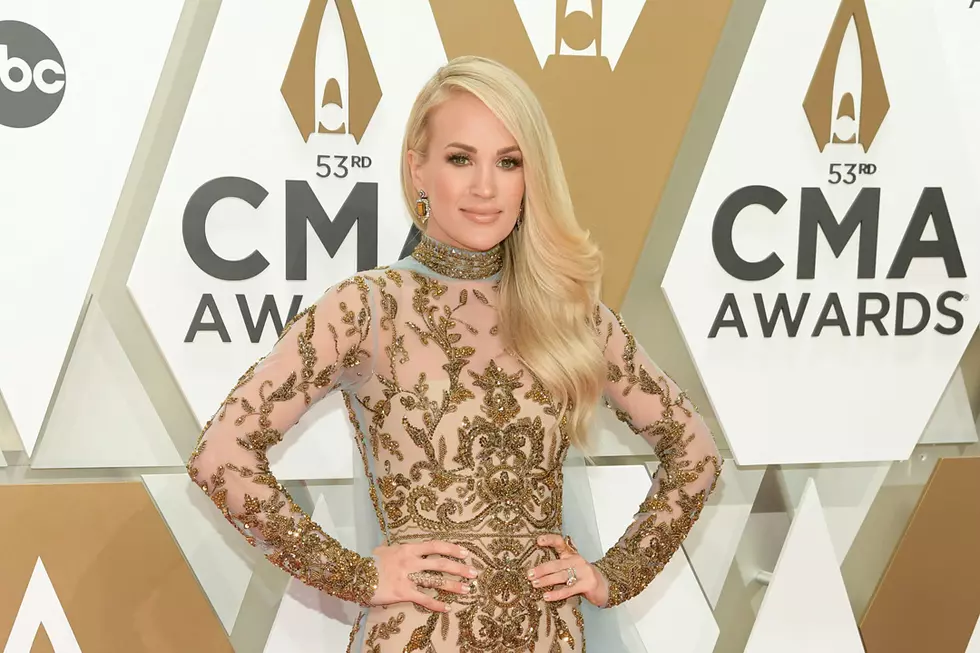 Opinion: Fans Say Carrie Underwood Was Robbed at the 2019 CMA Awards — And They're Right
Jason Kempin, Getty Images
Fans waited with bated breath as Witherspoon read the name that capped off the evening's focus on women — the name that so many in country music and in the audience were hoping and expecting to hear:
If that was your reaction on Wednesday night (Nov. 13), you certainly aren't alone. Fans flooded social media to protest the award, which marks the seventh time Brooks has won EOTY and the third time in just the last four years.
It's not that Brooks isn't deserving. He absolutely is. His stats speak for themselves. He's the best-selling artist in country music history. He has built a legacy so vast that he still sells out the largest venues in the country routinely, and he still actively looks to find new ways to connect with his audience, like his Dive Bar tour. He's still recording new music that connects, including a huge duet with Blake Shelton, "Dive Bar," that they performed to close out the 2019 CMAs. It's not about Garth Brooks' bona fides. That's another argument altogether, and it's already been made.
She seemed to be the clear frontrunner going into the awards ceremony. Everyone who was nominated — Brooks, Eric Church, Chris Stapleton, Keith Urban and Underwood — had plenty going on to justify a win in this category in 2019. But Underwood went above and beyond in a way that none of the others did.
She almost seemed to gear her year toward the intent of taking home the prize in 2019, stepping up her live game to a new level on her 2019 Cry Pretty Tour 360 and releasing some of the most mature music of her career. Add to that her outreach outside of the country space, which includes her Calia by Carrie clothing brand, her Sunday Night Football appearances and more, and it adds up to a very strong argument that Underwood did more than any other nominated artist to extend country music's overall platform in 2019.
Carrie Underwood Fans Will Love Caylee Hammack!
On top of that, her not winning was just a giant letdown and a missed opportunity. The entire CMA ceremony seemed geared toward it. Underwood not only hosted the CMA Awards in 2019, she co-hosted with Dolly Parton and Reba McEntire, both of whom are among the very few previous female EOTY winners. In addition to helping lead the all-star female opener, Underwood gave one of the standout performances of the night when she belted out her current single, "Drinking Alone," leaving no doubt that she's at the absolute top of her game. If she had won Entertainer of the Year, it would have been a moment of such solidarity for women in country music, who have struggled so much in recent years. Instead, we watched the same guy take it home — again.
"It wasn't about being a woman, I'm not raising that flag," Lambert said. "It was about if you think of what Entertainer of the Year encompasses for the year and how you represented country music in the public eye."
The members of Runaway June got a first-hand view of Underwood's excellence and work ethic every night when they toured with her in 2019, and they told Taste of Country they would "Kanye West" the CMA Awards if she didn't take home the top honors.
"If Garth wins," Naomi Cooke said, "We're gonna be like, 'Garth, we're gonna let you finish, but Carrie Underwood had the greatest tour of all time!'"
That didn't happen, but we're guessing the members of Runaway June are none too happy today, along with Underwood herself, most likely. She was also nominated for Female Vocalist and Album of the Year, but went home empty-handed. Underwood finished the CMA broadcast with her trademark cool professionalism after Brooks' win was announced at the end, but has been silent on social media since.
We have to wonder what Lambert is thinking today, too. She became emotional in explaining why Underwood was so deserving of Entertainer of the Year in 2019 when she spoke to Taste of Country Nights, saying, "... She never misses a note ever, and I'm like, she's my Entertainer of the Year this year and people need to pay attention to what the Entertainer of the Year means."
"It's all the things," Lambert added. "It's not just ticket sales or your stage show. It's all of it."
Though Underwood's Entertainer loss might seem to take some of the shine off of the 2019 CMA Awards' focus on women, there's still plenty of good news for not only female artists, but women in other facets of the music industry in Nashville, according to Michelle Conceison. She's an artist manager, professor and co-chair of an advocacy group called Women in Music Nashville, and she says she's encouraged by the fact that a group as prominent as the Country Music Association is demonstrating enough leadership to advocate for women in music.
"I was very moved overall by the show," Conceison tells us. "I thought the show was a really clear statement by the CMAs that women matter. There was a consistent attention on women in the show."
"I love Carrie," Conceison says. "We all want her to win. But my reaction, in general, is so overwhelmingly positive in terms of us all working toward progress."
Enter your number to get our mobile branded app
Watch Miranda Lambert Get Choked Up Talking About Carrie Underwood
See Country Stars on the CMA Awards Red Carpet