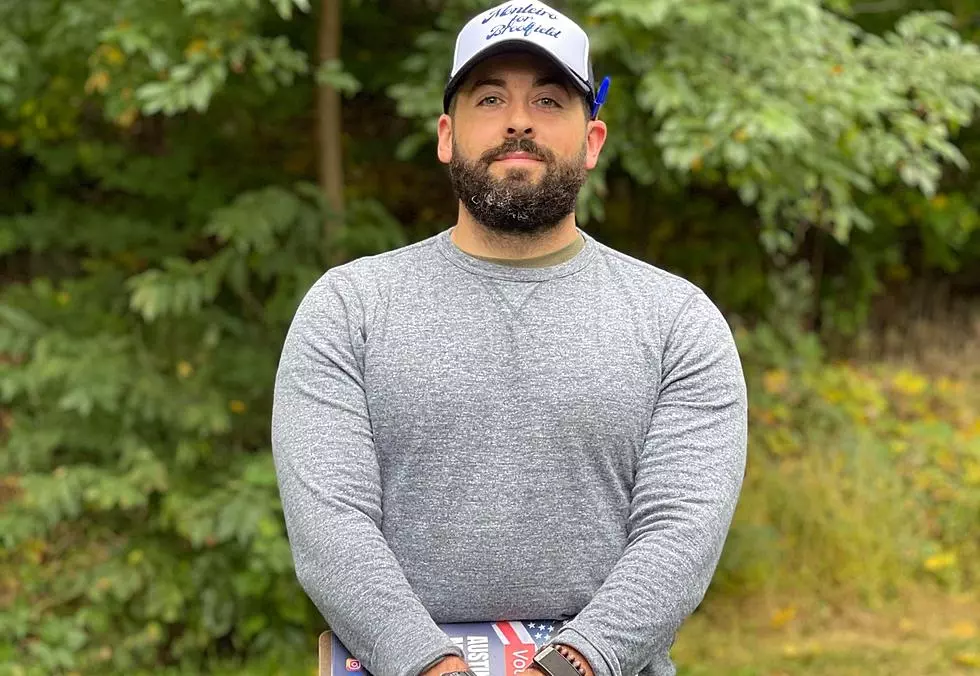 Brookfield 5G Tower Power Lies With 6 Un-Elected Officials, Resident Says No Thanks
Austin M.
Is a proposed 5G Cell tower a danger to the residents of Brookfield?
That is the question Brookfield First Selectman Tara Carr wants people to consider. Carr has been very vocal about her opposition to a 5G tower that is proposed for 60 Vail Road in Brookfield. Back in December ('22), Carr raised safety concerns about 5G technology on the I-95 Morning Show, saying:
"There is no conclusive evidence that these towers are safe, right? So, until that evidence is conclusive, I really would not want to put the residents of Brookfield in a predicament where there could be potential harm."
It appears Carr is not alone, with many town residents speaking out against this 5G cell tower, and future towers. One of those concerned citizens is Austin Monteiro who ran against Carr for First Selectman in the 2021 Municipal election.
Monteiro joined the I-95 Morning Show on Tuesday (2/7/23) to express his issues with the cell tower. He explained this is bigger than one installation, there could be more towers and a small group of un-elected officials have control over these decisions. Monteiro said:
"In the State of CT, we have something called the Siting Council. What that is, is an un-elected body of 6 individuals who have full say over whether you can put a 5G tower or antenna, basically anywhere in the state. Our big problem is putting a halt to that and a stop to that." 
He went on to say that he's been working closely with Senator Harding on a bill called SB-73 which would add a local representative to the siting council. Monteiro admitted the bill is flawed and any rep assigned to the Siting Council would lose important votes 6-1. Instead, Monteiro said he and Senator Harding are amending the bill with the end goal of abolishing the siting council or stripping them of their control over 5G tower placement.
He added the goal is to give power back to the municipality. We asked Monteiro what the real issue is, who are they battling? What group is a proponent of the 5G Tower? Monteiro explained this is less about opposition and more about education, saying:
"Honestly 98% of people who are aware of this, are against it. The biggest thing is awareness, I think you all mentioned it early on, if you knocked on 100 doors in Brookfield, 98 people would have no idea this is going on and what it could potentially do." 
Want more Brookfield News? If so, check out the Ethan, Lou & Large Dave Podcast. The show is available wherever you get your podcasts, including Apple and Spotify. The program is the same one we do on the radio but with limited commercials and no music. You can also listen live by streaming the show on the I-95 Rock Mobile app, or tune into I-95 (95.1FM).
All Connecticut People Have at Least One of These 13 Things
Connecticut is a complex place with layers of issues. Our happiness mixes with our pain to create a Nutmeg stew that tastes like confusion. I can't sit here and say everyone in CT has all thirteen of these things. However, I can say everyone in CT has at least one of these 13 things.
Some Common Sayings Just Don't Work in Connecticut, Here Are 7 of Them
I am proud to call Connecticut my home but it can be a frustrating place to live some days. The expense of living here is obnoxious and the pace of play is off the charts. In CT, cliches happen but are hardly tolerated. The community sense of humor here can be cruel so if you have nothing but canned sayings, you're gonna take a beating from your audience. But that is not the only reason these sayings don't work here, there are others that are specific to the phrase. These are 7 Common Sayings that Just Don't Work in CT.