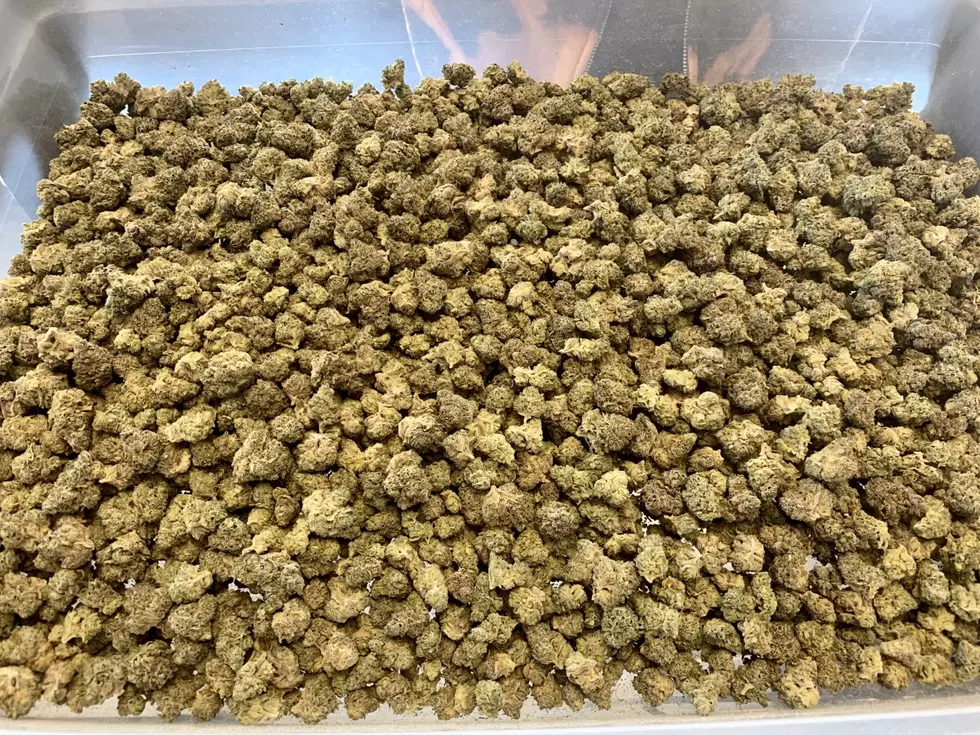 An Important Tip For Connecticut Recreational Cannabis Customers
Photo by Large "NOM NOM NOM" Dave
Here we go Connecticut, the age of grabbing a 6 pack of pre-rolls instead of a 6 pack of beers is about to commence. On Tuesday, January 10, 2023 at 10 AM, if you're an adult over the age of 21, you can legally purchase cannabis from a retail store in Connecticut.
I've been to quite a few dispensaries in Massachusetts, they're becoming almost as common as package stores. I was even lucky enough to get a behind-the-scenes tour of The Pass in Sheffield, Massachusetts. It was such a weird feeling to stand in front of 25 pounds of bud, which you can see in the photo above, and here's a close-up of a huge bud of Sour Diesel.
I made a big mistake the first couple of times that I went to NETA in Northampton, Massachusetts in 2018 - I didn't pre-order. I stood in line with my brother for 3 hours the first time, an hour the second. Don't make that mistake. You may have an idea that these dispensaries have product out that you can smell, touch, or feel before you purchase - you can't. Sure, there may be a couple of pretty buds behind glass as fixtures, but they're not tearooms where you can sift through containers of herb. All product is packaged and behind the scenes, all you'll see is the pretty containers in cool packaging.
The best advice I can give you is to pre-order. Go to the website, browse all you want, and place a pre-order. Connecticut dispensaries are going to be flooded with customers for the first few months, until more shops open up. Wait till there are more than 5-10 of them before you just walk in.
The First 9 Locations in Connecticut You Can Buy Legal Weed In 2023
The countdown to the sale of recreational marijuana in Connecticut is officially underway and this is directly from a press release from the Connecticut Department of Consumer Protection.
The following Medical Marijuana Dispensaries have been notified that they successfully completed the necessary steps for conversion to a hybrid license and may begin selling cannabis products to all adults 21 and over, beginning no earlier than 10 a.m. on January 10, 2023
Back in the Day, What Concerts Did You See at Lake Compounce?
Lake Compounce recently announced that they're building a floating stage, and bringing live music back in the Summer of 2023. I loved going to concerts at Compounce back in the day, and I saved some of my ticket stubs, were you at these shows?
These 10 Connecticut Restaurant Meals Need To Be On Your Bucket List
Here are 10 Connecticut restaurant meals that will make you say "That was the best _____that I've ever had in my life."