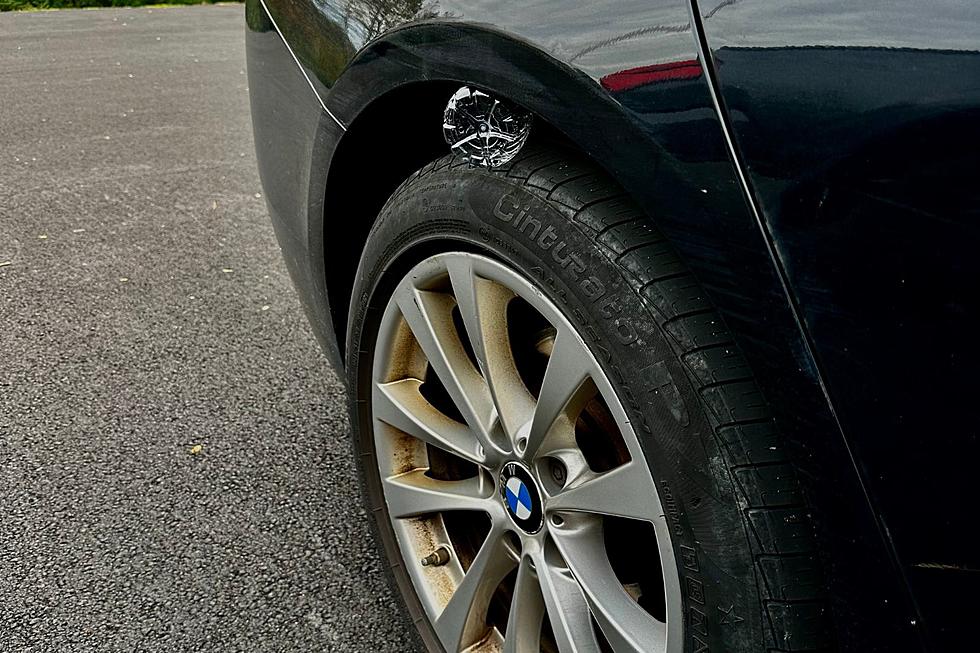 Alert for Connecticut: The Water Bottle Trick Criminals May Use to Distract You
Jolana Miller Townsquare Media
Whether this warning about car thieves and criminals around Connecticut is legit or not, it's out there. Plus, it's a great warning to always be alert, especially during the holiday season, at night, in an easily distracting environment, or in that secluded parking garage.
Also, living in New England we're always seeing various plates from New York to New Hampshire, Vermont, and Massachusetts, even New Jersey which criminals may even scout out hoping the driver is a little out of their comfort zone.
Here's how it works.
According to the Bright Side YouTube channel, the bad guy will scout the area, put an empty water bottle in the passenger side wheel well of a car (usually the back tire near the top), then lie in wait.
When you get to your car, like most of us, you're likely going about a daily routine, looking at your phone, or putting groceries in the backseat or trunk. Now it's time to head home or continue your errands.
You start your car and start to drive away, when you suddenly hear a loud pop and crunch that's definitely not routine. That would jolt anyone to a stop and wonder what's going on.
So, the hope of the thief or thieves lying in wait, according to Bright Side, is that you'll pull over and leave your car running while you jump out to take a quick look around your car and the immediate area.
That's when a carjacker will jump into your car and take off, or the criminal will quickly reach into your car and grab your handbag, phone, or any valuables sitting out.
No matter what, it's always best to be aware of your surroundings for your own safety, water bottle or not.
Picture-Perfect Getaways: Connecticut's Top 5 Most Beautiful Hotels
The average price for an average hotel room is $120 a night, but if you pay a little more, say quadruple, you won't hear the hum of traffic on I-84 all night at one of these. Here are the top 5 most beautiful hotels, resorts, and spas in Connecticut
Gallery Credit: Google
A Closer Look at the Cutest Mural Along Rt. 44 in Connecticut
If you travel along Rt. 44 in East Canaan, Connecticut, a local business is covered by a beautiful work of art that makes me smile every time I pass by. Have a look at the exterior of the Pooch Palace Resort dog lovers, I'm sure you'll smile too.
Gallery Credit: Mrs. Large