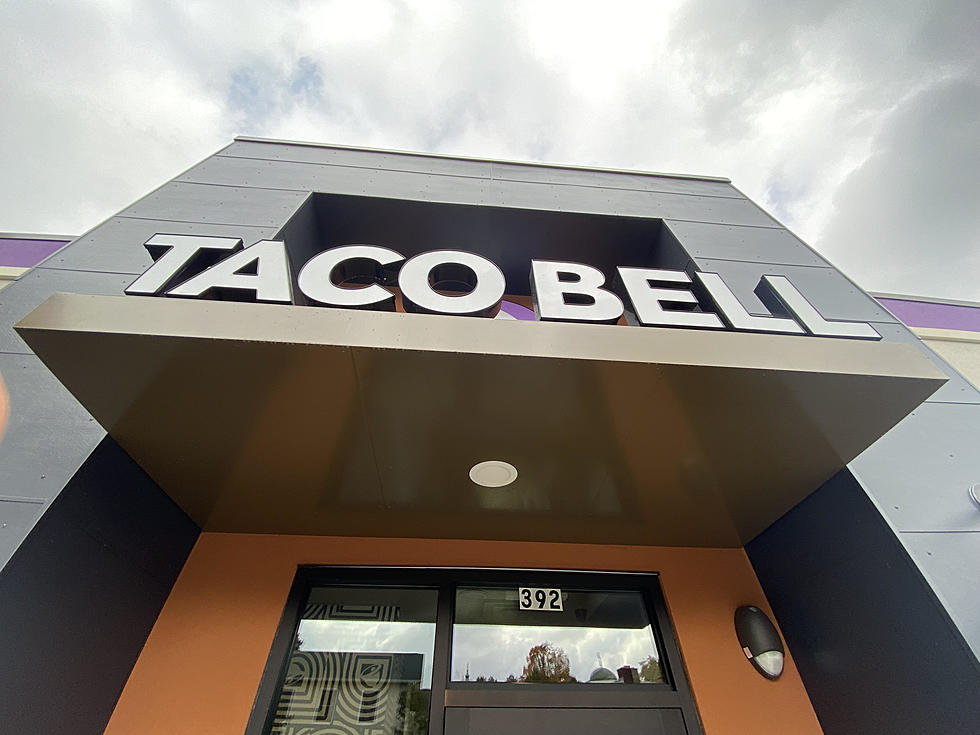 Newly Remodeled Taco Bell in Danbury is Open After Months of Feverish Work
Lou Milano
I said it when they were working on it, and I'll say it again, that was the fastest I've ever seen anything built.
Last week, the new and improved Taco Bell on Main Street in Danbury unceremoniously opened their doors back up to customers. It was the call no one wants to get. A few months back, my sister called me in a panic and asked why Taco Bell was closed and if I knew anything about it.
I was nervous, this was terrible news. I can't go without my chalupas, was it real life? It was not, after a mini investigation I learned the doors were shuttered temporarily for renovations and upgrades.
That is when I started stalking the building and following construction progress everyday. I'd drive there and peak in the windows and count every new upgrade. The men and women that worked on this must have been working furiously because that renovation flew by.
This is the picture I took for my last article about it on September 17, 2021.
Just weeks later it looks like this.
A finished drive-thru, an entirely different exterior color no more boarded up windows.
The inside looks so fresh and so clean.
We are free for liftoff and free to Live Mas.
Yo quiero Taco Bell indeed. I did put in a call to my sister to let her know that things are back to normal again. The world is back on it's axis and it's raining Cheesy Gordita crunches like you read about. Look at that, you are actually, currently reading about them.
This is also not the first time I've written about them. I had a odd fascination with Taco Bell and I'm willing to make it the news early and often. There was the time Taco Bell announced they would start selling booze in select locations and the time they said they'd start paying salaries to employees upwards of $100,000 in the Northeast. I love Taco Bell, that is all there is to it.
P.S. Excellent work to the folks that were responsible for the remodel, they really did go as quick as is humanly possible.
4 Can't-Miss Landmarks in Greater Danbury
Vacant Brookfield Properties Give Me the Creeps
Brookfield Connecticut is a beautiful New England town with picturesque landscapes and architecture. It does have one section of road that is about a mile long, that time has forgotten. When the highway got extended, the life started to drain from this portion of Federal Road and COVID-19 put the finishing touches on any business that was hanging on for dear life. There are supposed to be people in these places, that's why they were made. The absence of humanity in these spaces makes them tragic and chilling.
Shelton Rec Center is the Site of a Decommissioned U.S. Missile Defense Base
The recreation center on Mohegan Road in Shelton, CT is all fun and games now but was once the site of some serious business. Shelton is not the only town in CT with a frightening Cold War past, Ansonia and Fairfield boast similar remains.
Man Does Death Defying Motorcycle Tricks in New Milford Parking Lot
The parking lot of Max BMW in New Milford, CT became the scene of a motorcycle trick show recently.
Inside the Charming Russian Village in the Woods of Southbury
Every Tuesday you can hear "The Place You Live" on the Ethan and Lou Show featuring Mike Allen. Mike takes a deep dive into one local story each week and this week it was all about a Russian village in Connecticut. This week we learned that Southbury, CT is the home of a tiny Russian Village designed by some of Russia's most well respected writers.
Downtown Danbury Glows at Night
If you wait for the sun to set and head out on the streets, you will notice that Danbury, CT has a glow at night.
10 Random Facts About Connecticut's History You May Not Know
Here are 10 random facts about Connecticut's history that are often overlooked or may have been previously unknown.