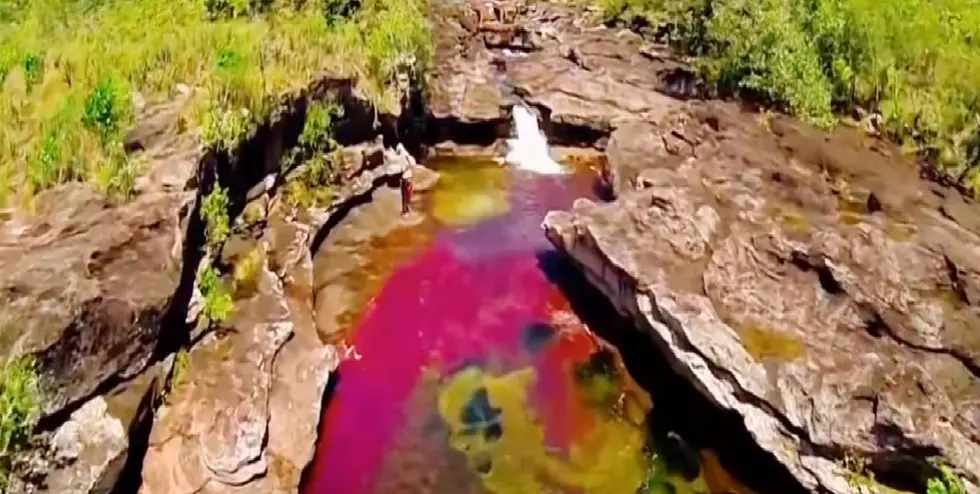 A Spectacular River That Flows With Five Colors
youtube.com
Here is something to put on your bucket list. "Cano Cristales" is a river in Columbia, which is also known as "Rainbow River". PlacesToSeeInYourLifetime.com explains why this natural phenomenon exists:
The Liquid Rainbow is caused by a unique phenomena, a red plant – Macarenia clavigera – growing in the riverbed. Other colors come from black rocks, green algae, blue water and yellow sand, producing an iridescent effect. The river also features waterfalls, pools and caverns, making it even more dramatic. Furthermore – there are no fish or other creatures, so visitors can enjoy uninterrupted bathing in Caño Cristales.
If you are planning a trip to "The River of Five Colors" (lots of names for one river but from the looks of the video, it has earned every one) you should go during the months between July and November because according to the article that is when the colors are visible.
Listen to Linda G. weekdays from 3:00pm to 7:00pm on 105.5 FM, online at kicks1055.com/listen-live/ or by downloading the super cool KICKS 105.5 app for your mobile device. You can find it in your App Store or Google Play.